Today's college students have pushed alcohol abuse and partying to an ultimate extreme leaving many worried about their son or daughter's college experience.
You keep up on current events. You know what goes on. Binge drinking, vomiting, unprotected sex, DUIs, assaults and irrational decisions all go along with college alcohol abuse. Alcohol abuse experts are increasingly more concerned that college students of today have exposed themselves to far worse problems than those associated with college alcohol abuse in the past.
The National Institute on Alcohol Abuse and Alcoholism says that about 1,700 students in college die each year due to alcohol abuse. Studies also show that the number of college students driving under the influence of alcohol is up to more than two million a year. Even more alarming, a recent study from the Archives of General Psychiatry found one out of five college students struggled with clinical alcohol abuse related issues.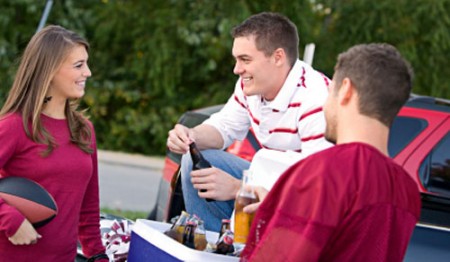 In a 1993 Harvard University study by psychologist Henry Wechsler, the term "binge drinking" was redefined. In his study on alcohol abuse in American colleges he used the term to define five drinks in one sitting for a man and four for a woman. Since that time, other addiction specialists and alcohol abuse experts have taken hold of this definition for binge drinking.
Wechsler's study found that nearly half of college students in the 116 schools studied were binge drinkers. Other studies found that almost four out of five fraternity and sorority members were binge drinkers.
There is even a term used to define those who drink more than binge drinking entails. Duke University researchers defined those who drank two to three times the alcohol consumption of binge drinking as "extreme drinkers."
Make addiction treatment a life changing experience, in more ways than one. At Palm Partners our extended care addiction treatment programs will give your young adult the appropriate support necessary for success.
If your son or daughter is struggling with drug and alcohol abuse, you can provide the support they need with out wasting their college fund on an addiction treatment program where they only work on their addiction. At Palm Partners appropriate addiction treatment methods are our top priorities.
Alcohol Abuse, A College Ritual
Higher education and alcohol abuse go hand in hand in society today. Throughout Western civilization history we have seen more than a number of notorious college and alcohol abuse related tragedies. One notorious incident took place at Oxford University in 1355 when college students drinking at a local tavern initiated the infamous St. Scholastica Riots. The drunken clash between town people and students lasted two days leaving 63 students and a number of locals dead.
Hollywood's college stereotypes depicted in the movies "Old School," "Animal House," and "National Lampoon's Van Wilder" can be seen as a Jack Daniel's guzzling party maniac with rather minimal academic consequences. The reality is that college alcohol abuse carries with it some much more serious life threatening consequences.
Alcohol abuse related consequences are not uncommon for those of college age. What is changing, however, is the public's perception of the severity of these types of problems. As our awareness increases, we begin to see that alcohol abuse is a real problem among our state universities and colleges.
If you are a parent, relative or loved one of a college age student who is struggling with alcohol abuse, what can you do to help them?
Consider checking your son, daughter or loved one into an addiction treatment program that also provides a college education. With both sobriety and academic goals in mind, your son or daughter will not fail.