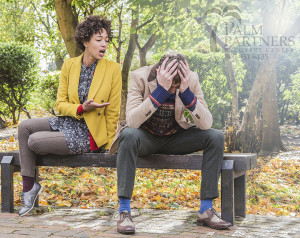 By Cheryl Steinberg
Whether you are what those of us in recovery call a "normie" – someone who can drink or even use drugs without becoming addicted – or someone who is in recovery from substance abuse and addiction, watching a loved one struggle with their own addiction can be frustrating and painful. Here are the 10 most frustrating things about being friends with an addict.
#1. Being able to recognize their problem, even when they don't
When it comes to addiction, it's often said that the addict is the last one to know. That's because, when in the firm grip of drug addiction, your current daily routine of getting and using drugs becomes normalized. It's like another saying, "You can't see the forest for the trees." Those who have an outside perspective are more objective, and are able to see their friend's behavior and, unless they are in deep denial, can recognize that they are struggling with a very serious problem.
#2. Trying to convince them/break through the denial
Related to number one above is the frustration of dealing with their friend's deep-seated denial. Besides being able to see that there's a problem, when they try to convince their addicted friend, they come up against a firm defensive wall of denial. Trying to get someone else to see what you see is perhaps the most frustrating thing of all.
#3. Watching them continue to hurt themselves
When you bear witness to your loved one constantly hurting themselves, it's only natural that you feel disappointed and even crushed. It's like watching someone you care about walk into a wall over and over again even though their face is getting bloodied from the trauma of it.
#4. Feeling helpless
When you're friends with an addict, it can be quite frustrating as you are left feeling helpless when you can't get them to see what they're doing to themselves and to their loved ones. Often times, the addict needs to realize that they need help and be willing to accept it before things can change. Even as their closest friend, you might not have enough pull to get them to seek help.
#5. Not being able to understand what they're going through
Especially for the normies out there who are friends with an addict, you probably don't quite understand the nature of addiction. You might be feeling frustrated and encumbered with thoughts like, "Why can't they just stop?"
#6. Being manipulated
As a friend of an addict, you may or may not know the level of desperation that accompanies addiction. Your addicted friend might turn to you for money or rides and emotionally manipulate you when you tell them 'no.' This can be an extremely uncomfortable position to be in.
#7. Getting sucked into their drama
Addicts generally have constant crises, what many of us refer to as 'drama.' Being friends with one means that you're likely to get sucked into their drama, even as an unwilling participant. It might be their way of manipulating you to help them out in some way but, there's always a story or explanation of why they need something, or why they need to use. Addicts are really good at justifying their substance abuse.
#8. Not knowing when to draw the line
That is, not knowing the difference between helping and enabling and when and how to set boundaries. Also, setting boundaries is one thing, being able to maintain those boundaries is another. This can be a frustrating cycle of your addicted friend testing the waters and you constantly having to shut them down. People who are in relationship – whether as a friend, family member, or intimate partner – often succumb to the pitfalls of codependency, that is, situations involving an addict quite commonly turn into codependent relationships.
#9. Being put in an awkward position
As the level-headed friend of an addict, you might get caught in the middle when your friend's parents, teachers, mutual friends, or spouse – whatever the case may be – comes to you, asking where they are, what they've been up to, if you know what they're doing, asking you to help, etc.
#10. Feeling guilty or that it's not your place
If you are someone who can drink or even use drugs recreationally and perhaps used with your addicted friend, or if you're in recovery and in your active addiction you used with this friend, it might be awkward to try to bring up the issue. You might feel guilty for having a part in their using and/or you might fear that they will throw it in your face if you confront them about their using when, after all, you used, too.
Are you struggling with substance abuse or addiction? Do you have a friend or other loved one whom you suspect is struggling? The good news is that help is available. Call toll-free 1-800-951-6135 to speak directly with an Addiction Specialist who can answer your questions.