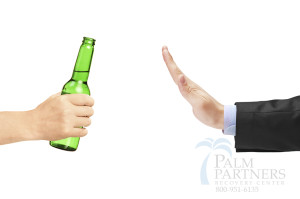 Living in sobriety you might not be the most popular person in the eyes of problem drinkers and party animals. Some people who still enjoy getting trashed regularly think it's 'lame' that you don't. They can't wrap their head around why someone would want to stop drinking; even though they themselves wake up hung-over once in a while saying they should never drink again. Why would you NOT get wasted when they are? How boring is it to NOT get drunk, binge drink or black out?
Really there are plenty of REAL reasons that a problem drinker thinks it's 'lame' that you aren't drinking anymore, and most of the time it really has NOTHING to do with you, and EVERYTHING to do with them. This is a list of just 5 real reasons problem drinkers think its lame when you stop drinking.
They're afraid you will judge them while drinking…
When a problem drinker is doing some binge drinking or taking the party a little too seriously, they might think it's lame that you have stopped drinking because they are afraid you will see them in their intoxicated state and pass judgment on them for being drunk. Most times a problem drinker wants to drink with others who are drinking because getting drunk helps them forget their inhibitions, which is always easier when the people around you forget theirs too.
When someone who drinks to the extent that it creates problems in their life is confronted with being around someone who no longer has those problems, they may feel ashamed that they act the way they do and say the things they say, knowing that you still have some sense while staying sober.
People seem more 'normal' to them drinking…
Sometimes a problem drinker considers others normal when they are drinking as they do, especially if they are used to you being a heavy drinker too, and they consider that to be the 'normal' you. Once you get sober it may confuse them as to how you ended up not having to have a drink to be yourself. Problem drinkers might feel they can't relate to you as much simply because you are no longer drinking. Truthfully, if they are causing problems every time they drink, it's probably a good thing.
You can remember what they did the next day…
I know this may be a crazy statement, but sometimes problem drinkers actually do things that are a little more embarrassing or a little less tasteful than they would care to admit. Problem drinkers might find it discomforting that you are sober, because then they have to worry about the person who will definitely remember those embarrassing things they do, or those crazy things they say, and call them out on it once they sober up.
Someone who has stopped drinking can be an annoying reminder to a problem drinker of the fact that they get drunk, make mistakes, and cause problems. It's not that you're lame, they just do lame stuff and now someone can prove it!
They may be jealous they can't stop…
Problem drinkers may just be jealous of you once you're sober. Maybe that person who thinks it's 'lame' you don't drink is just upset because deep down they know they don't have the ability to stop drinking on their own and they don't understand how you were able to overcome your drinking. Not to say that they will hate you or lash out against you for it.
Still, a part of them may just be annoyed at the fact that they try to stop drinking but can't. Or they do but they can't be happy without it. If a problem drinker is causing problems for themselves, and sees you able to not drink and be happy, then it may go to show that they need help. Do NOT let a problem drinker make you feel like your accomplishments in sobriety are insignificant, especially if deep down they just want what you have.
They may think you consider yourself better than them…
Ego is a huge problem with alcoholics. Self-centered behavior is natural to most that have serious problems with drinking, and it would only make sense that a problem drinker would assume your ego has only grown since you stopped drinking. In sobriety we should remember not to be self-righteous, because a problem drinker may see that and say the sober individual thinks they are better than people who do drink.
This is not the fault of the recovering alcoholic who is around a problem drinker and maintains their sobriety. The other person may even feel this way based off of another issue, like jealousy or insecurity.
The problem drinker or even the average person may not understand the process and the perseverance of obtaining and keeping your sobriety. By not knowing the struggles you have been through for your sobriety, they won't understand the value of it, but hopefully they respect it enough to honor you when you maintain it. If you or someone you love is struggling with substance abuse or alcoholism, please call toll-free 1-800-951-6135