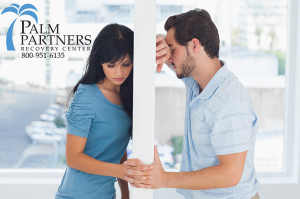 Love- it can be the most potent, powerful, and sometimes painful addiction there is. Loving an addict is probably one of the hardest and most heart-breaking kinds of love you can ever feel. They say that love is the expression of the beauty of the soul, and it is also said that addiction is a spiritual illness. So addicts are a whole different kind of love sick. As someone who has both been in love with an addict, and who is an addict and alcoholic in recovery, I can attest to some of the tragedy encompassed in loving an addict. Seeing the effects it had on my romantic relationship, and even my family, I can easily relate to the 7 hardest things about loving an addict.
Dealing with mood-swings…
Addicts and alcoholics are characterized during active addiction and substance abuse by various forms of behavioral issues. One common problem for an addict is frequent and unpredictable mood-swings. Trying to love someone who has a drastic attitude shift depending on their 'high' or lack-there-of is like tip-toeing around broken glass, and can cause a serious strain on you and the relationship. Addicts are not known for being the most emotionally stable people, so loving an addict has plenty of quick 'high's and drastic lows of its own.
Dealing with insecurities…
Addicts and alcoholics tend to be insecure in a variety of ways. This insecurity can cause an addict or alcoholic to even be controlling. The constant battle to control situations and circumstances is not exclusive to the addict, but it is a huge element of addiction, and in a relationship insecurity can cause you both to lose out on love. Understanding how much of an addiction is directly involved with the severity or insecurities or numbing an addict to insecurity is not easy.
Trying to trust…
In my opinion there is no true love without trust. Trusting an addict or alcoholic is no easy task, especially when they have a history of stealing from you, lying to you, or using you to get what they need to get high or drunk. We addicts and alcoholics can find new and inventive ways to destroy the trust others have for us, and we often do it with no thought of how it puts a strain on the love others have for us. Or worse, we don't care.
Getting jealous of the drug…
When you love an addict or alcoholic, it is hard not to get jealous of the 'high' they get from their drugs or drinks. When you think about it long enough, the thought that they cannot give up their addiction for you translates most times to you meaning less to them than the 'high' does. This creates a strong resentment in most relationships. We want to be the only 'high' our relationships need, but drugs and alcohol make one cruel mistress.
Feeling helpless…
That feeling of helplessness and powerlessness is far too familiar to those who have ever loved an addict. To see someone who you care so deeply for struggle against the physical and emotional torment created by addiction and to discover that there is no way for you to save them from themselves is truly devastating. It is said love conquers all, but the love for the addict to change has to come from within themselves. They are powerless while using drugs and alcohol, and you have even less power over their addiction.
Protecting yourself…
Love is so powerful and so influential, we allow it to cloud our judgment and in turn allow ourselves to be hurt. One of the hardest things about loving an addict or alcoholic is knowing how to protect your feelings and peace of mind. Knowing when to not enable their addiction, when to safeguard your own emotions, and if needed when to let them go.
You lose them…. or you fear losing them…
Many people, including myself, have lost someone we love to drugs and alcohol. Being in love with someone and losing them to overdose, or other health problems caused by addiction, is by far one of the most intensely devastating feelings. The same can be said about losing a family member or best friend. To me the hardest part of loving an addict is the fear. Fear created by losing them, or the fear of losing them to their addiction. I have experienced both, and I have subjected my family and loved ones to more than their fair share of fear. Luckily for me, that same love and fear is what put me in a position to find a solution.
Love is the single most beautiful and liberating passion there is when it is genuine and unconditional. The greatest gift we have is the ability to love and be loved, and to share ourselves, our fears and our futures with one another. To love an addict can be dangerous, depressing, and even toxic. However, it is not impossible to sustain that love once the path to recovery has begun. Once some real sobriety has set in, and the spark of the spirit can shine through after the drugs and alcohol are gone, loving a recovering addict or alcoholic is an incredible experience.
If you or someone you love is struggling with substance abuse or addiction, please call toll-free 1-800-951-6135