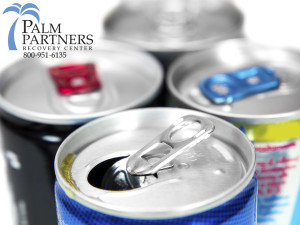 Red Bull is under scrutiny after an otherwise healthy 16-year-old died after drinking the energy drink, which has sparked debate on whether caffeine consumption is dangerous – even fatal.
Arizona teen, Lanna Hamann, went into cardiac arrest – leading to her sudden and unexpected death – after reportedly drinking several cans of a popular energy drink while on vacation in Mexico, And now an aggressive campaign on Twitter has Red Bull in its crosshairs.
Apparently her drink of choice, says her friend Brandi Vidal, 15, "Lanna loved Red Bull. She always had it in her hand." Hamann was drinking Red Bull on the day she died, and her friends and family believe it was the combination of energy drink consumption and dehydration that's responsible for her death. A medical exam has yet to confirm their theory: that energy drinks present a greater risk than that of other caffeine-containing beverages.
In fact, the FDA is already currently investigating caffeine-related deaths, and just last year, it announced that it was looking into the safety of caffeine-enhanced products when it comes to children and adolescents. Senators Richard Blumenthal and Richard Durbin have been pushing the FDA to address concerns regarding the amount of caffeine in products, and last August they introduced the Dietary Supplement Labeling Act, which would require greater regulation of dietary supplements and ingredients by the FDA.
As it stands now, the American Academy of Pediatrics discourages caffeine consumption among children under the age of 18 years.
It's well-established that large amounts of caffeine can be dangerous to the heart. There has been one confirmed caffeine-related death in the United States but that was caused by an overdose on caffeine pills, which can have as much caffeine as three 8.4 fl oz cans of Red Bull in one pill, according to the FDA. What remains to be seen is whether it's possible to overdose on caffeine from energy drinks. "When it comes to energy drinks and supplements, there are so many things in the product it's hard to isolate the caffeine," an FDA spokesperson told TIME.
The FDA requires reports of adverse health events related to foods, drinks, and medications; the agency says it has reviewed reports of hospitalizations that it's received from several energy drink companies, including 5-hour Energy and Monster.
The caffeine content of energy drinks varies widely form brand to brand. Red Bull says its 8.4 fl oz cans contain about 80 mg, the same amount of caffeine as a cup of coffee, which was confirmed by a 2012 Consumer Reports review of the 27 best-selling energy drinks.
When it comes to adults and caffeine consumption, the FDA says 400 mg a day – about four or five cups of coffee – is generally considered safe.
However, concern about the safety of energy drinks seems to be increasing as of late. In January, research from Mintel, a global market research provider, found that roughly 59% of Americans who are current energy drink users say they worry about the safety of these drinks.
And yet, the energy drink industry is a booming one, going from a $3.8 billion business globally in 1999 to $27.5 billion in 2013. Furthermore, a February study in the journal Pediatrics showed that young people are opting for energy drinks and coffee over soda.
If you or someone you love is struggling with substance abuse or addiction, please call toll-free 1-800-951-6135.