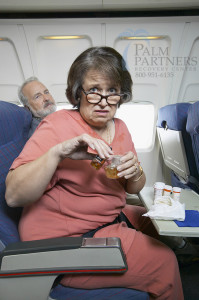 America's 78 million aging baby boomers are heading into retirement and, along with more than their fair share of considerable wealth, access to health care, and higher levels of education, they are also heading into their golden years with an increasing rate of drug and alcohol abuse as well as mental illness. It's an epidemic that has yet to be recognized, according to a recent Institute of Medicine report.
Baby Boomers: America's Hidden Addicts
Looming Public Mental Health Crisis
Alcohol remains the top drug of abuse among the aging baby boomer generation; however, non-medical, recreational use of prescription drugs is a rapidly growing problem. Some studies estimate that up to 10% of the elderly are misusing prescription drugs that are known to have serious abuse potential, which most often include anti-anxiety drugs, known as benzodiazepines (benzos) such as Klonopin and Xanax, sleeping pills like the narcotic Ambien, and opiate painkillers like Oxycodone. When it comes to gender, women far outnumber their male counterparts regarding the non-medical use of prescription drugs: 44% of women versus 23% of men.
In order to understand the magnitude of this looming mental health crisis, it's important to look at past populations and rates of substance abuse and mental illness and then extrapolate those numbers to the boom in the elderly population with aging baby boomers. In 2010 estimates were that six to eight million older Americans — about 14% to 20% of the overall elderly population — had one or more substance abuse or psychological disorders. Between 2010 and 2030, the number of adults aged 65 and older is projected to increase from 40 million to 73 million, and the numbers of those needing treatment stands to overwhelm the country's mental health care system.
Why Baby Boomers Use
Rather than younger generations who generally use to "get high," beginning after age 60, the reasons that the elderly turn to alcohol and other drugs appear fundamentally different. Typically, people who begin using as teenagers or young adults tend to do so because they are seeking that euphoric feeling or because they have significant rates of psychiatric disorders and antisocial traits. On the other hand, the baby boomers turn to alcohol and drugs to alleviate the physical and psychological pain from the onset of medical and psychiatric illness, the loss of loved ones, and increasing social isolation.
This is cause for concern because these are powerful psychoactive drugs, meaning that they have a profound effect on brain function, especially in an elderly person, who doesn't metabolize substances as quickly or as efficiently as a younger person does and who may have ailing health. Alcohol and other drugs being used by baby boomers impair cognitive functioning, cause depression, increase the risk of falling and interact dangerously with other medications, which the aging tend to be taking a lot of. Moreover, drug and alcohol abuse in older people occurs alongside other medical and psychiatric illnesses. It's counterproductive to treat either problem by itself; both substance abuse and mental illness much be treated simultaneously for best outcomes.
Stigma and Denial
Ageism exists and it's perhaps the most obvious when it comes to the topic of alcoholism and drug addiction among baby boomers.
It's difficult and even uncomfortable for many, especially for the adult children of baby boomers to come to terms with the possibility that their elderly parents might be abusing or addicted to alcohol, prescription medications, or even illicit drugs. It might even seem highly improbable. After all, the common addiction stereotype is that the typical alcohol and drug addict is a young person.
When it comes to health care providers, when they do consider the possibility of alcohol or drug abuse, doctors may fail to realize that even small amounts of alcohol or drugs can be problematic, considering metabolism rate, other medications, as well as well as increased brain sensitivity to them. Also with advanced age come cognitive impairments, which make self-reporting and self-monitoring on the part of the patient unreliable.
If you or someone you love is struggling with substance abuse or addiction, regardless of their age, help is available. Please call us toll-free at 1-800-951-6135 to speak directly with an Addiction Specialist. We are available around the clock, day or night. You are not alone.