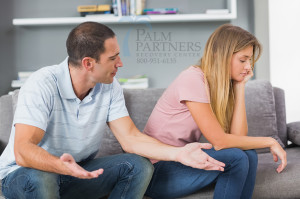 Can I make someone go to rehab? Try talking to them
You can try talking to your loved one about getting help by going to rehab for substance abuse and addiction. Here are some tips on how to talk to your loved one about this very sensitive subject.
First of all, take a matter-of-fact tack. Simply state what you know happened, rather than asking loaded questions and encouraging lying, only to call them out on it after you get them to produce some kind of answer. Use language that reflects how you see things, such as "I feel," and "I think" being careful not to start statements with "You" as it sounds accusatory.
Don't blame yourself or your loved one for their addiction. Also, don't take anything your loved one says personally. It really isn't about you.
Be sure to provide information that might influence your loved one in making the decision themselves, rather than trying to convince them to change. Focusing on how things will improve your loved one makes changes, rather than how things will be worse if they don't is also effective when talking to someone about their addition.
Can I make someone go to rehab? Family pressure
First, of all, the idea of going into treatment is often a frightening one. Your loved one might be more open to the idea if you do the research for them because they are already feeling overwhelmed. Look into treatment programs and rehabs that are covered by their insurance. Gather brochures, literature, information from their websites, and contact phone numbers.
One of the main fears of going to rehab is that of job loss. The good news is that there is legislation that protects many people's jobs when they go to get help for substance abuse and addiction. Get information related to HIPAA and FMLA and present it to your family member or loved one who struggles. It will outline how both their job and privacy are protected by these laws.
Appeal to their emotions by letting them know you fully support their decision to get help and build up their self-esteem with affirmations about them that don't have to do with their addiction, instead of dwelling on all the negative ways in which it's affecting them.
Talk to them in a non-confrontational, non-judgmental manner and in a private setting. Another suggestion is to write them a letter and either sit with them as they read it or allow them to read it on their own. Putting your feelings on paper is the best way to get your point across without tempers running high, which can happen in a face-to-face situation; having an emotionally-charged conversation with someone who is likely to become defensive and even angry will more than likely turn into a screaming match. By writing it down, you can get out everything you need to without being interrupted and without things escalating into a heated argument in which both sides so things they really don't mean.
Can I make someone go to rehab? Tough Love
Some may disagree with the 'tough love' approach but, it's important to know what enabling is and how to set limits and boundaries with a loved one who is using. This usually means cutting off any financial support you have been giving them and all other means of support, such as helping out with rides, paying bills, and basically bailing them out any time they're in a jam. Saying 'no' and sticking to your guns is important. Otherwise, you run the risk of enabling them and essentially supporting their drug habit, either directly or indirectly.
Can I make someone go to rehab? 5150 hold
The 5150 hold allows someone to be held up to 72 hours against their will. A 5150 is not supposed to be used to hold a person who has been reported by anyone other than a qualified officer or clinician. That is, in order to use this option, you would have to get the authorities involved. There is no guarantee that your loved one will stay in the facility. The request merely gets them in the door of the facility and, depending on the assessment performed by staff, your loved one might be kept for up to 72 hours.
Can I make someone go to rehab? Get support
If you need support with learning how to support your loved one and getting them to get help for their addiction, there are several things you can do.
Support groups such as Al-Anon (an AA spin-off for the family and friends of alcoholics), Nar-Anon (for the family members of narcotics abusers), Family Anonymous, or Alateen (geared toward teenagers and preteens) exist specifically to support the loved ones of those who struggle with substance abuse and addiction. These groups are free and open to the public. These, like AA and NA are fellowship groups can help you better understand your loved one's addiction as well as ways to cope. You will learn and understand that you aren't responsible for their substance abuse and that you can't force them to stop. These groups also can teach you effective ways to cope as your friend or family member faces the consequences of addiction and how to talk about addiction with them.
Another option is to arrange an intervention, which is a meeting or confrontation between the loved ones of the addict and the addict. By confronting your loved one and being able to talk about addiction with them, including the consequences of the addiction, an intervention is geared toward popping their bubble of denial as well as finally acknowledging the ways in which their behavior is destroying their relationships as well as their own life. Finally, the goal of the intervention is to get your loved one to agree to seek treatment.
Be aware, however, that interventions can be drag up all kinds of painful memories and accusations. Also, it's important to know that this approach doesn't always work and may even backfire, by alienating your loved one from their support system – their concerned loved ones. This can result in pushing them away from the idea of getting help.
If you need support and have questions, you can call 1-800-951-6135 to speak with an Addiction Specialist around the clock. If you're wrestling with the idea of "can I make someone go to rehab?" speaking with a specialist can help you with ways to address the situation with your loved one.