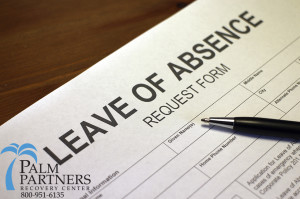 I am a person in recovery and was able to go to into a substance abuse treatment facility thanks to my job at the time. I had medical benefits through my employer, which means that I also was covered by something called the Family Medical Leave Act (FMLA). That piece of legislation allowed me to go to inpatient rehab for my substance abuse and addiction issues without penalty, meaning that I had job security: I couldn't be fired for getting help.
In fact, I had 3 months of paid leave while I went into a program to save my life. It was a relief knowing that I had the law on my side when I finally decided to face my problem.
I learned a lot about the FMLA through my personal experiences of using it to my benefit. Now, as someone who advocates on behalf of others who are in the same position I was once in – seeking treatment but fearing retribution from their employer, such as dismissal, I found out that the FMLA also covers family members who are taking care of a loved one who is seeking treatment. That is, the FMLA doesn't just cover the person seeking help but, also any of their family members who may be caring for them or their affairs – such as a grandparent taking care of the patient's children – while they are in treatment.
This is such an awesome thing. However, for people who identify as gay or lesbian, there wasn't a guarantee of that extended coverage. Just like with other rights and, especially when it came to medical benefits, same-sex partners were often not recognized as family members. This is the heart of the argument for pro-marriage equality laws. More and more states are adopting laws protecting marriage equality, changing the way things work in a profound way. Namely, who we consider to be "family members" and how they should be covered when it comes to certain benefits.
And now, more groundbreaking changes are taking place – with the FMLA, specifically.
The Labor Department issued a proposed rule Friday stating that any employee is eligible for leave to care for a same-sex spouse under the Family and Medical Leave Act regardless of whether they live in a state that recognizes their marital status.
Since last year's Supreme Court decision striking down the 1996 Defense of Marriage Act, the proposed rule is the latest effort by the Obama administration to extend federal benefits to same-sex couples. The ruling in the case Windsor v. the United States, found that gay couples that were married in states where it's legal are entitled to receive the same federal health, tax, Social Security and other benefits that heterosexual couples receive.
In almost all instances, same-sex married couples will receive the same federal benefits and obligations as their heterosexual counterparts, regardless of where they live.
Human Rights Campaign spokesman Fred Sainz called the administration's application of the Windsor decision to federal policy is "easily the largest conferral of rights, benefits and obligations to gay and lesbian Americans in our nation's history."
There are two exceptions remaining, which are regarding Social Security and Veterans' benefits. Currently, these are determined based on the law where individuals live, as opposed to where their marriage took place. The Human Rights Campaign, the American Civil Liberties Union, as well as several other gay and civil rights groups have been pressing lawmakers to extend those federal benefits to same-sex couples.
Labor Secretary Thomas E. Perez said, "The basic promise of the FMLA is that no one should have to choose between succeeding at work and being a loving family caregiver. Under the proposed revisions, the FMLA will be applied to all families equally, enabling individuals in same-sex marriages to fully exercise their rights and fulfill their responsibilities to their families."
If you or someone you love is struggling with substance abuse and addiction, please call toll-free 1-800-951-6135.