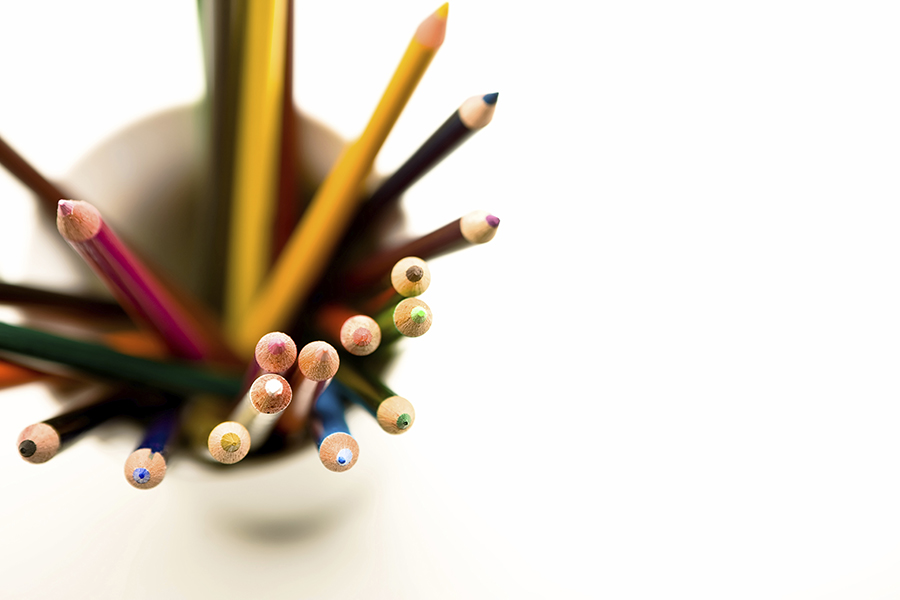 Author: Justin Mckibben
What was your favorite coloring book as a kid? Mine was definitely Batman, duh! I can see myself now… trying to get that yellow Bat-symbol perfect, and just going crazy with the black crayons until half the room was scribbled in. Coloring as a kid is so easy to get lost in, because we can let ourselves get lost in the creative corners of our minds, and I know I had plenty Batman murals on the fridge-magnet-hall-of-fame!
As adults, coloring is an activity that we most often associate with children. The older we get, the more innocent joys we push to the side along with our crayons and colored pencils, stuffed animals and action figures. We trade our markers in for more "respectable" utensils like pens. But little do we know coloring can be incredibly beneficial for adults, especially for relieving stress!
How Adults Can Enjoy Coloring
The exercise of coloring has several benefits for an individual who is experiencing frequent stress. Coloring generates a variety of positive emotional states, such as:
Wellness
Quietness
Creativity
It also stimulates brain areas related to motor skills.
Coloring can be so powerful that publishers have lately been launching coloring books specifically designed for adult consumers.
The Study of Adult Coloring
Ever heard of Carl G. Jüng? Well he was one of the first psychologists to apply coloring as a relaxation technique as early as the 20th century. Using mandalas: circular designs originated in India with concentric shapes similar to the Gothic churches' rose windows, he developed a strategy to use creative coloring to combat stress.
According to psychologist Gloria Martínez Ayala when we are coloring, we activate different areas of our two cerebral hemispheres.
"The action involves both logic, by which we color forms, and creativity, when mixing and matching colors. This incorporates the areas of the cerebral cortex involved in vision and fine motor skills [coordination necessary to make small, precise movements]. The relaxation that it provides lowers the activity of the amygdala, a basic part of our brain involved in controlling emotion that is affected by stress."
Essentially what this tells us is that coloring is de-stressing because when we focus on a particular activity. It basically takes all the focus off our worries and channels it into a positive and personal action. Coloring brings out our imagination. Those in recovery can image the power of finding a passion, or a creative outlet in sobriety.
Have you ever done something that made you feel like you were back to your childhood and it brought you a great sense of peace? Coloring we associate with that period in which we had a lot less stress, and it takes us back there when we participate as adults in the activity, leading us immediately and unconsciously to a state of well-being.
Psychologist Antoni Martinez has referenced how we also use coloring to connect to how we feel, since the colors or intensity we choose often reflects our mood. Martinez has stated,
"We can use it to enter into a more creative, freer state,"
"I myself have practiced that. I recommend it in a quiet environment, even with chill music. Let the color and the lines flow."
The Trending Culture of Adult Coloring
Adult coloring is all the rage in countries in Europe, and is currently also trending in North America. Most recently, in Spain, the publication Espasa published Coloréitor, with illustrations by well-known cartoonist Forges. In countries like France or the UK, coloring books for adults are bestsellers.
In France
Publisher Hachette in France has a collection called Art-Thérapie with 20 de-stress volumes including drawings from books including:
Butterflies
Flowers
Cupcakes
Graffiti
Psychedelic patterns
In the UK
Illustrator Mel Simone Elliot has become a popular creator of coloring books in the United Kingdom. One best seller is her series Colour Me Good which allows people to color celebrities like:
Ryan Gosling
Beyonce
Kate Moss
In Spain
Spanish cartoonist Antonio Fraguas, or Forges, published Coloréitor, which its publishing house proclaims as "a de-stress book" of sorts. In the preface to the volume psychologist Luis Rojas Marcos says,
"coloring comforts us, gives us peace, and lets us enjoy ourselves — it even temporarily frees us from daily pressures… Although coloring a couple of hours does not eliminate all problems and worries, it takes us away and relieves us from the stress that overwhelms us."
Antonio Fraguas was kind enough to even warn beginners:
"Despite how highly stressed you may be, the most important thing is to not use pen markers with alcohol that go through the paper. The proper thing is to use crayons."
American Coloring
Who could forget about the good old USA… seriously, what would the color wheel be without red, white and blue! American comedians Ryan Hunter and Taige Jensen released a publication aptly named Coloring for Grown-Ups, and it is sure to be worth your time to scribble away the stress. It includes more than 50 fun activities that are both darkly humorous and fun for any occasion such as:
6 Steps for Compromising Your Integrity and Goals!
"Hipster or Homeless?"
Draw the person you thought you'd grow up to be before you abandoned all your hopes and dreams!
The artwork resembles that of a children's activity book, while actually poking fun with an ironic look at the habits and challenges of adulthood. Sure to get your adult-self laughing and your inner-child coloring through the stressful times.
Next time you feel like this adult life is weighing you down, take a little bit of time to add some creativity and color to the picture. Life is so much more vivid when we stop stressing long enough to see the beauty in it and stop worrying about staying in the lines.
Learning how to cope with stress and discomfort is a huge part of becoming an adult, and relearning these things is often an essential part of recovery from drugs and alcohol. If you or someone you love is struggling with substance abuse or addiction, please call toll-free 1-800-951-6135.