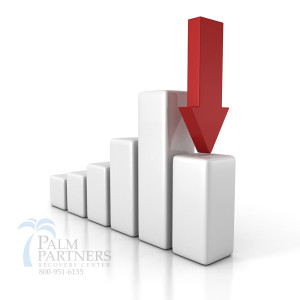 In the past years there has been so much concern in regards to the growing drug problems this country has been facing, especially in areas like Florida where the prescription drug market was a serious concern, and the fatality rate due to overdose was rising across the board. However it has been recently documented that along with a new wave of reform in the regulation of pain clinics and prescription narcotics, there has also been a steady slope of decline in the number of deaths credited to overdose in Florida. Much of this is a result of the investigations, restrictions, and enforcement efforts put forth to resolve these issues and give new hope.
Declining Death Rates
Between the year 2003 and 2009, the number of deaths attributed to drug overdose in Florida had increased by 61%. The number of drug overdoses in the region shot up from 1,804 to 2,905 in that 6 year time span, with especially notable increases in these overdoses caused by the opioid pain reliever known as OxyCodone and the Benzodiazepine known as Alprazolam. In response to this drastic surge of fatal drug use Florida implemented various laws and added efforts to take action for enforcement of legislation as part of a all-inclusive effort to reverse the developing drug problem.
Between the year 2010 and 2012, the number of drug overdose deaths decreased by an exceptional 16.7%. Lowering the number of fatal overdoses from 3,201 to 2,666, and the deaths per 100,000 persons decreased 17.7%, from 17.0 to 14.0. There were many notable changes in the trend of overdose for Florida, especially in regards to prescription drugs:
Death rates for prescription drugs overall decreased 23.2%, from 14.5 to 11.1 per 100,000 persons.
The decline in the overdose deaths from oxycodone (52.1%) exceeded the decline for other opioid pain relievers,
The decline in deaths for alprazolam (35.6%) exceeded the decline for other benzodiazepines.
These averages were determined based on estimates of resident populations made by Florida Department of Health.  Many of these overdose deaths may have had more than one of the dangerous prescription drugs contributing to the death, so in some cases there was no way to directly credit the overdoses to one in particular.
Florida Taking Action
There is a definite relation to the declines which occurred regarding overdoses and the decline in the rate of these drugs being prescribed during this period. The connection between the new legislation with progressive enforcement and the considerable declines in written prescriptions and overdose deaths, especially for the more dangerous narcotic drugs favored by pain clinics, suggests that these proactive initiatives in Florida had a deep impact on reducing prescription drug overdose fatalities.
There is a time-line of events that took place between January of 2010 and July of 2012 that shows how the state of Florida, along with the United States Drug Enforcement Agency became actively involved in combatting the rise in fatal prescription drug overdoses. This movement had taken its toll on the 'pill mill' empire that had sprung up in the area.
January 4, 2010- Pain clinics must by registered and recognized
February, 2010- Operation Pill Nation- U.S. Drug Enforcement Agency (DEA) and state and local law enforcement officials began investigations into Florida pain clinics.
October 1, 2010- Regulation of Florida pain clinic policies was expanded.
February 23, 2011- Operation Pill Nation- Joint law enforcement raids began taking down larger illegal drug operations.
July 1, 2011- Physicians regulated for dispensing controlled substances and statewide regional strike forces activated.
September 1, 2011- Program for mandatory reporting to prescription drug monitoring program was initiated and enforced.
July 1, 2012- Wholesale prescription narcotics distributor regulations were expanded.
Given all the recent reforms and head-line worthy arrests that have taken place in the last few months alone, it is hopefully safe to assume that this new diminishing percentage will continue to drop, and the more action that Florida authorities take toward rooting out those responsible for the past plague of illegal pill distribution in the area the more we will see survivors of the war on addiction.
With so many changes in legislation and in the community Florida is quickly facing the issue with substance abuse and addiction head on, and there are so many people who are taking the opportunity to escape those harmful habits by seeking out reliable and effective treatment programs. If you or someone you love are struggling with substance abuse or addiction, please call toll-free 1-800-951-6135.