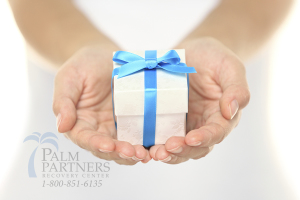 The 'gifts of recovery' also called 'gifts of sobriety' and 'promises of sobriety' are the positive things that happen in our lives once we get clean and sober and work towards bettering ourselves. As long as we keep doing the next right thing, these gifts are guaranteed.
I have written about this subject before, when I was in early(-ier) recovery and identified that the first couple of gifts I received were the amazing ability to sleep restfully as well as the ability to experience genuine, hearty belly-laughter – two things that had eluded me in my active addiction.
Well, this past week, I got to take a vacation (Yay!), which of course can be seen as a gift of recovery in and of itself but, wait, there's more! My vacation took me to New York to see my dad and celebrate his 75th birthday with him. What's more, this was the first time I got to see him in person since getting clean – over two years ago.
My dad was the first person to have the insight and courage to say something to me about getting help for my drug addiction. I say 'courage' because, like many others in active addiction, I was not an easy person to talk to, especially when it came to discussing my drug use. For one, I was completely in denial about being an addict. Secondly, like I said, I wasn't the easy-going, nice person that I am today. I was an emotional wreck: I took everything personally and basically was simply unable to process thoughts, emotions, and feelings like a rational adult because, well, because drugs.
When my father confronted me – via phone (he had already moved back to New York and I was living in Florida) – I was shocked. And pissed. In fact, I didn't speak to him for about five months. It wasn't until I realized that he was right: I needed help – professional help – and I was willing to ask for it. After having this epiphany – one in which I was literally weighing my options between killing myself or going to rehab – my father was the first person I told. I can still remember hearing the relief in his voice.
I'd say that the period I spent in active addiction spanned a decade – or even a little longer. That said, I missed out on a good chunk of life. Not only did my relationship with my dad suffer, ALL my relationships suffered. I became estranged from most of my family on both my mom's side and dad's side.
Gifts of Recovery: Reconnecting with Family
This trip not only allowed me to reconnect with my pops; I got to reestablish relationships with my other family members who live in New York. For example, one of my cousins, whose wedding I missed because again, drugs, had her first baby. My other cousin, her sister, just got engaged and I got to meet her fiancé. I missed the death of another family member, although distant in relation, close to my heart.
Despite all the things – people, events, and even emotions – that I missed out on because of my drug use, I have no regrets. I can't. There's nothing I can do about the past. I can only be present, in the here and now and build a better future for myself.
As long as I stay clean and sober by putting the necessary work and energy into my recovery, the gifts will continue to pour in and I can say with confidence, my future looks so bright, I need sunglasses.
Are you struggling with substance dependence, substance abuse, or addiction? Do you know that there's a better way? If you want to find out about it, call toll-free 1-800-951-6135 to speak with an Addiction Specialist. We can answer your questions, day or night.