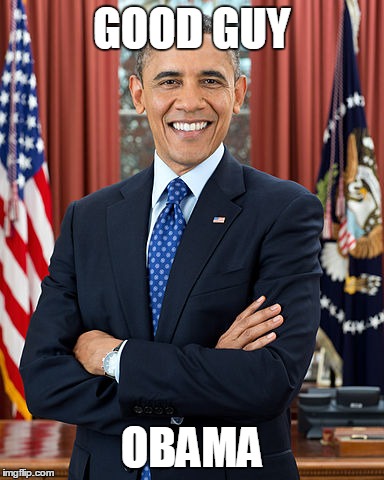 By Cheryl Steinberg
The White House issued a statement saying that President Obama has made a move to grant older prisoners the same leniency that is given to those convicted of the same crimes in today's socio-political climate.
On Tuesday, President Obama, in a not so-war-on-drugs action, commuted the prison sentences of 22 prisoners convicted on drug-related crimes, in effect shortening their sentences.
Of the 22 federal prisoners, eight were serving life sentences. All but one will be released on July 28.
"Had they been sentenced under current laws and policies, many of these individuals would have already served their time and paid their debt to society," White House Counsel Neil Eggleston said in a statement. "Because many were convicted under an outdated sentencing regime, they served years—in some cases more than a decade—longer than individuals convicted today of the same crime."
Good Guy Obama Pardons Nonviolent Drug Offenders
This recent presidential act means that Obama has more than doubled the number of commutations he's granted in his entire presidency. Before Tuesday's issued pardons, the president had commuted 21 sentences and denied another 782 commutations in more than six years in office.
Historically speaking, Obama's was the most commutations issued by a president in a single day since former President Clinton issued 150 pardons and 40 commutations on his last day in office.
Many believe this signals a trend to grant even more commutations during Obama's last two years in the Oval Office. The president's pardoning power combined with a new clemency initiative taken by the Justice Department last year could mean that even more low-level, nonviolent drug offenders will be pardoned or at least have their sentences commuted, possibly to time already served. The clemency initiative was created in order to encourage more of these low-level drug offenders to apply to have their sentences reduced. The result: a record 6,561 applications in the last fiscal year, among them, at least two were granted commutations during the Tuesday announcement, according to the Justice Department.
Presidential Clemency Power
The Constitution gives the president the "power to grant reprieves and pardons for offenses against the United States," and this includes the ability to shorten sentences for those convicted of federal crimes.
And Obama has been more and more vocal about his resolve to be more aggressive in his last two years as president when it comes to exercising his constitutional powers to grant clemency.
"One of the extraordinary powers that a president has is the power to commute sentences or to pardon somebody who's already been sentenced," Obama said in South Carolina in early March.
"A lot of what we're focused on is non-violent drug offenses where somebody might have gotten 25 years, and she was the girlfriend of somebody and somehow got caught up, and since then has led an exemplary life, but now really wants to be able to start a new career or something like that," Obama said. "That's the kind of person, typically, that would get through the process."
A Real Life Example of Clemency Power in Action
Tracy Lynn Petty is a 46-year-old North Carolina woman who was convicted of cocaine possession back in 2006.
Given a sentence of 13 years for her non-violent offense, Petty was originally slated for release from a federal prison in 2019. But, Obama's action subtracted four years of her sentence to allow for early release.
"I have done 10 years and four months. I am so sorry and have had time to think about all my actions in life," she wrote in a handwritten letter placed in her court file in February. She said she's taken landscape management classes in prison, and has been allowed outside the gates to work on the prison grounds for eight years.
Good Guy Obama even personally wrote to each of the 22 convicted prisoners to say they had proven that they have the potential to turn their lives around.
"Now it is up to you to make the most of this opportunity. It will not be easy, and you will encounter many who doubt people with criminal records can change," Obama wrote. "I believe in your ability to prove the doubters wrong."
Of the 22 commuted sentences granted Tuesday, 17 were for possession of or trafficking in cocaine. The others cases involves methamphetamine, heroin and/or marijuana. The move was celebrated by groups that work to reform the draconian mandatory minimum sentencing laws in this country that are the reason for some many lengthy sentences.
"We are thrilled that President Obama is making good on his promise to use the powers granted him by the Constitution to provide relief for federal prisoners serving excessively long mandatory minimum sentences," said Julie Stewart, president and founder of Families Against Mandatory Minimums. "We hope and expect to see more commutations granted through the end of his term."
If you or a loved one is facing jail or prison as a result of drug-related offenses, getting help might be the answer; and it might lessen or replace a jail sentence altogether. Here at Palm Partners, we offer alcohol and drug treatment but, that's not all. We have all kinds of services, namely Case Management, which involves you meeting one-on-one with a case manager or social worker who can advocate for you when it comes to legal matters, as well as personal matters. Please call toll-free 1-800-951-6135.