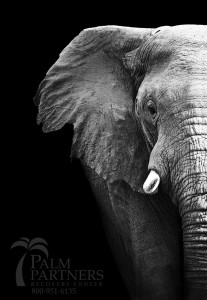 Heroin smugglers in the Asian region that lies between China and Myanmar (also called Burma) were using elephants to carry large quantities of heroin. And, it came out later, that they were feeding them opium in order to more easily control them.
The elephants were used by Triads to carry heavy quantities of drugs across the border in packages strapped to their backs.
When members of the gang were caught, the animals were rescued and sent to a sanctuary in Yunnan Province, China. There, keepers noticed that some of the elephants were becoming restless and even wildly aggressive.
Staff at the Wild Elephant Valley decided to run tests on the elephants that had been used for drug-running purposes; four of which tested positive for the opiate. All four were then treated for withdrawal symptoms, undergoing a veritable rehab program at the reserve.
The rescued elephants had traces of heroin in their system. The four animals that became dependent on the drug had been fed opium-laced bananas by members of the drug smuggling gang to make them more mild and calm and therefore more easily controlled.
China's feared Triad smuggling gangs would give them drugs making them easier to train. Once the elephants were addicted to the drug, they would become desperate for the next fix, obeying any command they were given by gang members as long as they were adequately rewarded.
Heroin Addicted Elephants Kick The Habit
Today, the elephants are clean of drugs and healthy. Animal rescuers gave them a year-long course of methadone as a way to wean them off the opiate. Keepers at the sanctuary recently declared that all four are now drug-free.
Trainers had never tried to cure an elephant's addiction before so they decided to use a treatment that's used by humans in treating heroin addiction: methadone. It was given to the elephants in a slow taper over the course of a year to help them kick their habit altogether.
They are so confident of the animals' health that they have released them back into the wild where they have joined wild herds.
Elephants and China
Chen Jiming, an elephant breeder who helped the four rescues kick the habit, said, "It has been a long battle but we can safely say that they are now reintegrated into elephant society and in some cases even have families of their own."
"There are actually more elephants now in the wild since China made it a crime punishable by death to hunt them," but added that there needs to be a change in the laws.
"We haven't increased the penalties for people who turn them into drug addicts by feeding them heroin laced bananas. This is also an important issue that needs to be tackled."
The four magnificent creatures now live in the forests of Yunnan Province, which is located in south-western China, and is a protected area that's home to another 250 wild elephants.
Mr. Chen added, "The elephants need at least five times more methadone than a human being would need at the start, and then we slowly reduced that until they no longer needed it."
He said the withdrawal was "every bit as hard for the elephants to go through" as it is for humans.
If you or someone you love is addicted to heroin, painkillers, other opiates, or any other drug and the fear of withdrawals is keeping you or them from getting help, call us toll-free at 1-800-951-6135 to speak directly with an Addiction Specialist. We are available around the clock to answer your questions and share with you resources. You are not alone and help is available. All you have to do is call.