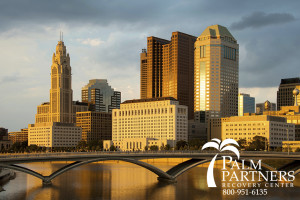 I'm a recovering addict/alcoholic from Columbus, Ohio. It's not all corn fields and farms. I live in South Florida now, but I bleed Scarlet and Grey. I personally abused opiates in Ohio for years, and I know people who have struggled with Heroin and other opiates. I can remember when it was something almost no one knew about, and most people looked down on it or avoided the subject. However, I saw it progress and infect the lives of more and more people, and since going to treatment and getting active into recovery I have noticed it has only gotten worse in my home town. Ohio now has the 12th highest drug overdose mortality rate in the country, and these numbers are growing every day. I see more stories and hear from more people back home the severity, so recently I took a look at the situation.
In Recent News
For weeks now News Networks across Columbus, Ohio have sounded the alarm on broadcast regarding the increasing usage of heroin in Ohio, as well as the growing number overdose-related deaths. Key State Legislators called on Gov. John Kasich to declare an actual Heroin Emergency for the state. The act of declaring a Public Health Emergency can be issued during dangerous circumstances, like a serious virus outbreak or bio-terrorist attacks. Now, these legislators say they want to add heroin to the list of occurrences that would warrant this kind of action. When it comes to heroin in the Ohio Statehouse in Downtown Columbus this may go on record as being Ohio's tipping point.
Expert Information
Ohio is now ready to announce heroin officially as 'Public Enemy No. 1' like the states of Vermont and Massachusetts. Rep. Nick Barborak, District 5, said, "We have been talking about this, we have been addressing it; but, it's to the point now where we have to do something today." Orman Hall, Director of the Ohio Mental Health & Addiction Services noted during a panel in town hall that this epidemic is not just a Heroin epidemic; it is an opiate epidemic which begins with prescription drug abuse. He noted the United States as a whole takes up 4.5% of the world population and of all the opiates produced worldwide we as a nation consume an estimated:
99% of the Hydrocodone
80% of the Oxycodone
61% All Prescription Opiates
While local Ohio lawmakers disclosed several new anti-heroin bills, they added that the growing war with the spread and distribution of Heroin is now Ohio's single-most important issue. Rep. Heather Bishoff referred to the issue as an absolute emergency because it is a problem that now affects every single Ohioan. In the past 5 years, the number of cases involving Heroin in Ohio has tripled. In 2013, heroin was the most common drug tested in Ohio B.C.I. crime labs. The number of cases then totaled around 5,000.
Ohioans Fighting Back
The state Democratic Party also wants more money to fund law enforcement in their efforts to enforce legislation and continue with the on-going war on drugs, as well as for treating heroin addicts. Then there are men like Paul Schoonover, a Central Ohio father who's turned the heart-breaking loss of his teenage son to heroin addiction into a movement to save others from suffering a similar loss due to this growing devastation. In the recent months, there have been several tragic stories told by friends and families of people who have died from Heroin overdoses in Ohio. One man named Thomas Moore spoke to news reporters about his son, Jeremy, who died of an overdose in March. Since then, Moore's also been on a mission to warn others about the impact of drug addiction. So while law makers and law enforcement attempt to work together to find new ways to combat the outbreak of opiates and heroin abuse in Ohio, families are taking action to spread awareness in hopes to save lives. It breaks my heart to see the Buckeye State struggling with this, but I have to remember this is happening all over the country! Luckily there is help for anyone suffering, and I for one know first-hand that there is recovery after addiction. This epidemic is affecting everyone, each small farm town or city block, from the gated communities to the section-8 housing, I hope the community can stand together and get through this. O-H!
If you or someone you love is struggling with substance abuse or addiction, please call toll-free 1-800-951-6135