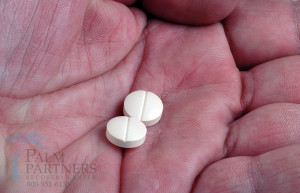 By Cheryl Steinberg
In what appears to be a case of someone going to great lengths to disguise illicit drugs as legitimate ones – and therefore, their illicit activities, heroin in the form of round tablets, resembling oxycodone pills has been found. And this isn't this first time. Around this time last year, a seizure of heroin tablets was made, also in the same county in Pennsylvania.
Not much in the way of details is known at this time. What is known is this heroin disguised as oxycodone found in Pennsylvania.
According to District Attorney Jack Whelan, Delaware County Council and members of the Delaware County Heroin Task Force have issued a warning regarding heroin tablets disguised to resemble oxycodone.
The Regional Operations Intelligence Center issued an alert earlier this week regarding the seizure of tablets in New Jersey that contained heroin. The tablets were the same color and had the same markings that are found on prescription 30mg oxycodone tablets.
According to the alert, "the distribution of illicit drugs sold as prescription drugs is particularly dangerous. Law enforcement and health care providers should be alert to the possibility that what appears to be legitimate prescription drugs, specifically Oxycodone, may actually be heroin."
Chief of the Drug Enforcement Unit, Deputy District Attorney Sharon McKenna, said there was a similar drug seizure in September 2013 in Marple Township, Delaware County, in which tablets resembling prescription painkillers were found to contain heroin.
The concern, according to McKenna, is that someone could unknowingly take one or more of these so-called oxycodone pills that in fact contain a potentially high dose of heroin, therefore resulting in an overdose and even death.
According to reports, the Delaware County Heroin Task Force emphasizes that it is continuing its efforts to educate and prevent the use and of heroin and abuse of prescription painkillers and other prescription medications.
D.A. Whelan, chairman of the Heroin Task Force said, "We are moving forward on many fronts to combat the heroin epidemic that has plagued Delaware County. We are determined to do everything possible to protect our children, our families and our communities from the devastating effects of drug addiction."
Delaware County senior medical advisor and member of the Heroin Task Force, Dr. George Avetian, stressed that people should not take any medication unless they get it directly from a pharmacy. He added that people should safely dispose of all unused and expired medications in one of the county's medicine drop boxes that are located at police stations as well as in the lobby of the Delaware County Government Center.
If you are located in Delaware County or have a loved one in that area and are concerned that one of you may have been affected by this turn of events, you can visit the Heroin Task Force website at www.co.delaware.pa.us for more information. If you or someone you love is abusing heroin or painkillers or other substances, call us toll-free at 1-800-951-6135 to speak with an Addiction Specialist directly. We can answer your questions and share with you our resources. Call us today. You are not alone.