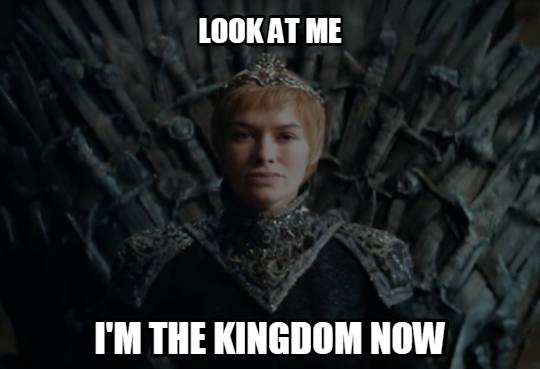 Author: Justin Mckibben
Introducing… Cersei Lannister of the House of Lannister, Light of the West, Widow of Robert Baratheon, Queen of the Andals and the First Men, ruler of the Seven Kingdoms, Protector of the Realm and Lady Paramount of the Westerlands!
Or, as she was known before her stunning and captivating performance on HBO hit series Game of Thrones, the lovely and talented Lena Headey! This amazing actress recently reached out to her fans on Twitter to speak on something very personal; her experience with anxiety.
With GOT fever in full swing now that we are a mere 3 months away from the highly anticipated 7th season (which I cannot possibly be more excited for), it is nice to see a different side of one cast members true story.
Long Live the Queen
Lena Headey's portrayal of Cersei also earned the No. 1 spot on a Rolling Stone Magazine ranking of the "30 Best Game of Thrones Villains", being described as the:
"Most dangerous human being in Westeros" as well as "one of the most complex and fascinating characters on television."
Truly, Cersei is that villain you love to hate until you hate to love her. Headey received a showering of award nominations for the character of the Queen of the Seven Kingdoms and a few wins for Best Actress.
A recent report stated that in 2017, Headey became one of the highest paid actors on television, and is suspected to earn $1.1 million per episode of the 7th season of Game of Thrones.
Before dominating the screen with the chillingly cunning character of Cersei Lannister, Lena Headey has starred in other awesome roles, including the Spartan epic 300. With her powerful and unflinching portrayals of these kick-ass characters, Headey is still a woman who faces some real difficulties in the real world. Beyond the roles in front of the cameras, she took on another powerful role as a voice to fans who asked for her perspective.
Speaking to the Fans
While the character may have once walked naked through the streets of Kings Landing to the Red Keep with the infamous "shame" bell lady behind her (yes… she had a body double… and yes I cried a little), Headey did not shy away when asked a personal question by a fan that got quite a few people talking. A follower on Twitter asked Headey,
"Do you ever get insecure Lena?"
The response was a few tweets which stated:
"I overthink for sure. I am familiar with depression." She then continued by saying, "I get HUGE anxiety (always fun [frowny face]) Insecure, not really."
Another tweet from Lena Headey on the subject came after stating:
"Anxiety is a beast. You have to talk to beasts. Release them back into the wild. Easier said than done I know but still. Good to Practice."
But her majesty the awesome wasn't quite done. She went on to tweet:
"It's been lost to greed and aspiration, no wonder we have anxiety, no wonder we overthink ..we're slammed with bullshit. …"
"Tricked into thinking. You don't have enough. You're not enough. Pretty enough. Thin enough. Rich enough. Capable enough. Successful enough."
"Well here's the truth. You are enough… in fact you're who you're meant to be which is BEAUTIFUL… Don't be afraid to let someone really see you…Magic happens when you are vulnerable and truthful and human."
"Anxiety. Depression. It's real and it's chemical. It's also spiritual. .. stay with me everyone (and before you ask, yes I'm ok)"
Looking through these tweets, the fans showed up with a flood of support for her statements. Many shared personal experiences and thoughts on her comments, while others thanked her for putting words to the way so many of them felt.
Advocate for Anxiety
This is not the first time Headey has spoken about such personal adversity and shown support for those struggling with mental health. A while back she opened up during an interview with More magazine about her bouts with depression and anxiety. In this piece she shared an experience of "massive grief" after her marriage had been dismantled. In her statements she shows her willingness to accept anxiety as part of life, but that getting older and becoming a mother taught her to "become less serious about it all".
It is always refreshing to hear people who seem to be living the dream of spot-lights, red carpets and award shows step off that stage and show the people who adore their characters and their performances that they too are still people with a lot of the same problems. That beast of anxiety is much like any other mental health disorder in that it doesn't care who you are or how glamorous things appear. A beast is a beast.
Some of the most powerful moments of the Game of Thrones series are scenes stolen by the Lady of Casterly Rock, and we are lucky to have them. This tweet and the conversation are a great example of how important it is to raise awareness and talk about things like anxiety and depression, to break the stigmas and provide support.
Even a queen needs a little help sometimes.
Spreading hope and stories of success even through these troubling experiences is a vital way to show others there is life beyond our obstacles. Mental health issues like depression and anxiety often go hand in hand with self medicating and even substance use disorder. Getting the right kind of help and coping skills can make all the difference. If you or someone you love is struggling with substance abuse or addiction, please call toll-free now. We want to help.