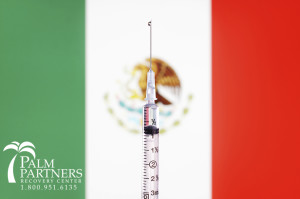 Along the U.S. – Mexico border, authorities seized a record amount of heroin: 2,162 kilos last year, up from 367 kilos in 2007.
This is an indication of an alarming and fast-growing trend: Mexican farmers and Mexican drug cartels are diversifying their business, turning to the manufacture and trafficking of heroin in place of marijuana.
This is an unintended result of the decriminalization of marijuana in the U.S. With the wholesale price of marijuana falling, Mexican drug farmers are growing opium poppies in their fields instead of cannabis crops.
'Good Business'
"When you have a product losing value, you diversify, and that's true of any farmer," said David Shirk, a Mexico researcher at the University of California at San Diego. "The wave of opium poppies we're seeing is at least partially driven by changes we're making in marijuana drug policy."
With the legalization and/or the allowing for medical marijuana in 20 American states as well as the District of Columbia, more and more of the American market is supplied with highly potent marijuana grown right here on American soil, contributing to the fall in marijuana prices. Mexican farmers are increasingly unable to compete with marijuana growers here in the U.S.
Strategy
Carl Pike, a senior official in the Special Operations Division of the Drug Enforcement Administration and other DEA officials say the spread of heroin is the result of a clever marketing strategy on the part of Mexican traffickers. They are targeting areas with the most severe prescription pill abuse by sending heroin pushers to "set up right outside the methadone clinics," one DEA agent said.
Prescription painkillers continue to be more widely abused, accounting for far more fatal overdoses in the U.S. but, heroin has been "moving all over the country and popping up in areas you didn't see before," said Pike.
As U.S. authorities try to contain the prescription painkiller epidemic with crackdowns on so-called 'pill mills,' tightening control over synthetic opiates such as hydrocodone and oxycodone (OxyContin), Mexican heroin is flooding into the country. The efforts to control abuse of prescription pills have resulted in making them more difficult to come by as well as much more expensive. American pill-poppers are increasingly turning to the cheaper and more potent heroin. And Mexican trafficking organizations are jumping on this trend – finding new markets for heroin in places where, until recently, needle use for narcotics was rare or unknown.
—————————————————————————-
There's a place in the Mexican state of Sinaloa known as the "Golden Triangle," which is notorious for the country's most infamous gangsters and biggest marijuana harvests. And yet, the farmers here say they are no longer planting marijuana crops. The plant's wholesale price has drastically decreased in the past five years, going from $100 per kilogram to less than $25.
"It's not worth it anymore," said Rodrigo Silla, 50, a lifelong cannabis farmer. "I wish the Americans would stop with this legalization."
If you or someone you love is struggling with substance abuse or addiction, please call toll-free 1-800-951-6135.
Source:
http://www.washingtonpost.com/world/tracing-the-us-heroin-surge-back-south-of-the-border-as-mexican-cannabis-output-falls/2014/04/06/58dfc590-2123-4cc6-b664-1e5948960576_story.html