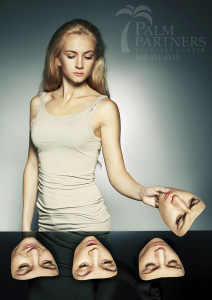 There's your 'typical' drug addict, the type that's usually referred to as "junkie," – you know, the homeless person getting high on the streets, possibly prostituting themselves (male and female) – and then there's the 'functional addict.' This type of drug addict is seemingly "normal." They have their life together, for the most part. They hold a steady job, have a place to live, have a car…all the typical things that describe a normal, functioning member of society. But the functional addict is really someone who is just good at 'passing' for something they're not. As someone who spent her active addiction as a functional addict, I'm going to share with you some tell-tale signs of someone who's struggling with substance abuse and addiction: someone who may be merely passing for doing OK.
Here it is: Living a Double Life: How to Spot a Functional Addict
How to Spot a Functional Addict: Physical Signs
Now, the functional addict in your life could be someone as close as a loved one or it might be someone you see on a regular basis, such as a coworker, or even your boss. This first way to spot a functional addict is to look for some obvious and not-so-obvious physical indications, such as changes in their appearance.
They say the eyes are the windows to the soul and the functional addict, depending on what they are using, will have certain 'dead giveaways' like pinned (or very small) pupils if they are using opiates, such as heroin or prescription painkillers. Or, their eyes might be bloodshot on a daily basis – a possible sign of alcohol abuse or marijuana abuse. Their eyelids might also be quite heavy-looking, as if they are constantly tired. Lastly, the functional addict's eyes might appear 'glassy,' which means that they look like kind of glazed over. They also might seem to have difficulty focusing their eyes.
Another tell-tale physical sign of someone who is living a double life as a functional addict is extreme and rapid weight loss or weight gain, again depending on the substance or substances they are abusing. In my experience as a functioning addict, it was rapid weight loss because I was using opiates (heroin and painkillers), amphetamines (Dexedrine) and stimulants (cocaine and crack). I was in a job that had me in direct contact with the public – I guess you could call it a customer service position. There came a point when my dwindling figure was so noticeable that I was getting a lot of comments from our business's regular customers regarding my weight. My go-to excuse was that I was "just under a lot of stress lately." And the truth of the matter was that I really was under a lot of stress, from leading a double life and also with struggling with the misery and brokenness I was feeling on the inside.
Lastly in the physical signs category is any detectable odor such as that of alcohol or else strong mouthwash or mints. A person who is secretly abusing alcohol will either smell like alcohol or these personal hygiene products as a way to mask the odor of the alcohol.  And contrary to a common belief out there, vodka does smell. Many people struggling with alcoholism and who are trying to hide it think that vodka is a 'safe' poison drink of choice when it comes to hiding their addiction but it really isn't.
How to Spot a Functional Addict: Behavioral
This one's a little trickier than the last category but, someone who is abusing drugs will more than likely be demonstrating behavioral signs of their addiction, too. First, there's the habitual tardiness and absences – this doesn't always apply to the functional addict, however. The absences might be due to frequent illness (read: hangovers or being dope sick) or else multiple doctors' appointments (known as doctor-shopping).
Also, the functional addict might have multiple pill bottles and always seem to be dipping into their purse or locker at work – whatever the case may be – to take their "medicine." Of course, be careful with this as the person might actually have legitimate health issues and concerns that require the use of medications as well as frequent doctor's visits in order to monitor whatever condition they have.
Other behaviors of a tell-tale functional addict are that they act secretive, always stealing away for something, disappearing, acting aloof, or being vague about details. The functional addict might also have an unusual or inappropriate wardrobe, for example, they always wear long sleeves, even in the summer. This could be an indication that they are hiding track marks.
How to Spot a Functional Addict: Mood
Again, this category calls for discretion when trying to weed out the functional addict in your life. That's because someone might have a legitimate mood disorder such as depression, anxiety, or bipolar disorder. But, if someone close to you suddenly has a personality shift, and you already suspect drug use, it's more than possible that this person is an addict in hiding. They might seem erratic, moody, emotional, and react in unexpected ways. Also, if you always feel like you have to walk on eggshells in their presence, this can be an indication of an emotional and psychological consequence they are experiencing as a result of their substance abuse.
This is because of the profound effect that drugs have on the chemistry of the brain. This impact is so dramatic, in fact, that the medical community's stance on a mental health diagnosis made within 2 years of last drug use could be inaccurate. Considering that bit of information, you can see how someone who is hiding their addiction would emote differently than how they used to.
If you are struggling with an addiction but don't really realize it because you seem to be doing fine on a daily basis, check in with yourself. Do you feel like you have to use a substance first thing when you wake up or throughout the day just so you can function and feel relatively normal? Are you feeling tired and fed up of this regimen? Or do you know someone who seems to fit the bill of a functional addict? If you said 'yes' to any of these and are unsure of what to do next, you can call us toll-free at 1-800-951-6135 around the clock to speak with an Addiction Specialist who can answer your questions about addiction and what to do next. Remember: you are not alone and help is available. Call today.