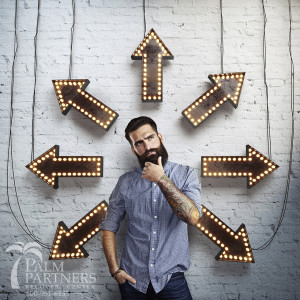 The problem when trying to make the tough decisions in life is that we use the same thinking for everything. This is inevitable. We are who we are, and over time have developed a thinking pattern that is virtually inescapable. Think of it like this: you write an essay for school. Then you *try* to proofread it. Let's say you've made a couple grammar and spelling mistakes. Well, when you proofread it, you will pass over these mistakes because you don't recognize them as mistakes. I mean, how could you? You thought what you had written was correct at the time. Or, even if you know the difference between necessary and nesesary, for example, you are still more likely to pass over the typo than if you had a fresh set of eyes, say a friend, proofreading your paper for you.
Therefore, the same thinking that created the issue at hand, cannot also solve it. But, the good news is that there are some steps you can take when trying to make tough decisions.
Here's How to Make Tough Decisions: A Step by Step Guide
#1. Pretend You're Giving Advice to a Friend
When faced with a tough decision, a good place to start is to pretend that your friend has come to you for your input. Being able to remove yourself from the situation and seeing it as a decision that is affecting someone else, someone you care about, nonetheless, will help you to know what your gut would tell you.
#2. Don't Overwhelm Yourself with Information
Limit the amount of information you take in and don't overload yourself with details and options. Basically, keep it as simple as possible. It's quite common that we think the more information we have, the better decisions we can make. However, at some point, a line is crossed, one in which you've entered overload. When we have too much information, we start to fill in gaps and add more value to information that really doesn't matter.
So, for example, instead of talking with a bunch of friends, keep it limited to a few of your closest, most trusted friends.
#3. Play Devil's Advocate
Look at both, opposing sides of the coin. Ask yourself: what if I did the opposite of this? What would it look like? What are the benefits? Costs? We're so prone to making the same kind of choices throughout our lifetime that challenging ourselves by doing the exact opposite is often the best way to get around this problem. The idea here is to confront our default thoughts, beliefs, and behaviors, to step outside our comfort zone, and to use our imagination to test some completely new ideas.
#4. What, So What, Now What
Employ this type of protocol to come up with solutions in order to make those tough decision. First is the "what." This refers to the decision, itself, that's at hand. Then comes the "So, What," which would be the result of the different actions you can take to address the "What." Then, for each, outcome, answer the "So, What." This would be the results and consequences of each approach to the original decision. This gets you to see multiple perspectives to your issue.
#5. Write It Down (in an organized fashion)
While in step 4, make a chart or spreadsheet, whichever you are most comfortable with, in order to clearly see your thoughts. The problem with keeping our thoughts in our head is that we inevitably get stuck on the hamster wheel and can lose sight of the original decision as well as get lost in the details. Talking about it aloud to yourself or with a friend is another option. People like to joke that talking to yourself (and answering yourself) is a sign that you're crazy, however, studies reveal that people who talk to themselves are more intelligent and sane than the general public.
#6. Check in With Yourself
After going through this process of decision making, and coming to a (potential) conclusion, ask yourself, "Is this in alignment with my core value system?" This is a good way to cross check all that hard work you put into making a tough decision.
Making what seems to be the tough decision to get help for your substance abuse or addiction problem? It doesn't have to be that difficult. These are chronic, ongoing medical conditions for which specialized treatment is needed in order to recover and heal. The good news is that such treatment exists and is more accessible than you may think. Call us toll-free at 1-800-951-6135 to speak directly with an Addiction Specialist. We are available around the clock.