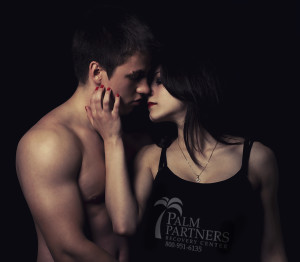 Sex addiction is still a controversial topic; with some saying it's a real thing while others disagree. Well, now there's been a study that shows that compulsive sexual behavior – sex addiction – is closely linked to drug addiction.
According to a new study by the University of Cambridge published in the journal PLOS ONE, pornography triggers brain activity in people with compulsive sexual behavior disorder, commonly called sex addiction, similarly to the brain activity that is triggered by drugs in the brains of drug addicts. Researchers with the study do caution, however, that these findings don't necessarily mean that pornography itself is addictive, whereas substances such as opiates are inherently addictive.
Studies in the past have suggested that compulsive sexual behavior affects as many as one in 25 adults and is described as obsessive and uncontrollable sexual thoughts, feelings or behaviors. Excessive use of pornography, to the point that interferes with the person's life, is one of the main features identified in many people with compulsive sexual behavior. This can have a negative impact on a person's social and professional life, leading to profound feelings of guilt and shame. Therein lies the foundation for the argument that sex addiction is a legitimate disease: one of the working definitions of an addiction is that it is a pattern of behavior that negatively impacts the person's life, such as their relationships and finances; currently, however, there is no formally accepted definition for diagnosis of sex addiction as a medical condition, unlike in the case of drug addiction.
The Study
Funded by the Wellcome Trust, the study involved researchers from the Department of Psychiatry at the University of Cambridge, who examined brain activity in nineteen male patients affected by sex addiction and compared their findings to those in the same number of "healthy" volunteers. The patients started watching pornography at earlier ages and in higher when compared to experiences of the healthy volunteers.
Dr. Valerie Voon, a Wellcome Trust Intermediate Clinical Fellow at the University of Cambridge explains, "The patients in our trial were all people who had substantial difficulties controlling their sexual behavior and this was having significant consequences for them, affecting their lives and relationships. In many ways, they show similarities in their behavior to patients with drug addictions. We wanted to see if these similarities were reflected in brain activity, too."
The researchers found that three specific brain regions – the ventral striatum, which is involved in processing reward and motivation; the dorsal anterior cingulate, which is implicated in anticipating rewards and drug craving; and the amygdala, which involves the processing of the significance of events and emotions – were more active in the brains of the people with sex addiction versus that of the healthy volunteers. Significantly, these regions were the same areas that are also specifically activated in the brains of drug addicts when they are shown drug-related images.
Addiction Comes Down to 'Incentive Motivation'
The participants were also asked to rate the level of sexual desire they felt when watching provocative videos as well as how much they liked the videos. The outcomes of these questions were significant because they revealed a distinction between wanting and enjoying the sexual stimulation. Drug addicts are thought to be driven to seek their drug of choice because they want it, rather than because they actually enjoy it. This is an abnormal process known as incentive motivation and it's a compelling theory when it comes to addiction disorders.
"There are clear differences in brain activity between patients who have compulsive sexual behaviour and healthy volunteers. These differences mirror those of drug addicts," Dr. Voon added. "Whilst these findings are interesting, it's important to note, however, that they could not be used to diagnose the condition. Nor does our research necessarily provide evidence that these individuals are addicted to porn – or that porn is inherently addictive. Much more research is required to understand this relationship between compulsive sexual behavior and drug addiction."
Dr. John Williams, Head of Neuroscience and Mental Health at the Wellcome Trust, says: "Compulsive behaviors, including watching porn to excess, over-eating and gambling, are increasingly common." He added that, "This study takes us a step further to finding out why we carry on repeating behaviors that we know are potentially damaging to us. Whether we are tackling sex addiction, substance abuse or eating disorders, knowing how best, and when, to intervene in order to break the cycle is an important goal of this research."
If you are struggling with a substance abuse disorder, drug addiction, or behavioral addiction, such as compulsive sexual behavior, or if you suspect that someone you love is struggling, there is help available. We offer the service of speaking with Addiction Specialists, who are available 24/7 to answer your questions and offer information on resources. Call us today toll-free at 1-800-951-6135.