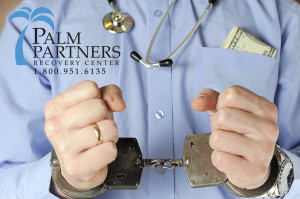 WEST PALM BEACH – Two Florida pill mill doctors were sentenced Friday for their part in irresponsibly handing out thousands of prescriptions for narcotic painkillers, such as oxycodone (Percocet), hydrocodone (Vicodin), and Roxicodone ("Roxy"), while employed in the so-called "pill mill" clinics owned and operated by the now infamous Wellington twins Chris and Jeff George.
Dr. Cynthia Cadet, 43, received a 78-month sentence, which translates to about 6 ½ years and Dr. Joseph Castronuovo, 74, was given an 18-month sentence. However, both Florida pill mill doctors have sworn to appeal their convictions and sentences. Both also asked to remain free while their appeals are pending.
Florida Pill Mill Doctors: Overdose Deaths
This isn't the first time that Cadet and Castronuovo faced a judge: eight months, both of these Florida pill mill doctors were cleared of causing the opiate overdose deaths of eight patients in all. The two were in federal court in order to be sentenced on money laundering charges for their role in the extensive pill mill operation in the South Florida region.
Drs. Cynthia Cadet and Joseph Castronuovo were originally facing the possibility of stiff sentences of as much as 10 years a piece for their participation in the lucrative pain clinic enterprise masterminded by twins Chris and Jeff George. The Florida pill mill doctors' attorneys argued that neither of their clients should be sent to prison for their work at the clinics – that were obviously designed to people addicted to opiates and other prescription pills, such as Xanax, desperate for a fix.
Florida Pill Mill Doctors Beg for Mercy
According to his attorney Thomas Sclafani, who wrote in memorandum to U.S. District Judge Kenneth Marra, Castronuovo, being of advanced age and suffering with several health problems, wouldn't survive long in prison. Sclafani urged for leniency, citing his client's long career as a healer and his service to the community when he worked at St. Mary's Medical Center in the 1970s, and suggested that Castronuovo be sentenced to house arrest.
Michael Weinstein, the attorney for Cadet, 43, the former emergency room physician in Broward County turned pill mill doctor, said that his client should be given probation.
Both attorneys wrote that the other Florida pill mill doctors who worked for the Georges admitted to knowing that their employers were drug dealers. According to their attorneys, both Cadet and Castronuovo say they believed they were professionally and ethically treating their patients, who appeared to have legitimate health issues. In fact – they pointed out – the two were the only ones among nearly three dozen of Florida pill mill doctors at the clinics in Palm Beach and Broward counties who rejected plea deals at the time of their indictment and chose to go to trial, believing in their own innocence.
Prosecutors: Florida Pill Mill Doctors Deserve Punishment
Prosecutors for the case wrote, "At trial, the government presented approximately seventy witnesses and over 400 exhibits. The evidence established that both defendants prescribed and dispensed controlled substances outside the usual course of professional practice and other than for a legitimate medical purpose."
The prosecutors pointed out that both of the Florida pill mill doctors Cadet and Castronuovo knew what they were doing was illegal. They said that the two should be punished just like the 10 or so other pill mill doctors who pleaded guilty and received prison sentences.
Witnesses at trial testified that the clinic where Cadet worked was so successful that money literally spilled out of garbage bags. And neighbors of the clinics complained about the patients shooting up in clinic parking lots.
The prosecutors also point to the two Florida pill mill doctors' guilt as evidenced in their actions while employed by the Georges. For instance, during the mere 15 months Cadet worked at the clinic American Pain, she wrote prescriptions for 2.5 million oxycodone pills and was paid $1.5 million. And Castronuovo, who worked for nine months at the twins' clinic Executive Pain, made $160,000 and gave out prescriptions for 750,000 pills, prosecutors said.
If you or someone you love is struggling with substance abuse or addiction, please call toll-free 1-800-951-6135.