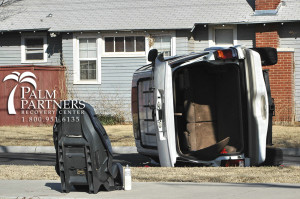 Drunk driving affects many people, and recent studies show that the effects on children and their families have shifted slightly in the past few years, making adults traveling with children more of a threat than the actual strangers on the road. In 2011 there were 9,865 drunk driver related deaths nationally, and in 2012 the number had increased to 10,322- that's one every 51 minutes according to MADD (Mothers Against Drunk Driving). As far as the U.S. statistics, the number of drunken driving deaths over-all has been cut in half since MADD was founded in 1980. Even still, the truth about deaths of young children who are victims of these accidents cannot be ignored.
Child Fatalities in Drunk Driving Accidents
A study recently published in the journal Pediatrics, stated that child traffic deaths caused by drunk drivers declined significantly in recent years. This is some-what of a relief, but out of the 2,344 children younger than age 15 killed in drunk driving incidents between 2000 and 2010 the study showed 65% of these children were riding in a car with a drunk driver themselves. In 2011 alone, 226 children were killed in drunken driving crashes. Of those accidents an alarming 122 (54% percent) were riding with the drunk driver. An estimated 23.4% of drivers intoxicated are between the ages of 21-25, which is the highest percentage of any category of drunk drivers in the U.S. so it brings up the concern that too many young adults have been driving with children who are not properly restrained, and they are doing so while intoxicated. So they are not only endangering themselves, but the child they are responsible for and any other driver on the road.
The Lack of Restraint
While the average of children killed in these accidents varies by state, the percentage of these children not being properly restrained in a major concern as well. Of the children killed in drunk driving accidents, a staggering 61% were not retrained. It's said that approximately 70% of the time the drunk driver survived the crash, which clearly explains that if the children involved were secured during the collision, they could have survived. This fact itself is an example of the disregard created by being impaired while behind the wheel. If a child's life can be saved simply by making sure they are buckled in, it is truly disturbing that so many of the deaths of children involved in accidents are caused by drivers who do not restrain the child, and then drive intoxicated.
The Differences State by State
The laws enforced against drunk driving are different for each state, so of course when the studies were done the average number of deaths were different for each area. Florida had a recorded 697 deaths over-all related to drunk driving, followed closely by California with 802, and Texas leading with 1,296 (2012). However smaller states with different legislation had much smaller numbers. In 2012 Rhode Island had only 24 recorded deaths related to drunk driving, and DC had the fewest recorded with only 4. In the U.S. many states have child endangerment laws that include driving drunk with a child in the vehicle in attempt to prevent this. But the enforcement and severity of those laws differs state by state. The study published included state specific information with hopes that by including this, states could see where they were in comparison to the others, and try to reform their child endangerment laws to try harder to prevent these kinds of accidents.
All these statistics are sadly starting to add up. The answer may be stricter regulations on traffic laws, child endangerment, or drunk driver punishments. The worst part of this study being that the adults responsible for the deaths of so many of these children are probably parents, or relatives, and that they are taking the chance and risking the lives of these children to get behind the wheel after drinking. They are not buckling the kids in, and they are often repeating this behavior. In fact, another terrifying truth is that most drunk drivers will do so up to 80 times before they are ever arrested.
 If you or someone you know is struggling with alcohol or substance abuse, please call 1-800-951-6135