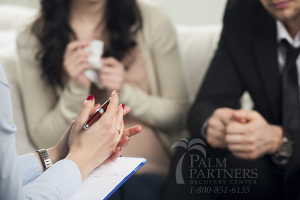 Author: Justin Mckibben
Every once in a while people who are actively addicted to using and abusing drugs or alcohol have co-dependent drug-related relationships with their loved ones, and once in a while they both decide they want to change their lives, or one talks the other into at least giving it a shot. The question then becomes should you go to treatment with a loved one when trying to give up drugs or alcohol?
The following article is simply based on my own experience. I'm obviously not an authority on these subjects by any means, and I am not an expert on any level of therapeutic values and what will or will not work.  What I can say is my opinion here is based off of having experienced treatment with a loved one, and knowing how it affected my recovery at the time. I am not in the business of telling anyone what to do, but I have also witnessed other loved ones in treatment together.
One Big Addicted Family
I will start by explaining my personal experience, and the various elements of that situation. My first time in treatment for drug addiction, I was talked into going- by my ex-fiancé, who went to treatment with me.  So it was myself, and the girl I had been using drugs, drinking, and experiencing up's and down's of a love-life with in rehab. Next, her brother- who has been a close friend of mine- decided to come too, so a few days after we arrived he showed up to treatment with us. Yes, you read that right. It was:
Me
My (on and off) Fiancé
Her Brother (My Best Friend)
All of us in rehab together?! Yes, we were like one big addicted family. We had all used together, and did other things in order to get drugs and drink together, so we figured why not get clean together. Now again, I will say that this is just my personal opinion, and what happened to me when I was in treatment with my loved ones.
Enabling Old Behavior
While in treatment with loved ones who had known me for years, it was easier to remain stuck in my old mind state. Because regardless of what happened I knew the connection I had with these people was going to exist. Even though my loved ones sometimes took the opportunities to call me out on the things I was doing wrong, or the issues I was avoiding, there was still a fair amount of moments when they co-signed and enabled my old behaviors because it suited our relationship better that way.
In all honesty, when a situation in treatment is brought up that has the potential to threaten that relationship, a lot of people will instinctually say or do things that protect the ones they love from the truth that they need to hear. If I was doing something that was not conducive to my recovery, my loved ones would probably enable me if it was easier to save face and avoid painful conversations.
This was especially true with my ex-fiancé, because we wanted to get through our relationship problems, but we hoped that they would disappear when we were clean and sober. Sadly, this was not the case. Too many issues had been swept under the rug or festering in silence by the time we both got the clarity that sobriety afforded us. Even though we initially avoided the hard truth by letting each other do questionable things, we inevitably felt the reality of our discrepancies and parted ways before treatment ended.
With my intimate relationship, with my fiancés brother and her relationship, even with the relationship between her brother and I there became these rifts that caused some emotional compromises that would be otherwise alleviated until a better time in early recovery. Even though having the support of family members and those closest to you in treatment can be inspiring and help some people feel safe and secure, it also has the potential to create co-dependent sobriety.
Relationship Relapses
Co-dependent sobriety is not (in my opinion) an effective or healthy kind of recovery on any level. This kind of relationship in recovery is counter-productive, selfish and dangerous. When your recovery depends on your relationship with a loved one, and their sobriety, then it is not real recovery (in my opinion). This is when you are with someone you love, and you both get clean and sober together, and then one of you relapses and the other is helpless to stay sober themselves. Or when you get clean and sober together, and then you separate and you cannot stay clean alone.
This is the problem with being in treatment that I saw coming, I felt it growing, and I had to circumvent the issue for my own sanity as well as the ones I loved. I was very afraid that if the 3 of us got out of treatment together and stayed as a group, one of us would eventually use, and the others would either abandon them, or we would all tumble like dominos. This has happened to plenty of people. They build their entire recovery off their relationship with the family member or loved one they get clean with, and then when things change and they are emotionally compromised, they give up.
The Freedom of Independence
While my experience may suggest that the only outcome is a bad one, I assure you that there is always some silver-lining I look for. Other people's experiences may exhibit more or less good or bad results, but in all honesty I think the most effective and unselfish way to go to treatment is alone. While being there for one another may seem like it is doing a great deal to keep each other on the right path, it has the potential to eventually damage your recovery, and endanger your loved ones as well.
Freedom is a huge piece of sobriety. Freedom from drugs and alcohol, and the freedom from our former selves to grow as an individual is how we recover. In order to get that kind of freedom one must learn to stand on their own two feet and be an independent human being. Relying on your loved ones for happiness, or using loved ones as a crutch and excuse for misery is detrimental to growth and independence. You spend too much time worrying about what the other person thinks and feels, and don't put enough focus on what needs to be done to change your life!
My sponsor told me once that I needed to develop my recovery independent of any human influence. I could not be sponsor dependent, I could not be family dependent or relationship dependent, I needed to be spiritually independent, and rely only on my higher power to sustain my life. I had to put in the work, and I had to not use drugs or drink, and there were other things involving helping others and amending relationships that kept me sober.
In many ways, I feel that by ending my relationship before I got out of treatment was risky, but it was the best things I ever did for my recovery and for my ex-fiancé. We both continued to struggle afterwards, but allowing for her to grow in treatment and afterwards without me, and letting myself take my first steps toward true freedom on my own two feet changed everything. She has a different path than I do, and her life now includes a beautiful baby girl, and a real relationship that gives her happiness beyond her recovery from addiction.
I ended up back in treatment, and this time I went alone. I put aside all the preconceptions I had about recovery and relationships, I stopped trying to be right about things that I was clueless about and had an opportunity to address things I was afraid of talking about before, because no one was there to hold me back out of fear of hurting their feelings. My two experiences in treatment were vastly different, and while I was blessed to experience some of it with people I loved, I was able to focus more on the truth and hearing what I needed when I walked into that alone.
These opinions are based off of what happened to me, and what I felt and have witnessed others feel in treatment with their loved ones. Be it brother and sister, boyfriend and girlfriend, or parent and child it can seem to be a way to protect each other, but honestly take a look at the possibility that you are further jeopardizing each other by hindering growth, accountability, and freedom. If you truly love someone who is struggling alongside you, give them the space to be the greatest version of themselves, with that being dependent on you. If you or someone you love, or both of you are struggling with substance abuse or addiction, please call toll-free 1-800-951-6135. We want to help. You are not alone.