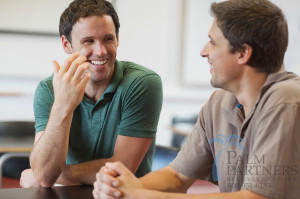 By Cheryl Steinberg
Considering that addiction is a chronic disease, meaning that it's with us for life, ongoing counseling sounds like a good idea. Besides, addiction is such an insidious and tricky thing, why not pull out all the stops when it comes to building tools for recovery?
Enter recovery coaching. The use of recovery coaches is built on the current prevailing idea that addiction is a disease that those affected will be dealing with it for life and that it is a medical condition that requires treatment by primary doctors in a general medical setting, not just in rehabilitation facilities.
People like Kristoph Pydynkowski are teaching their clients to treat their addiction as they would any other long term medical condition, such as hypertension or diabetes.
"It's just like taking insulin," he says, "watching my diet, getting my blood work drawn, going to different appointments, walking on the treadmill — making sure I'm taking care of myself." The overall point being that living with – and more importantly, recovering from – the disease of addiction requires a radical lifestyle overhaul. And, having someone in your corner showing you the ropes will secure an advantage, giving you a better chance of success at accomplishing that.
What Does Recovery Coaching Look Like?
Recovery Coaches such as Pydynkowski, who is part of a one year pilot program for the Gosnold group, a network of addiction treatment services on Cape Cod, lists his responsibilities to include visiting with his clients' family members, doing leisurely activities together, such as going fishing and visiting the local coffee shop, and of course, attending 12 step fellowship meetings together. He also works with as many as 10 clients, creating a weekly recovery treatment plan for each.
Also part of the pilot program, the clients live in a sober house that requires them to attend daily 12 step meetings as well as individual counseling sessions with their recovery coach. Perhaps most importantly to people in early recovery, daily help from their recovery coach is available and in fact, it is available as often as every hour.
How Do Recovery Coaches Differ from Sponsors?
Recovery Coaches get much more involved in the lives of their clients than the typical 12 step fellowship sponsor generally does.
Pydynkowski explains that recovery coaches show clients "how to manage their emotions, how to fill out job applications, how to go to meetings, how to take care of themselves, how to go back to school." Pydynkowski, describes his role as a "cheerleader, a beacon of hope," is himself in recovery, having quit heroin seven years ago.
This sort of in-depth life skills coaching is essential for many recovering addicts because, simply-put, they never learned these skills. In their active addiction, they never developed the self-care skills that typical young adults do, such as learning to cook for themselves, grocery shop, do their laundry, and so on. Besides the basic life skills, learning to prepare themselves for a job , school, or career path is just as important. To the recovering addict, it's necessary to see that there's life after dope; that getting clean is worth it and that there's more to sobriety than merely surviving. Recovering from addiction means thriving at life.
Recovery Coaching: Helpful Tool or Unnecessary Privilege of the Rich?
The short answer to this is that programs such as the Gosnold pilot program have actually been shown to save the state money. And it's not a "right" that's only reserved for the rich – those who can pay out-of-pocket for it.
In fact, states like New York and Tennessee already pay through Medicaid for 'peer coaches' to help treat addiction — something Massachusetts is now considering doing.
Because fewer people had to be readmitted to rehab centers, the program saved the state an estimated 37% in total outlay.
"Think about the cost/benefit," Ray Tamasi, the director at Gosnold, says, "if at 19, you're cycling in and out of treatment, but there's an alternative — going back to school and living life."
Although currently there is no plan in place, the administration under Massachusetts Governor Deval Patrick is ready to spend $20 million on two dozen initiatives aimed at deterring the uptick in heroin and other opiate addiction that's occurring in the state. A report issued by a special task force has recommended that more peer support and home-based counseling is the way to go; health insurers and state Medicaid leaders have already said they will explore funding for recovery coaches.
Fifty-four young adults, ages 18 to 28, who participated in the coaching program saw an 83% decrease in admissions to rehabs during their year of intensive recovery coaching. Emergency room admissions also dropped, from 16 in the year before the program, down to just one admission during the year that the coaching was in place.
"And it may make more sense to state legislators than simply increasing the number of beds in recovery facilities," he says, "because you can't just keep people in beds all the time. They have to come out at some point."
If you or someone you love is struggling with a substance abuse addiction issue, help is available. Please call toll-free 1-800-951-6135 to speak directly with an Addiction Specialist 24/7. We can answer your questions and share with you our resources. You are not alone.