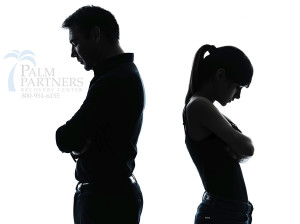 Talking to an addict about their substance abuse is never easy, and when it comes to your parents it can be an even more frightening experience.  Addiction and substance abuse affect a family so profoundly in many ways both obvious and unpredictable, so when you have a parent who is struggling with an addiction there are some pretty important aspects of the conversation you will want to keep in mind. There is no way to guarantee the reaction you're going to get, and it is understandable to be a little nervous and troubled about having to confront a mother or father about the way their actions have affected you or the general house-hold. This can lead to an emotionally charged discussion, so there are also ways to try and be prepared before the conversation even begins.
Understanding Addiction
Talking to your parent about their substance abuse or addiction in an effective way usually begins far before the conversation even takes place. One of the biggest steps in setting up productive communication is to create an atmosphere of support and understanding. It is important to learn as much as you can about their addiction, and the ways that most addicts or alcoholics make excuses for their problem.  First, identify if there is a specific substance they struggle with, and get information on any symptoms unique to that substance. Then learn how to be able to spot when your parent is using one of the many methods of avoiding the problem, or all out denial, such as:
Justification- trying to justify drug addiction with reasons or motives
Minimization- trying to make is seem you are exaggerating their drug use
Rationalization –
Trying to divert problems away from drug use
Blaming someone else for the problems
Lying
Manipulation
Defiance or diversions
Trying to use humor to avoid confrontation
Withdrawing from the conversation
False compliance
It can be extremely helpful with talking to your parent with addiction to be aware of these tactics and even to point them out so that your parent themselves can recognize the behavior and hopefully see it as counter-productive.
Also during the preparation process, be sure to set boundaries for yourself as to what you will and will not accept during the conversation. Do not put yourself in a situation where you are being attacked out of the denial, anger, or fear of your mother of father because they are unwilling to accept your truth.
Have Evidence
Once you have made yourself familiar with the drug addiction or substance abuse specific to your parent you may want to make a list of the destructive behaviors you observe, and list drug-related effects you have noticed such as:
Physical illness
Loss of income
Damaged relationships with friends and family
Depression
Fear
Loss of trust
Have some specific examples you can present to your parent to show that you are not just trying to make them feel guilty, or to blame them. Make sure they can see how the drugs are damaging their lives as well as yours. Be firm and be honest about the way that the substance abuse or addiction is evident in their life, and how it may have even hurt people they never took into consideration. Let them see the magnitude of the situation.
Set Goals Together
So now that you have examined the addiction, and have evidence as to the several affects the issue has on other people, decide what you are trying to achieve with your conversation. Be clear and have realistic expectations as to what you would like to take place, but remember that your parent will ultimately have to make the decision themselves.
Offer options for treatment. Explain to the parent the many ways that they can seek help, and try to support them with any information you can about the different types of recovery programs available to them. Ensure them that you as their child would like to help them in any way you can, and that it is most important that they seek help for addressing the addiction before trying to put back together any pieces.
Plenty of families are endangered every day by drug addiction, and it is not always the children who are afflicted. So many parents are fighting the battle with addiction, and their children suffer along with them. There is always hope for these families, and there are plenty of parents who have recovered and inspired others. If someone you love is struggling with substance abuse or addiction, please call toll-free 1-800-951-6135