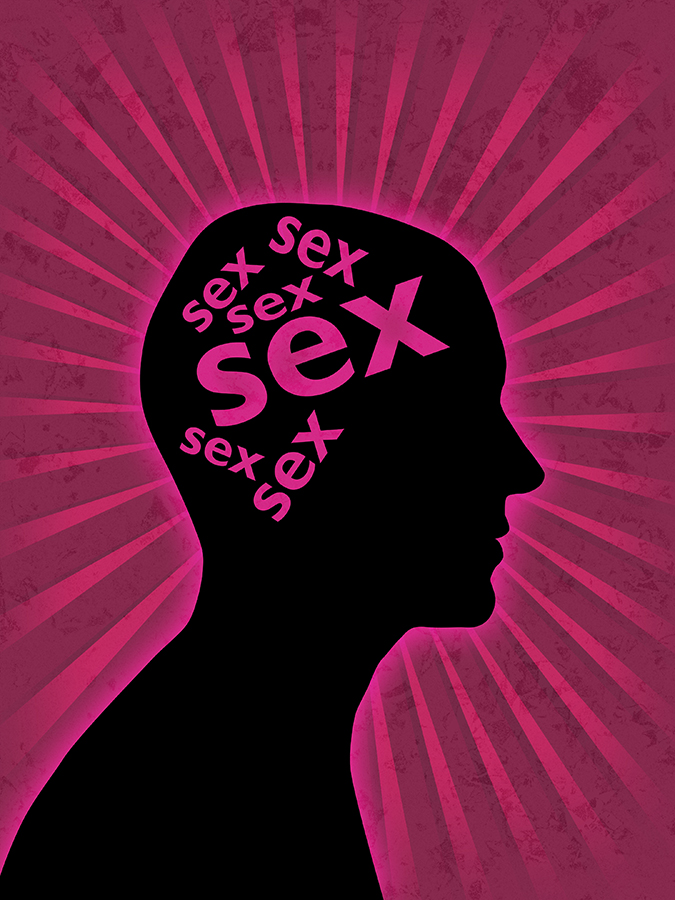 By Cheryl Steinberg
Sex on the brain? Is it more often than what's "normal?" Is your libido out of control? Sexual addiction is a real thing just like drug addiction, and, in fact, the tell-tale signs are very similar between the two. Below is a list of 12 signs you're a sex addict.
#1. You live a double life
Maybe you cheat all the time, and lie about where you are, and how you spend your money. These are early indications of a possible problem. But, if you have sexual secrets that you refuse to share with anyone and keep these to yourself at the expense of your real relationships, this is definitely a problem.
#2. You exploit others for sex
When it comes to sex, you couldn't care less about people. They are just objects to use. You don't care what happens to them when you are done with them, and you will do anything to get them to do what you want.
#3. Your life is constantly in crisis
Because sex is your number one priority, everything else is always totally messed up. Everything from school, to work, to money, is secondary to feeding your addiction.
#4. You're preoccupied with sex
You find that you're having obsessive thoughts about sex, which distract you more than the occasional daydream fantasizing.
#5. You have sex without regard to potential consequences
If you are doing things that are going to screw you over in the future, and you KNOW they are going to screw you over in the future, then your sex life has crossed the line and is now officially a problem.
#6. Your kink needs to be fed more and more
Most people have their "kinks," but, if the kink you have becomes your whole world, and you need to continuously push the sexual envelope in order to get off, you might be a sex addict. What starts off as fun can wind up being severely destructive down the road.
#7. You risk your health and safety
Similar to drug addiction, the sex addict will engage in increasingly risky behaviors in order to fulfill their need for a fix. Risky behaviors related to sexual addiction include having multiple partners, having unprotected sex, or sex with strangers as well as hooking up with anonymous people met online or at bars. This increases the risk of encountering physical danger as well as contracting a sexually transmitted disease and, because of the secretive nature of sex addiction, you can go on to infect your spouse or partner as well.
#8. You masturbate all the time
If you have an active sex life and still find that you need to masturbate several times a day and even after just having sex, there might be some kind of problem. If this describes you as well as some of the other 12 signs you're a sex addict that are on this list, you just might be a sex addict.
#9. Your relationships are always messed up
You gradually and eventually replace time spent with friends and family with a continual pursuit of activities for your sexual gratification. Time with friends and family loses its appeal, because the sex addict can no longer get pleasure from the simple things in life. Eventually most sex addicts will even give up sex with committed partners to pursue the types of sexual gratification that feed their addiction.
#10. You experience financial problems due to your obsession
A sex addict can become so entrenched in their sexual addiction that their taking too much time away from work or they might be spending large amounts of money to support their sex addiction, which can result in destroying family finances, just like a drug addiction.
Sexual addiction can manifest as internet porn, being a collector of pornographic materials, spending a lot of time and money at strip clubs, or on prostitutes. A sexual addiction can be costly to maintain and frequently sexual addicts eventually come to the point where they cannot feed their addiction and keep a job at the same time.
#11. You feel powerless
Just like the drug addict can't stop using drugs, even though they want to, you can't stop acting out. Even when you see how negatively it's affecting your life and the lives of your loved ones. You try to stop – or wish you could – but simply cannot.
#12. You hate yourself
As a sex addict, you become aware that you're going through life hurting other people and destroying yourself, which will likely cause you to hate yourself. Just like with drug addicts, there is so much shame and guilt involved in the addiction that the addict internalizes all that negative stigma attached to their condition.
Addiction comes in many forms and affects people across age, gender, ethnic, cultural, and social lines. Often times, people who struggle with one type of addiction also struggle with one or more other types of addiction. Or else, if they initially figure out how to cope with their sex addiction, for example, they might start acting out in other ways – indicative of other addictions, such as gambling addiction, shopping addiction, or internet addiction. Please call toll-free 1-800-951-6135 to speak with an Addiction Specialist today to find out what you can do to turn your life around and get back on track.