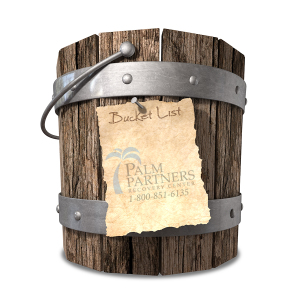 By Cheryl Steinberg
You might be surprised to find that none of the following 12 things that should be on your bucket list include extreme adventures such as sky-diving or bungee jumping. Instead, these are the things most commonly uttered on people's death beds as the things they wish they had done more in their lifetime.
It's said, you should always listen to your elders and – adding a recovery "twist" – take suggestions. People who are older (whether literally or figuratively – in that they have had more life experiences) can offer us great wisdom.
The following is a list of things that people at the end of their lives have shared as the things they wish they had done more in their lives.
12 Things That Should Be on Your Bucket List:
#1. Have the courage to live a life that's true to YOU
This is the most common regret of all people at the end of their life. Most people had not honored as much as half of their dreams and had to die knowing that it was because of their own choices – ones they made or hesitated to make.
Bottom line: don't live the life that others expect of you to.
I know that, for me, I have often done things out of obligation, forgoing the things I wanted to do because I thought I needed to live up to someone else's standards, or else put others' needs ahead of my own.
#2. Not work so hard
It's true, many of us have a strong sense of duty and this often translates into working long and hard hours, when we could be spending time with our loved ones. Don't miss out on life's special moments. Before you know it, the children have grown and your partner has grown distant. Working too much means that you're going to miss out on the good parts of life, or else be too stressed to enjoy them
#3. Have the courage to express your feelings
If you're in recovery, then you know the importance of not holding a grudge because that can lead to resentment and resentment, in turn, can lead to relapse.
Well, even for people who are not recovering addicts and alcoholics – normies – many realized that they had bottled up their feelings in order to keep peace with others. As a result, they settled for a mediocre existence and never became who they were truly capable of becoming. This can lead to illnesses relating to the bitterness and resentment that they carried. Remember, there truly is a mind-body-spirit connection.
#4. Stay in touch with my friends but be willing to let go of others
It's easy – and common – to become so caught up in your own life, which results in the loss of truly "golden friendships." Many people, at the end, have deep regrets about not giving the necessary time and effort that their friendships deserved in order to be sustained.
On the other hand, it's important to let friendships naturally run their course. Sometimes people drift apart, and that's OK. Forcing that connection could do more damage than good.
#5. Let yourself be happy
Also a very common one. Many people didn't realize until the end that happiness is a choice. In retrospect, they admitted, they were stuck in old patterns and habits. They often sold themselves out to the comfort of familiarity. They also realized that they let the fear of change keep them from growing and allowed that fear to convince them that they were content with the way things were.
#6. Don't miss out on opportunities
Such as the chance to go see your favorite musicians. After all, you never know when your favorite band might break up. It's certainly good to be smart with your spending but, money spent on experience rather than on material things is often what brings us more happiness.
#7. Wear sunscreen
OK, so as a ginger, I might be standing on my soapbox a little but, it's true, sun damage adds up over the years, causing wrinkles and discoloration and worse – cancer.
#8. Make physical fitness a priority
And eat right, too. As the saying goes, "You don't have anything if you don't have your health." As you get older you'll realize how important it is to take care of your body.
#9. Don't let yourself be defined by others
Gender roles and cultural expectations are purely made up. Define yourself; don't let society do it for you. Do what you love and do it unapologetically.
#10. Quit your job if you hate it
It's true, you need to be able to afford food and rent but, you can't force yourself to be miserable every day.
#11. Don't be self-absorbed
In the era of the selfie, it seems more and more people think the world revolves around them, alone. There is more to the world than just you and eventually you'll realize that. Get involves with your community.
#12. Stop caring too much about what other people think
This is something that I have really begun to embrace and, let me tell you, it's liberating! When you're older, you'll realize that the opinions of others actually don't have anything to do with your true happiness. So stop wasting your energy on things that don't matter.
Life is too short to be miserable. If you're out there struggling with alcohol or other drugs, that's no way to live. It's not too late to make a change for the better and start living life to its fullest. Many people let the fear of change and the fear of the unknown hold them back. But, there's a better way and recovery is possible. Don't regret it before it's too late. Call an Addiction Specialist toll-free at 1-800-951-6135 today.