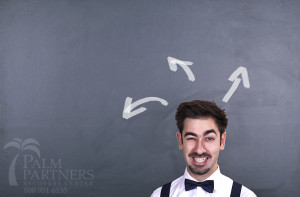 The mind is a terrible thing to waste, and sometimes equally terrible to trust. Having a healthy mental and emotional process is essential, especially in recovery, in order to properly learn and grow as an individual. However your thoughts can definitely fool you more often than you would think. Some people rely too heavily on their self-knowledge and intellectual over-examinations.  Reality is sometimes much more simple than what we make it out to be by over-thinking it, and addicts and alcoholics can really let their heads get the best of them sometimes. Here are 7 ways your thoughts can fool you.
Justification
For those of you who can come up with really any 'reasonable excuse' to do just about anything you want to. Justification is the kind of thought process that can fool you into believing that the things you do or say actually make sense, and you have plenty of evidence or reasons to act however you think you should. This kind of thinking causes so many problems because it creates denial and confusion when things don't play out exactly like you expected them to.
Magnification
Exaggerating the importance of your problems, shortcomings, or worries is a big part of what you can consider magnification. Also part of this kind of thought process is when you try to minimize the importance of your mistakes, questionable actions, or even your desirable qualities. When you take things to one extreme or another, depending on how they would best suit your needs, it becomes a problem because it stops you from remaining grounded in the present reality or the positives.
Blaming
Excessive blaming becomes a harmful thought process when you hold yourself personally responsible for events or situations that are not entirely under your control, or even blaming others. Thinking in a matter that starts assigning blame for problems or concerns can fool you into seeing the truth on either side of an issue or confrontation, and thus it makes it increasingly difficult to find a resolution.
Labeling
Labeling is an extreme form of a foolish thinking process. This is when instead of saying "I made a mistake," you attach a negative label to yourself. Making statements like "I'm a loser." Again this is one that you can also project onto others.
Or you can see it as more general, such as relating it to events or actions. You see a single negative event as a never-ending pattern of failure. You often find yourself using words like "always" or "never" in regards to a particular problem or idea. Instead of letting things grow and change, or taking action to improve things, you simple label people or situations as 'lost causes'.
Expectations
Putting expectations, especially selfish or unfair expectations, is a quick and easy way for your thought process to make a fool out of you. When you Are always expecting people, events, anything really to go a specific way you are simply fooling yourself into thinking its up to you, or setting yourself up for failure.
Negativity
When you base your mind-state in negativity you begin to interpret things always in a bad light, when there are no facts to support your conclusion. You pick out a single negative detail and dwell on it exclusively, and often obsessively. You probably come to reject positive experiences by insisting that they 'don't count'. If you do a good job, you may tell yourself that it was never good enough or that anyone could have done as well. Discounting the positives takes the joy out of life and makes you feel inadequate and unrewarded.
All-or-nothing thinking
All-or-nothing is honestly a very effective way to fool your-self. This is if you only see things in black-or-white categories. I personally love to live in the 'Grey Area' where there is room for interpretations and perception changes. If you have tricked yourself into thinking in terms of 'All-or-nothing' than whenever a situation falls short of perfect, you see it as a total failure. You make no exceptions for differences of opinions of others if it does not fit what you believe. This eliminates the possibility to learn from others experiences, and can destroy your humility.
Alcoholism and addiction are not just about drugs and drinking, they are also about emotions and thinking. The disease of perception is very cunning, and very powerful, but by recognizing the behavior, by learning about the harmful behaviors, and by accepting the help you need you never have to be fooled by your addictions. If you or someone you love is struggling with substance abuse or addiction, please call toll-free 1-800-951-6135