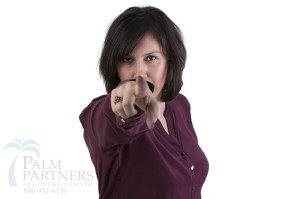 Sometimes our loved ones like to play the 'Blame Game' when they find themselves with a little more clarity and have a little bit of clean time. They want to start throwing around reasons why their addiction ended up the way it has, and often put that blame on others, including their family and close friends instead of opening up and being honest about their own involvement in their behaviors. This typically happens when the individual has not attended a treatment program or has not taken other active steps toward recovery, and there are ways to address this behavior.
Blaming the Family
Some people recovering from addiction or alcoholism who have not completed a treatment program or worked a program of recovery at all will blame their family. The parents or other close relatives often get this kind of reaction from younger addicts or alcoholics with a little time away from the drink or drug. Sometimes in extreme cases it can even turn out that people will blame their own children for their behavior.
Common excuses pushed on the family may sound like:
Mom and dad fight too much
My parents do not support me
My brother/sister bullies or abuses me
My children get into trouble and stress me out
My family neglects me
All these excuses for an individual are just that, excuses. Now this is not to say that the family dynamic may not have issues that should be considered, but to blame an individual's addiction on trauma or stress brought on at home is  not sufficient enough explanation.
To answer this concern, there is family programs available specifically designed to address these issues as they become relevant in the course of treatment. There are support groups for family members to attend, and there are family therapists that specialize in addressing matters as they pertain to everyone involved. However, the under-lying reason for an addiction is not the trouble at home. Families should not let themselves be held hostage by an addict who is just coming out of the fog and looking for someone to put at fault.
Blaming Your Relationship
Spouses and intimate relationship partners make a pretty common escape goat as well. People very early in recovery tend to try and re-evaluate their relationships and start picking apart the subtle differences and disputes, or even the larger problems, and make them out to be their motivation for continuing down the path of drinking and/or drugging.
Common excuses pushed on the partner may sound like:
You're not supportive of me
You fight with me too much
You have hurt me too much in the past
I can't trust you
You're smothering me
You stress me out
You don't treat me right
Any of these accusations can be made, and again it's not to say that there is no reality between any of these statements and the way they feel about the relationship, but it is essential to recognize that this is NOT the reason they used or drank the way that they did.
The same family therapy and support groups are available for the spouses and intimate partners of someone struggling with addiction. These will teach you ways to identify their behavior, to tell the difference between legitimate concerns and alibis, and ways to effectively address these issues without throwing the blame on the person getting help. It is important to address some of these accusations head on, because it is important not to be guilt-tripped into believing their pain is entirely your fault. The affliction, and the solution, begins from with the individual.
Game Over
The 'Blame Game' is in no way effective for anyone. Of course there are stresses, concerns, and issues that should be acknowledged and resolved to the best of your ability, but to assume responsibility for the actions of an addict who uses drugs and alcohol to solve everything is not fair to anybody. The addict or alcoholic can quickly manipulate and turn the tables on anyone they are close to, especially to get what they want or avoid the more negative emotions. Remember that the pain, fear, and responsibility attached to THEIR actions are all usually part of the reason they use, to avoid the truth behind their own involvement.
Put an end to the 'Blame Game' by setting healthy boundaries, and by getting involved in the recovery process to learn more about how you can help them address the problems head on together instead of pushing them back and forth onto each other's shoulders.
Addictions and alcoholics find it easy to blame anything and everything external for their drinking and drug use. However at the core of the problem is the individual and what they are willing to do to get a resolution and obtain recovery. Accepting blame only keeps the ones we love sick. If you or someone you love is struggling with substance abuse or addiction, please call toll-free 1-800-951-6135