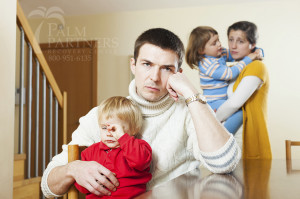 It's been long recognized that alcoholism is a family disease. Because alcoholism is a form of the umbrella term 'addiction,' by extension, addiction is a family disease, too. The reason for that is pretty simple and quite obvious. The alcoholic or addict does not exist in a vacuum; they are part of a larger system: the family. Therefore, their substance abuse and the resulting consequences – socially, professionally, financially, and legally – have a fall-out effect on those closest to them – their loved ones. Here are 9 ways addiction can affect the family and how to start healing.
#1. Denial
Denial isn't only experienced by the addict; it's something that everyone goes through when dealing with an addict, especially at first. Generally speaking, as things get worse and worse, the family members finally start to see the reality of the situation. In fact, the family and loved ones of the addict tend to "know" about the problem before the addict sees the light.
How to Start Healing: Educate yourself by talking to professionals and doing research online and at your local library. Teach yourself about enabling and ways to stop being your addicted loved one's enabler. Our previous ways of coping are ineffective and only serve to contribute to the problem instead of the solution.
2. Frustration
Witnessing your loved one hurting him/herself on a daily basis is difficult and frustrating. Unfortunately, there isn't much you can do until they decide they want to do something about it. Feelings of frustration can certainly lead to higher stress levels within the family which will inevitably lead to the next several items on this list.
How to Start Healing: Again, getting educated on addiction and how it affects the family is going to be your number one defense. Understanding how addiction affects both the addicted person and the family is an essential foundation to moving on.
3. Guilt, blame, shame
As family members of an addict in active addiction, a lot of feelings of guilt and shame will be experienced by all parties. Some of it will be directly, as the addict feels shameful for their using as well as indirectly (projected) by family members experiencing addiction second-hand. Also, as tempers run high (see #4), there will be a lot of the blame game being played.
How to Start Healing: Learning detachment and responsibility for self is the best way to cope with this aspect of how addiction can affect the family. Learning to love your addicted family member while being detached; focusing on taking responsibility for your own behavior is essential.
4. Arguments/Fighting/Strife
Due to the nature of addiction and the effect drugs have on an individual's thought processes and behaviors, there is bound to be strife within the family. Arguments, yelling, and fighting are all common to households within which dwells a drug addict.
How to Start Healing: Active addiction destroys family communication. Learn communication skills that are conducive to the situation. Be careful to be calm and non-confrontational when speaking with your addicted loved one. Don't place blame or nag. Developing these skills is essential to family recovery.
5. Constant crisis mode
As the addict delves deeper into their addiction, the negative consequences tend to become greater and much more serious. For instance, your loved one might turn to acts of crime in order to support their drug habit. This will in turn lead to arrest and increasingly harsher charges. Or, they might begin experiencing consequences to their health; it isn't unusual for active addicts to experience several overdoses, infection, and organ damage, to just name a few.
How to Start Healing: Build resilience by focusing on and developing your personal and family strengths. Surviving active addiction to alcohol and other drugs isn't easy.  Learn about and use the recovery process as a means of emotional support (see #7).
6. Disconnect within the family
Addiction eventually tears families apart. Sometimes family members fight over what they think is best for the addict or they might take sides.
How to Start Healing: If you are the parent or adult relative of the addict, you play a critical and important role in providing support and protection for the children involved.  Learning to support others and engaging them in their own recovery is very important (again, see #7 for more).
7. Isolation from community, society
Due to negative stigma, either actual or perceived, families that include an addict in active addiction tend to become isolated from their larger communities. This will only serve to keep your family in an unhealthy, dangerous cycle.
How to Start Healing: Start healing this aspect by connecting with others who share in your experience as the loved ones of an alcoholic or addict. Joining an education or support group, such as Family Anonymous, Al-Anon, Nar-Anon, and Alateen (for adolescent family members) is a great way to connect as well as get some much-needed support.
8. Alienation and Codependency
Alienation within the family is yet another way addiction can affect the family. The loved ones of addicts have a tendency to get swept up into the drama of addiction and lose themselves. That's pretty much the definition of codependency: putting others' needs before your own and holding them to be somehow more important. Codependency is common in relationships that involve someone who is addicted to drugs.
How to Start Healing: Engage in personal and family activities. Making time to do things alone – to honor yourself and your needs – as well as working with other family members together to find activities that serve as a source of fulfillment, such as volunteering at your local soup kitchen or food bank.
9. Relapse into old ways
This goes for the person in recovery from addiction as well as the family members. For family, old ways and behaviors could mean the tendency to enable your loved one or still relating in a codependent manner.
How to Start Healing: Learn about the recovery and relapse process. Remain vigilant to your thoughts, emotions, as well as the behaviors of your loved one in recovery. Relapse into old behaviors is as real for family members as it is for those addicted to alcohol and drugs.  Family members need to develop strategies for dealing with their own relapse issues and other challenges. Again, support groups as well as individual and family therapy are great resources.
When you have a family member or loved one struggling with substance abuse or addiction, it can take its toll on everyone involved with that individual. Learning ways of how to talk to your addicted loved one as well as researching educational and support resources is essential to coping with the ways addiction can affect the family and how to start healing. An easy way to start is by calling us toll-free 1-800-951-6135 so you can speak with an actual Addiction Specialist; we are available around the clock, 24/7 to field your questions and share local resources.