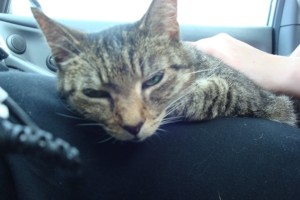 Soma, riding in the car on my lap
By Cheryl Steinberg
I know, this title sounds pretty odd, a little extreme, and might even make you laugh. But, in all seriousness, I totally credit my cat, Soma (R.I.P.) with saving my life. She didn't save me from a burning building or anything like that. But, what she did do was just as heroic, in my eyes.
Now that I have your attention, I'll tell you how my cat literally saved my life.
As you probably have figured out by now, I am what many would consider a 'cat person.' In fact, I've always had a cat or two as pets for as long as I can remember. I remember picking out my first kitty, Mushy, when I was three years old. She was a beautiful tortoise shell cat, whom I would refer to as my Halloween cat because she was mostly black and orange. My brother's cat, Muzzy, was probably about the same age. She passed away at the typical age expectancy for cats, leaving behind my Mushy. Mushy eventually lived to the ripe old age of 21. So, in order for her not to be lonely, we decided to adopt another kitten. But, because Mushy was getting old, we figured we should get two kitties so that we wouldn't run into the same problem when it was Mushy's time to go.
We adopted 2 kittens, litter mates, a girl and a boy. I named the boy Maxwell (for the Beatles' song "Maxwell's Silver Hammer") and my brother named the girl Soma. Once my big bro went to college, Soma and I bonded and she became more of my companion than Maxwell was.
That was just a little background to bring you up to speed.
I was 15 years old when I got Soma and had her until she died when she was 16. So, for sixteen years, through thick-and-thin, she was my best friend. She was there when I was dope sick and couldn't get out of bed, comforting me with her soft fur snuggled next to me, I could not only hear her sweet purring, but feel its vibrations against me. When I was depressed – which was pretty much all the time – she gave me a reason to live; I had to be around to take care of my Soma-girl.
Soma was my gypsy girl. I was on the run, from myself. In the midst of my addiction, I tried the 'geographic solution' by relocating several times up and down the east coast in the span of just two years. And she was right there, along for the ride. She slept on my lap while I made outrageous road trips from my home state of Maryland down to Florida, up to Pittsburgh, and back down to Florida; each time thinking that if I could just get away from my old friends, my old job, my old life, I could get a handle on things. I could clean up and stop using drugs. I could be happy. Just Soma and me, starting over. She was my 'ride-or-die.'
It never worked, because my problem wasn't a place. Or a job. Or a relationship. My problem was me, and I always brought me with me. But I also brought Soma, and she loved me no matter how many times I failed.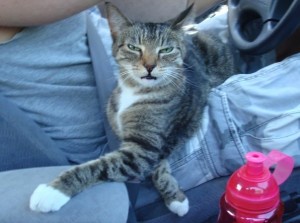 In the car, chillin'
So, how exactly did she save my life? You're probably wondering. Well, as you know, everyone's rock bottom looks different. For me, it wasn't being homeless and broke. I was what you would call a functional addict. I had a good job, a paid-off car, and a nice place for me and my kitty to live. But, I was becoming more and more aware that I was miserable, feeling like crap on a daily basis, and basically emotionally bankrupt: I was broken. I slowly started to realize that I probably needed help, professional help, because nothing I tried in the past had worked to fix my drug problem.
But I couldn't leave my Soma behind. There was absolutely no way I'd leave her all alone while I went to rehab. All of that was about to change.
I noticed that Soma had a pretty bad case of fleas and so I treated her with flea medication, the same kind I had always given her in the past. I noticed she wasn't herself – the medicine was affecting her, causing her to act strangely. I became really worried and, at one in the morning, Soma suffered a seizure in my arms. I immediately took her to the emergency vet. They stabilized her condition and the next day, when her vet's office was open for business, she was transported there. I met with the vet who told me her prognosis was good. They had treated her with tranquilizers to stop the seizures and I was able to visit with her. She was all doped up; I cried seeing her like that. The vet reassured me she'd be OK.
Over the next couple of days, I'd visit her on my lunch breaks and after work. Then one day, just as I was about to leave work and go see her, the vet called. Soma had suffered a heart attack. She was gone. I lost it. I broke down…at work.
I was so distraught at losing Soma. She was all I had at that point. But then I realized that, I now had no more excuses to keep me from getting help. About a month later, I checked myself into rehab.
Going to treatment was the best thing I have ever done for myself. And looking back, I now realize how ridiculous it was to use my cat – or anyone or anything else – as an excuse for not getting the help I desperately needed. In fact, addiction is a disease that kills so, realistically, I could've died out there, only to leave my cat all alone, permanently, rather than the thirty days of treatment.
I still get sad when I think about Soma and how she died, so suddenly, even though she was otherwise in great health. But, I realize that she made that sacrifice for me, so that I could live. Without treatment, I would have surely died from this disease.
So, there it is. That's the tale of how my cat, Soma, literally saved my life. And I am forever grateful to her.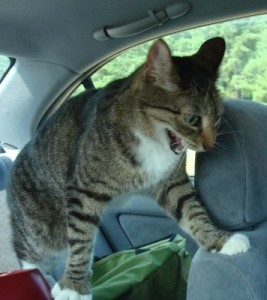 Soma, mid-meow
This story ends on a happier note, if you can believe it. When I was 18 months clean and sober, a new cat came into my life. In fact, the very same night that I celebrated my anniversary, I was given the opportunity to adopt a cat from a friend in the recovery community who had relapsed and was going into treatment; he needed to find a home for his cat. It had been so long since I had a furry companion and I was ready to love and be loved by a new kitty. He is my heart and I consider him to be one of the many gifts of recovery that I have received along my journey in sobriety.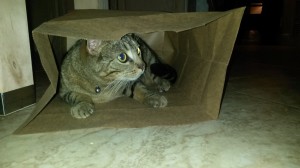 Tidus, my new kitty
Are you worried about leaving your beloved pet behind in order to get the help you need? Rehab is temporary. Addiction is a life-long disease. Imagine if you never got the help you needed. You could never be there for your pets and other loved ones like you want to be. The good news is we can help you figure out a safe place for your pet while you get the help you need. Call us toll-free at 1-800-951-6135 to speak with an Addiction Specialist. We are available around the clock to answer your questions and give you information and resources. You are not alone.