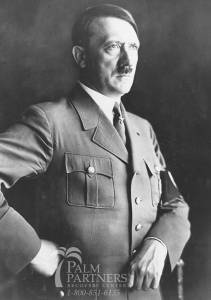 not pictured: meth
By Cheryl Steinberg
According to a 47-page wartime dossier compiled by American Military Intelligence, Adolph Hitler was a notorious hypochondriac and took a shocking amount of medications – 74 drugs in total – including crystal methamphetamine.
Crystal meth is one of the most addictive illegal substances on today's black market and Hitler was a regular user of it.
The hit show Breaking Bad, which features the character of Walter White, a teacher-turned-drug dealer who manufactures crystal meth, put the drug on the map, so to speak. Nowadays, it's sought out by addicts for the euphoric alertness it produces. In the past, however, it was valued by the military during the war as a drug which could help combat the fatigue in weary soldiers.
The dossier states that Hitler is thought to have taken crystal meth before meeting with Mussolini in the summer of 1943. Apparently, The Fuhrer ranted non-stop for two hours during the meeting. Furthermore, during his final days in his bunker, Hitler was administered nine injections of a drug called Vitamultin, which contained methamphetamine.
The Effects of Crystal Meth…
…And why it makes sense that Hitler was a user
Crystal meth, or glass, ice, or several other street names, is a powerful stimulant with an extremely high rick of abuse and addiction.  In fact, nearly half of first time users and more than 75% of second time users report addiction-like symptoms, such as intense cravings for the drug.
Long-term meth users, such as Hitler was, will experience the following symptoms as a result of their drug use:
Psychosis (paranoia, hallucinations, repetitive motor activity)
Changes in brain structure and function
Memory loss
Aggressive or violent behavior
Mood disturbances
It's no wonder, then, that a hypochondriac (read: paranoid), violent, and extremely intense person such as Hitler was an abuser of crystal meth; he displayed all of these symptoms.
Other Rumors Debunked
The dossier also clears up other sensationalized rumors about Hitler, one of the most enduring legends being that he lost a testicle when he was injured at the Battle of the Somme. A morale-boosting ditty called "Hitler has only got one ball" was popular during the Second World War, which probably helped to spread that one. Also, his admirer Unity Mitford once suggested he "lacked something in the manly department."
The American records, however, which are featured in a Channel 4 documentary, reveal that the feared dictator was not what's known as a monorchid – the medical term for being born with one testicle. They also poke holes in claims that Hitler was a predatory homosexual who killed 150 of his supporters in order to hide this alleged secret.
If you are struggling with an addiction or substance abuse problem with crystal meth, meth, or any other substance, help is available. Call toll-free 1-800-951-6135 to speak directly with an Addiction Specialist. We are available around the clock to take your call.