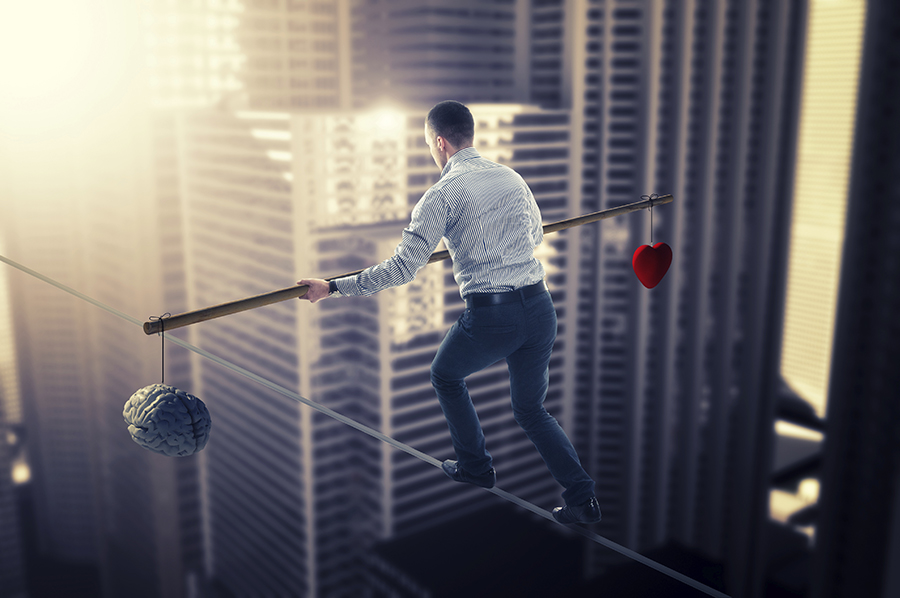 Author: Justin Mckibben
Has anyone ever told you to follow your heart? Does this kind of logic resonate with you, or do you feel better inspired when someone directs you to use your head in making important decisions? We all have some piece of us that can identify with our hearts and minds as an extension of who we are to some degree, so when you hear these metaphors you may relate to both, but out of the two where do you believe the essence of who you are is?
We often see the heart as the centerpiece of emotion and the head as the catalyst for reason and knowledge. Depending on the situation you may hold true to one notion or the next, but what does your natural instinct tell you… and what does that say about you?
There's some recent research history to this question:
 "Do you think of your "self" as located in your brain or your heart?
Studying the Psychology
The data was collected from different surveys and the shared findings suggest that whether someone sees their essence as being located in their heart or brain tells us something literal about the person.
Hundreds of undergrad students at North Dakota State University were asked this question in 2013 with a series of studies published. The researchers, Adam Fetterman and Michael Robinson, found that people's answers correlated with an array of central psychological characteristics.
Another recent study was published in the Organizational Behavior and Human Decision Processes led by Adam Galinsky at Columbia Business School, conducted surveys of hundreds of U.S. and Indian citizens online via Amazon's Mechanical Turk website. These results are also included in the following assessments.
The Heart Self
About half of the respondents in the survey were those who believed the "self" was located in their heart.
"Heart Locator" respondents were more likely to be female
Of either sex were more likely to rely on their emotions when making hypothetical moral decisions
More likely to endorse proposals for stricter abortion laws based on detection of a heartbeat in the fetus
Endorse the idea that a person's death should be determined by when the heart stops beating rather than brain death
More likely to support heart-disease charities
The Head Self
Evidence in most studies has indicated men are more often head-locators, with more tendency to think rational instead of emotional
Tended to perform better on general-knowledge tests
"Head Locators" also tended to react less emotionally to stress
More likely to support brain-based charities (such as an Alzheimer's disease charity)
Once they started to notice patterns of differences in these individuals, researchers chose to move the study in a new direction, seeking more specific answers to bigger questions.
Collective Culture
When looking through the information it appears Galinsky's team members think a key trait related to where we locate the sense of "self" in the body is whether we see ourselves as independent or interconnected with other people.
For example, India is more of a "collectivist culture", and the people here were more likely to locate their self in the heart.
When American students were prompted to reflect on their independence by reading a paragraph full of first-person pronouns like me and I, they were more likely to locate their sense of self in the brain.
When the students were prompted to think of their social interconnectedness with a passage filled with pronouns like we and our, the opposite was true, and they were more likely to locate their sense of self in the heart.
So what this shows the importance of a collective and compassionate culture, how closely we can identify with those around us and feeling connected to them, and how our sense of self is reflected by how we see ourselves as part of the collective.
Implications of "Self" Discovery
Identifying with your essence as a heart or head function could be a huge step toward innovative understanding of what makes us "us". Galinksy and his colleagues are confident this research could lead to some radical and significant revelations. In their publication they wrote:
"We propose that a person's perception of where the sense of self is located is a critical and defining trait similar to a person's … personality profile,"
Be that the case, it could open up a whole new area for research. Your sense of self and how you locate it might influence your life on numerous levels. When looking at the data there's even a hint of prospects for discovering methods of diagnosis and treatment of mental health and personality disorders.
By learning more about who we are and what drives us through our "self" locator we might even be able to better develop tailor-made strategies for learning coping mechanisms and dealing with personal problems and relationships. Even substance abuse and addiction could benefit from a better understanding of how the heart VS head affects our behaviors.
Now the next step is integrating the two, making a conscious effort at all times to derive from both the head and the heart when making decisions. Aligning our wisdom of logic with the connection of our emotions could be one step closer to the enlightenment of fulfilled acceptance and serenity, and if the essence of self can be balanced we can all make choices that change the world.
Regardless if you see your "self" in your head or your heart, your addictions can poison you. Don't let drugs and alcohol take away who you are and what you love about yourself. If you or someone you love is struggling with substance abuse or addiction, please call toll-free 1-800-951-6135