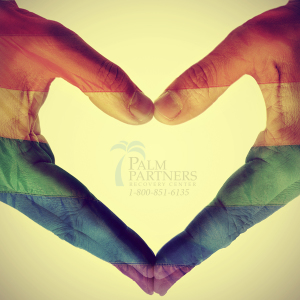 Author: Justin Mckibben
LGBT is more than just a few upper-case letters to a lot of people. LGBT typically signifies the Lesbian, Gay, Bisexual and Transgender community in terms of treatment, and LGBT drug rehab is designed to provide a safe environment for anyone and everyone who is actively seeking treatment for their issues with substance abuse or addiction, and in a LGBT Drug Rehab (LGBQT Drug Rehab) there is an atmosphere for equal and understanding support systems to be set up. LGBT drug rehab facilities and their staff do not judge individuals based on any aspect of their personal lives. Your race, sex, age, sexual orientation, nationality, ethnicity, economic situation, past, etc. is never used as a basis for discrimination, and a LGBT Drug Rehab will do everything to make your experience comfortable. LGBT or LGBQT Drug Rehab facilities are here to help you beat your addiction and help you feel great about yourself during this transition.
If and when you do come to Palm Partners we know that you are an individual and you may have special needs or request in order to further enhance your recovery.
If you consider yourself to be a part of the Lesbian, Gay, Bisexual and Transgendered (LGBT) or Lesbian, Gay, Bisexual, Queer and Transgender (LGBQT) community, please be aware that LGBT drug rehab and LGBQT drug rehab facilities offer services to address your needs. LGBT drug rehab programs and LGBQT drug rehab centers are aware of the issues that affect the LGBT community differently, as well as issues that are unique to the LGBT or LGBQT drug rehab community, and LGBT drug rehab can provide you with therapy and services that address those specific needs with an experienced and compassionate staff.
LGBT Drug Rehab: Addiction in the LGBT Community
Recent studies have indicated that approximately between 20% and 30% of gay and transgender people abuse substances, compared to about 9% of the general population. According to statistics in the United States there are three main factors leading to these rates of substance use and abuse among gay and transgender people in the country. These three contributing elements are:
High level of stress that comes from social prejudice and discriminatory laws in areas of daily life such as employment, relationship recognition, and health care.
Lack of cultural competency in the health care system discourages gay and transgender people from seeking treatment for substance abuse, and—if they do seek help—often leads to inappropriate or irrelevant services.
Targeted marketing efforts by alcohol and tobacco companies exploit the connection many gay and transgender people have to bars and clubs as safe spaces for socializing and increase easy access to tobacco products and alcohol.
LGBT drug rehab and LGBQT drug rehab programs embrace the LGBT community, and support these individuals with LGBT friendly recovery criteria. They provide groups unique to LGBT individuals in recovery, as well as specialized therapist on staff who work specifically in LGBT therapy. There is a great deal of effort put forth in the best LGBT drug rehab programs to create connections between clients and the local LGBT community, in order to provide them with resources that can help them after they leave LGBT drug rehab.
LGBT Drug Rehab: Addressing All Aspects of Addiction
The best LGBT drug rehab will offer therapy that includes a variety of treatment methods pertaining to all different facets and aspects of addiction. Some of these are more relevant for lesbians, gay men, bisexuals, and transgender individuals who need help with substance abuse. Some of the things LGBT drug rehab and LGBQT drug rehab centers address are:
AIDS/HIV positive issues
Sexuality issues
Relationship issues for the addict and the co-addict
Incest/child abuse
Sexual identity and crossover issues
Crisis intervention
Medication management
Alcohol and drug dependency
Adult children of alcoholics
Eating disorders and food addictions
Couples conflict and intimacy issues
Not all drug treatment centers are created equal, but all people are!  Not all drug rehabs have programs that are LGBT friendly, but those who do are powerful tools in recovery for anyone who is part of that community.
LGBT Drug Rehab: Palm Partners Treatment Program
There are many things that Palm Partners does that make the Palm Partners treatment program unique with the LGBT community are:
Helping lesbians, gay men, bisexuals, and transgender persons: help with coming out
Internal and external homophobia
Socialization and sobriety skills
The therapy for those that are in LGBT drug rehab and LGBQT drug rehab also includes therapy for trauma
Incest/child abuse and rape
Codependency
Couples conflict resolution.
As part of the LGBT therapy Palm Partners also offers HIV/AIDS education and awareness groups and classes, as well as groups to deal with grief and loss. There is also education and counseling for the families of those who are lesbian, gay men, bisexual or transgender to acknowledge that substance abuse, addiction, and recovery are a process that affects the whole family.
LGBT and LGBQT friendly drug rehab programs may not seem like the easiest thing to find, but there are incredible programs available that are fully supportive and proactive when it comes to treating LGBT/LGBQT clients with the respect and compassion that we all deserve, while giving them the constructive and empowering tools for their recovery, and for their future. If you or someone you love is struggling with substance abuse or addiction, please call toll-free 1-800-951-6135. We want to help. You are not alone.