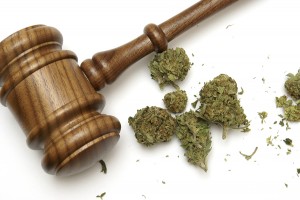 Currently, marijuana is labeled as a Schedule I drug by the federal government, which means that it is not considered to have any accepted medical benefits. Other Schedule I drugs include heroin and crack cocaine.
As a Schedule I drug, marijuana cannot even be used to test for any possible medical benefits. But, all of that might change soon.
The new U.S. Surgeon General Vivek Murthy recently gave an interview with the television program CBS This Morning during which he supported medical marijuana – despite originally opposing legalization during his confirmation hearings. During a senate confirmation hearing last year, Murthy said he opposed marijuana legalization and stated that he didn't "think it's a good habit to use marijuana."
Medical marijuana has found a powerful ally in Mr. Murthy, who stated that the drug can be "helpful" for certain conditions during the interview.
Could Marijuana Be Re-Scheduled Soon?
Although some states are already allowing for medical marijuana and even recreational marijuana, as far as the federal government is concerned, marijuana is still illegal and just as much of a threat to communities as the heroin and crack scourge.
But Murthy, after admitting that there needs to be more data on the subject, urged a need for collecting data "to drive policymaking." He appeared optimistic about the benefits of medical marijuana based on "preliminary data…for certain medical conditions and symptoms."
And Murthy is not the only one who feels this way. Previous U.S. Surgeon Generals have also said similar things regarding the marijuana controversy. For instance, Regina Benjamin, who was the U.S. Surgeon General from 2009-2013, said she believed that marijuana could have medicinal benefits. And back in the early '90s, then-U.S. Surgeon General Jocelyn Elders went even further by claiming that marijuana wasn't addictive and that she supported legalization.
Medical marijuana seems to be gaining more allies as of late. Even pediatricians' groups have been supportive of medical marijuana research. The American Academy of Pediatrics (AAP) said they were in favor of using cannabis for children who had either severely debilitating or life-limiting conditions. The AAP has also suggested reclassifying marijuana to a Schedule II drug so that research on the medicinal benefits of cannabis could be researched.
Currently, there have not been any studies on the effectiveness of cannabinoids for children with certain medial conditions.
The AAP is firm, though, in saying that it opposes medical marijuana unless it is approved by the FDA. The AAP also acknowledged that marijuana has negative consequences including decreased concentration and impaired short-term memory. Right now, there are only two FDA-approved drugs that contain synthetic cannabinoids.
Marijuana addiction is a real condition for some people. If you or someone you love is struggling with a substance use disorder, such as chemical dependence  or addiction, please call toll-free 1-800-951-6135 to speak with an Addiction Specialist today. We are available 24/7 to take your call and to answer your questions. We can give you resources and help you figure out what's next for you so that you can get back on the path towards your goals and aspirations.