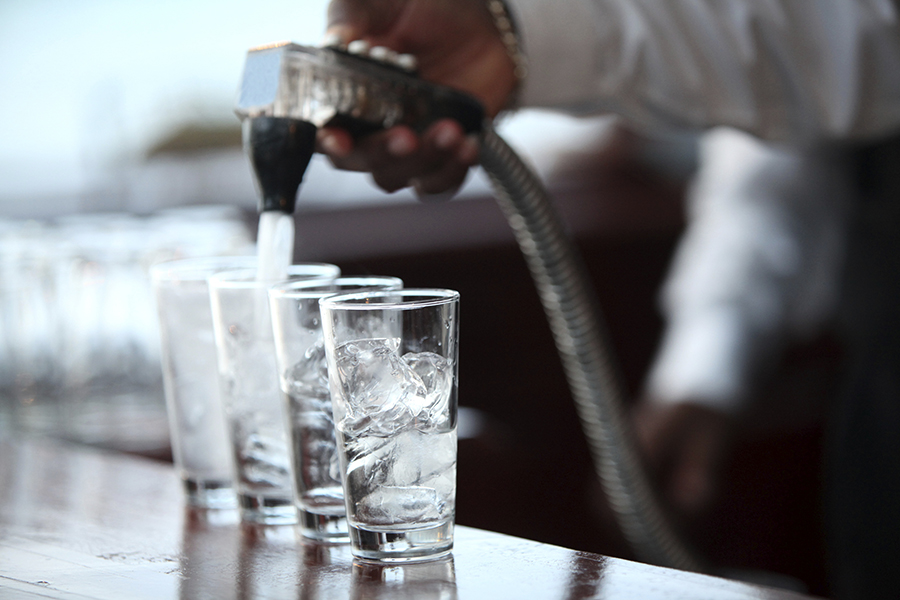 Author: Justin Mckibben
Friday night is not just for the people who want to get wasted at their favorite club or hole-in-the-wall saloon. Sober people, and even those individuals just looking for something outside the typical bar scene, have a unique brand of 'turnt up' that we enjoy. There is so much to do in the world, and so much more than a black-out binge can be accomplished. One person with vision in Michigan took an opportunity to provide another alternative for the sober community. Sober people gotta have fun too.
The abstinent citizen or recovering alcoholic in Ann Arbor, Michigan now have an option that comes in the form of Brillig Dry Bar, a new booze-free pop-up that serves a whole range of non-alcoholic beverages, along with some food, music and fellowship. And judging by interviews their opening night was a raging success.
Brillig Bar Back-Story
Nic Sims is a former chef in the Ann Arbor area who says that she quit drinking 20 years ago, and recently has decided to start the pop-up bar in her husband's business, which is locally known as Might Good Coffee Bar.
One thing about this enthusiastic entrepreneur, she is an active member of the local recovery community. Sims said that the recovery community has been important to her since her teens, and that it actually includes many of her family members and friends, and this is a creative way to give back to that community.
Nic Sims says she wanted to offer non-drinkers a place to have fun on a weekend night without the ever-present TVs and alcohol in a bar. Her goal was to provide what she described as,
"all the fun of going out with your mates in a safe place where you can drink whatever you like and have no regrets."
Friday, December 5th during the downtown Ann Arbor Midnight Madness they unleashed their new enterprise on the community, with some live jazz from the Lenny Swanson Trio.
The Menu
The bar's name is a reference to Lewis Carroll's Jabberwocky. Some of the menu's popular highlights include:
Vernors Cranberry Sour, representing Michigan's favorite ginger ale
Brooklyn Egg Cream
Pomegranate-Rosemary Soda
This past Friday was the official opening night for Brillig Dry Bar, and the turn-out was tremendously enthusiastic.  The new pioneer said the event was one of the most diverse nights she has ever experienced in the Ann Arbor area. Customers ranging from former drinkers and pregnant mothers, to college students and teens left various comment cards celebrating the atmosphere and unique ambition of the bar.
The Future of the Alcohol Free Bar
Sims stated she has every intention to make this a regular occurrence of at least a minimum of once a month. While there was a slight level of backlash in the community from people assuming that the establishment aimed to take some sort of self-righteous stance on prohibition, the creators insisted that have no intention of being 'anit-alcohol' but simple wish to offer alternatives. She added,
"And I love everybody, so why not invite them over?"
The next Brillig Dry Bar event is supposed to be scheduled for December 26th, so hopefully this exciting and innovative experience will have an equally as successful repeat performance. It is always nice for those trying to steer clear of a beer to have a variety of ways to enjoy the start of the weekend.
This kind of 'dry bar' could quickly become a hot spot for those trying to have Friday night festivities without going out of their way to spend too much money, yet still be able to socialize and relish in an rousing atmosphere. And a coffee shop is the perfect location for this particular crowd, because most people in recovery know a good coffee shop is never too hard to find.
So order up a stiff glass of whatever fresh club soda, or a round of espresso shots, and enjoy the band and the company your keeping. There are all types of sober spots out there, and with the right people and strong sobriety, any place is one anyway.
While some are able to celebrate their recovery, and stand to help improve the recovery community, others still suffer. A 'dry bar' is a place for you to feel safe in sobriety, and a path to that kind of recovery community begins with making a choice to change. If you or someone you love is struggling with substance abuse or addiction, please call toll-free 1-800-951-6135