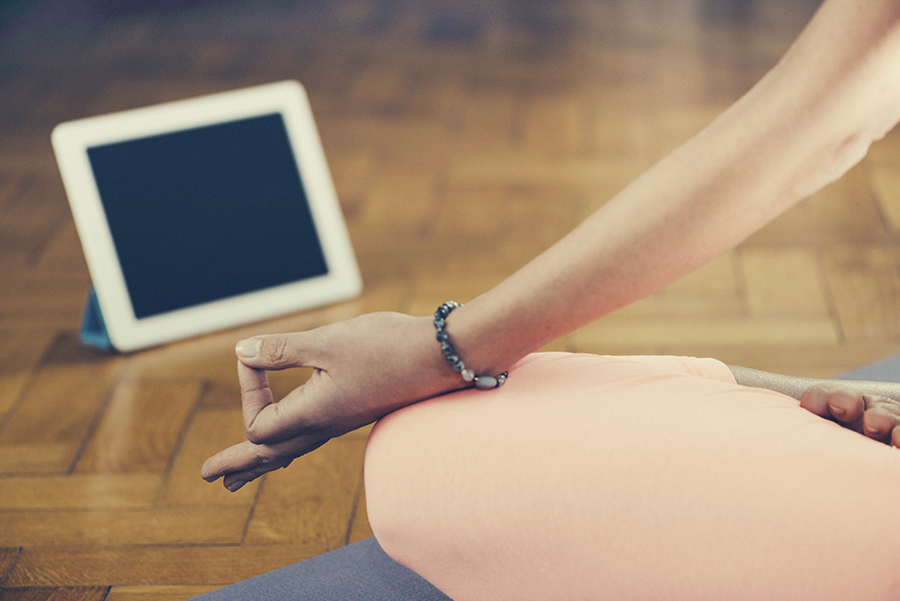 Author: Justin Mckibben
Mindfulness meditation has been practiced by Buddhists for thousands of years, and cultivating mindfulness is often considered the key to overcoming suffering and recognizing the natural wisdom of both ourselves and others. It is typically sought through the practice of meditation, and mindfulness meditation is unique in that it is not directed toward getting us to be different from how we already are, but it helps us become aware of what is already true moment by beautiful moment.
In this modern age of electronic stimulation and digital distractions many would believe these ancient practices would be lost in the clutter of social media and constant connection to the online world. But it seems that meditation is having an unlikely moment of trendiness.
In fact it has become so popular that it's the focus of a new app designed to help establish what it describes as 'meditation made simple.'
Healing with Headspace
The new meditation app has been cleverly called Headspace and it claims by emphasizing attention on the present moment a regular mindfulness practice achieved through meditation is an effective treatment for various everyday concerns including:
Worry
Focus
Relationships
Addictions
As much as most would look at this kind of claim and label it some half-baked pseudoscientific sales pitch, there is actually quite a bit of scientific evidence that some of these claims are very authentic.
The site claims that 163 different scientific studies have shown mindfulness meditation practices have a positive effect on people struggling with anxiety disorders, with 90% of people with stress levels reaching clinical anxiety issues experiencing a significant decrease in their anxiety while meditating.
The sites main page also makes the boast that according to neuroscientists, meditation actually allows the brain to reshape itself without you even knowing.
Specifically they say neuroscientists have found practitioners had structural changes in the anterior cingulate cortex, which is a part of the brain involved in monitoring our focus and self-control, and they saw this after just 11 hours of meditation (not all at once, but all together).
The Headspace Program
The first step the app developers explain in their tutorial video is a 10 day trial program where you are taught the basics of meditation with daily sessions set for 10 minutes.
Once someone chooses to subscribe to the rest of the program, they are given access to "hundreds of hours of original Headspace content" which is said to include:
Guided meditation exercises lasting from 2 minutes to 1 hour
Special meditation series collection for specific areas of focus
S.O.S. feature for quick moments of meditations in case of emergencies
The app also comes loaded with other helpful features to try and provide incentive for continued meditation and mindfulness such as:
Tracking progress and stats
Connecting with friends on their profiles
Bonus points for meditating several days in a row
One other awesome thing that the Headspace site has committed to is that for every subscription purchased, they will donate one to someone in need. For me that seems like a pretty cool selling point. The fact a tool that develops mindfulness and promotes better mental health would add in some charitable action and help those who could benefit but can't afford it seems like a pretty self-aware attribute in my opinion.
So far it seems Andy Puddicombe, the man behind this exciting new app, has now become a global phenomenon with his invention being valued at a worth of £25 million. Andy himself narrates the app, and so far it has been downloaded by people in 150 different countries and even has an army of celebrity devotees including Emma Watson and Gwyneth Paltrow.
Any Puddicombe is a man who says he did everything from teach English in Russia to work as a videographer on a cruise ship to sustain himself financially for 10 years while training to become a Buddhist monk, and now he has turned one of his greatest passions into a million dollar idea that is helping people all over the world.
Meditation can reshape and reform the mind in the most incredible and cathartic ways, and it is often one of the best medicines for people in recovery from drug and alcohol abuse. While we can a get long lasting benefits from meditation and mindfulness, but sometimes the recovering addict or alcoholic overlooks the usefulness of this practice.
Now you have the option of combining your love for all things smartphone with a spiritual practice that changes lives.
Being mindful is just a piece of the intricate puzzle that puts us back together once we have survived our addiction, and the whole process starts with the willingness to change. If you or someone you love is struggling with substance abuse or addiction, please call toll-free 1-800-951-6135