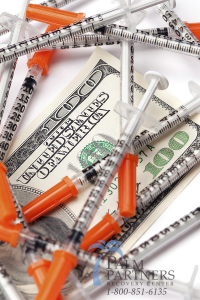 Author: Justin Mckibben
The perils of the Pennsylvania heroin problem is not one unique to its citizens alone, but the price tag on one of the biggest drug threats in this area proves a disturbing point. Pennsylvania is definitely one state that has taken a specific interest in the growing drug problem faced in the state, and especially with the alleged 'heroin epidemic' that has reached headlines concerning several states of the course of the past months, and new legislation is being put into place to try and make a difference. However a recent study leaves a horrifying fact to be pondered and that is that a shot of heroin costs less than a shot of booze in this state.
Prices and Politicians
There was a new shocking investigative report released last Tuesday that revealed what is so concerning about the drug problem in the area of Pennsylvania. In the report it is noted that it's easier for young people in Pennsylvania to buy heroin than a bottle of wine, and that the price of heroin is cheaper than a six-pack of beer. State Senator Gene Yaw, who is the Republican chairman for a joint legislative state agency the Center for Rural Pennsylvania plainly made the assessment and went into more detail about his own findings.
Senator Yaw said a small package of heroin on the streets can cost between $5 and $10, and typically that purchased amount delivers a high lasting four to five hours. The report from the center, based on evidence submitted in hearings across the state this past summer involving heroin, listed Cambria County in central Pennsylvania as having the highest overdose death rate outside of Philadelphia, 22.6 deaths per 100,000 population. This equally rivals Philadelphia's drug death rate. Yaw suggested Cambria County's drug death rate was not caused by any unique elements.
Democratic state Representative Bryan Barbin, however, was not confident in that conclusion. Barbin said Johnstown is easily accessible from heroin distribution centers like the city of Baltimore. According to Barbin the prospect of selling heroin is a striking career opportunity for those with few other options for making money, especially those with criminal records for narcotics.
Another Democrat State Representative Richard Marabito said Pennsylvania has about 760,000 residents battling with addiction, but out of that number only about 52,000 are actually receiving proper treatment to help them get off drugs. According to the report only 1 out of every 8 addicts can be helped with existing state resources. So the reality is that it probably appears to the average addict that getting high is cheaper than getting help, and it will save them from persecutions.
Efforts into Actions
That same report that revealed the drug price problem inquired for a number of legislative actions, including efforts to make it easier to prosecute heroin dealers whose customers overdose and die. The report also called for a "Good Samaritan" law assuring that people who seek help for overdose victims will not face criminal charges. According to the report, putting more addicts in jail instead of making it possible for them to receive treatment without prosecution will not solve the problem. Luckily, the state has not wasted much time on putting this sort of idea into action.
Since 1990, the number of overdose deaths has consistently risen in rural areas of the state. As of 2011, the state has experienced 13 deaths per every 100,000 citizens, the Center for Rural Pennsylvania reported.
Governor Corbett recently signed a bill into law this past Tuesday September 30th that would expand the utensils available to help a person who is experiencing a heroin overdose in an effort to combat the surges in overdose related deaths in the area. This new legislation will extend availability of naloxone, a nasal spray that can reverse the effect of a heroin overdose, to make it more easily accessible to citizens.
Pennsylvania EMT's already have naloxone on hand, but under the new law being pushed through, police would also carry the antidote drug. Naloxone would also be available for families of people at risk for an overdose, if they are able to obtain a prescription. The law is also designed to provide immunity from prosecution for people who call 911 or find other help for people overdosing, to prevent those who need the drug from avoiding treatment out of fear.
This type of study and the ensuing legislation shows more acknowledgement of addiction for the disease that it is, and for the struggles associated with the stigma of addiction. Those who suffer from heroin addiction in Pennsylvania are already getting their drugs too easy, so it brings a little more hope that the state is working to make treatment and recovery easier and more available. If you or someone you love is struggling with substance abuse or addiction, please call toll-free 1-800-951-6135. We want to help. You are not alone.