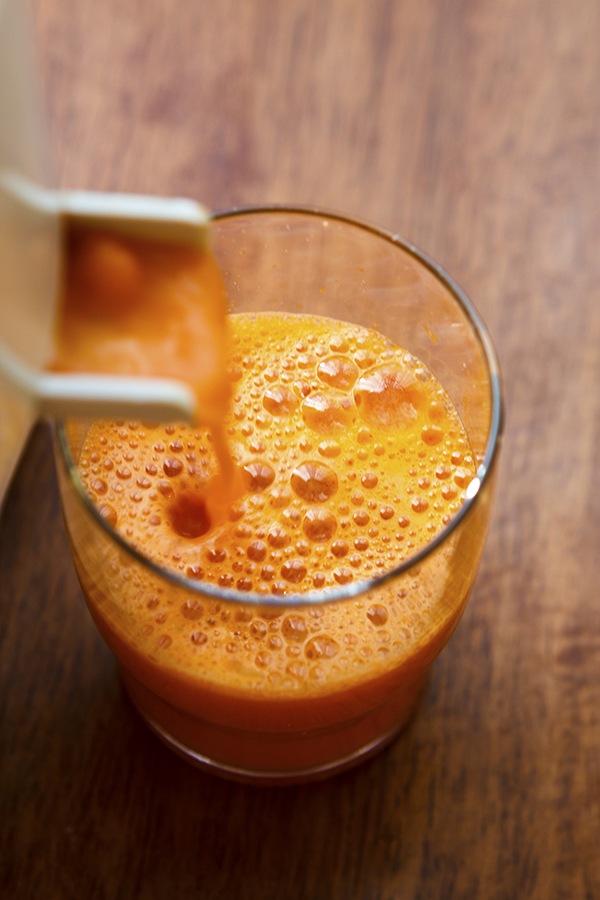 By Cheryl Steinberg
Even if you don't read this entire article, at least scroll through and make note of the so-called health foods we've named here as mythical beasts when it comes to health foods. What's in common to most of the following is the high amount of hidden sugars. So, next time you're grocery shopping or out to eat, keep in mind that the key to eating healthy is knowing what's in your food (and drinks).
Here's why juicing isn't all it's cracked up to be (and other health food myths):
#1. Granola
A lot of people think you can't go wrong with granola when it comes to a healthy breakfast or even as a late-afternoon snack.
The problem with granola is, as we mentioned above in the intro, that it tends to have a ton of hidden sugars.
"People think of granola as healthy because they think whole grain, but the problem with granola is that it tends to also have a lot of sugar and its often cooked with oil or butter and some kind of fat," Jennifer Schonborn tells Mashable.
So, with all that the sugar and fat, granola is actually high-calorie food. For example, a normal serving of Nature Valley's Oats 'n Honey granola is half a cup and will run you 210 calories.
#2. Fruit smoothies or veggie juice
One of the biggest health fads going on right now is juicing. And it's easy to see why it's so popular. Just grab a bunch of fruit and veggies, juice them, and go!
"When you juice fruit, you strip out the fiber, causing a more rapid spike in blood sugars and insulin levels," Jennifer Calo tells Mashable. "Juicing multiple fruits at once is definitely too much sugar from the fructose." To be more satisified, Calo insists people eat a salad or a pear or apple with its skin still on, and to spread out fruit and veggie intake throughout the day.
A good motto to have is this: Don't drink your calories.
#3. Low-fat ice cream                                 
Low-calorie and low-fat ice cream seems too good to be true. And, unfortunately, it is. First of all, most of these food products have a lot of chemicals in order to make them seem and taste "just like" real ice cream. Furthermore, artificial sweeteners may actually lead to cravings for more sweet foods, which basically undermines the purpose of a sugar-free, low-calorie dessert.
Better to have a small portion on the real thing than a substitute that will leave you craving more.
#4. Flavored yogurt…yes, Greek yogurt, too
A popular on-the-go healthy snack for adults and children is flavored yogurt. However, the amount of added sugars in these yogurts, including the supposedly healthier Greek yogurt alternative, makes this a no-no for those who are health conscious and who want to slim down or simply want to cut back on the amount of sugar they're eating.
For example, Stonybrook's organic Greek nonfat yogurt, which is a single serving, contains 17 grams of sugar. To give you an idea of what that means in the scheme of things, a single serving of Haagen-Dazs strawberry ice cream has 20 grams of sugar. So, basically, eating flavored yogurt is like eating a glorified version of ice cream that just happens to have a few beneficial bacteria.
A healthy alternative is to buy plain yogurt that you can sweeten yourself, using with honey or maple syrup, which are better natural sweeteners than highly refined white sugar or high fructose corn syrup. Also, by doing it this way, you can control the amount of sweetener that's going into your yogurt. Or sweeten with fresh fruit.
#5. Restaurant food
This especially goes for cooked chicken. Chicken is often thought of as a healthy, lean protein and people who are health-conscious tend to opt for chicken when eating out.
However, when eating out at restaurants, you should be aware of the dish's preparation; those chicken dishes could be loaded with calories from being cooked in loads of butter, oil, salt, and even cream.
For reference, The Cheesecake Factory's healthy-sounding lemon-herb roasted chicken is around 1,250 calories.
Your best bet is cooking at home. Of course, going out to eat occasionally is perfectly fine. If you are concerned about how a dish is prepared, you can always ask your server.
#6. Energy/snack bars
Energy bars like Cliff, Luna, and Fiber One are also a popular "health food" because they are easy to grab and eat on-the-go.
But, again, they contain a ton of sugars. If you compare energy bars to candy bars, they often have the same amount of sugar – or more – as well as include some of the same chemicals and artificial sweeteners.
Fiber One granola bars, for example, have about 20 ingredients including corn syrup, sugar, food dyes, and palm oil. You might think that the trade-off is worth it because of all the supposed healthy benefits of eating a granola bar. But, in reality, these products don't even make up for their high sugar and calorie content; there aren't enough minerals and vitamins to make it worth it.
The best snack options include fresh fruit, raw nuts, and natural nut butters.
#7. Vitamin Water
You see the words "vitamin" and "water" and you think, "This has to be healthy." Unfortunately, it's yet another case of good branding. Vitamin Water is slightly less bad for you than soft drinks are.
Most Vitamin Water flavors have as much as 31 grams of sugar – or more, which is almost eight teaspoons of sugar – and all in one serving!
If plain water is too plain for you, try seltzer water or adding a lemon or lime to your water. Another helpful trick is to make an effort to drink your water with a straw and/or use a favorite glass or bottle. These little tricks actually really help when trying to up your water intake.
#8. Reduced-fat peanut butter
Peanut butter is known for being high in protein and calories, so some might be tempted with the option of reduced fat. Well, don't be.
All-natural full-fat peanut butter is your best bet, since reduced fat actually has added sugar to make up for taste.
#9. Agave syrup
Replacing actual sugar with a product like agave nectar might satisfy your sweet tooth but it's not any healthier than regular ol' sugar. Natural sweeteners are still sugars with the same worrisome amount of calories as sugar and honey (60 calories per tablespoon).
Multi-grain
Look for "whole grain" foods if you want to eat healthier. Labelling breads and other foods "multi-grain" just means that there are two or more grains in the ingredients, which means, this has nothing to do with health and how refined or unrefined the flour base is.
Instead, look for 100% whole wheat, which means that the entire grain kernel has been used so you're getting as much fiber and nutrients as possible.
If you or someone you love is struggling with substance abuse or addiction, please call toll-free 1-800-951-6135 today to speak directly with an Addiction Specialist. All calls are professional, confidential and anonymous.