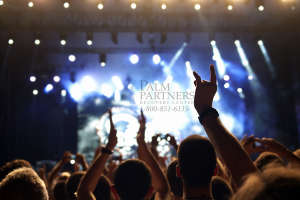 Author: Justin Mckibben
The music industry is well known for a population consisting mostly of young people who thrive off the evolution of pop culture, and often the fame and fortune is coupled with temptation. The life of a rock-star or music icon is typically associated with drugs, and marijuana seems to be the most common of all. So here we will take a look at some of these bright stars who stopped smoking pot, and at the reasons they had for giving it up. Be it for their career, their children, or their future, here are 10 music stars who gave up marijuana.
1. Mark Foster
The front-man of Foster the People credited the most unlikely person in music with helping him to quit marijuana for good. Foster actually said he gave up using marijuana only 3 days prior to meeting Snoop Dogg at a festival, and that in a July 2012 interview with Q magazine that the rapper discouraged him from sharing a blunt together. Snoop had once declined the opportunity to smoke up with Foster, telling him sometimes you need to "slow down and focus on your sh**".
2. George Michael
George Michael has numerous  arrests on his record regard marijuana charges, including a drug possession charge in 2008 and a 2010 conviction of driving under the influence of cannabis, which resulted in a jail sentence. After substance abuse counseling Michael declared in August 2011 that he had given up marijuana, but it was his battle with pneumonia and subsequent three-week coma in late 2011 that convinced him go on the wagon for keeps.
3. Neil Young
Many rock legends slip plenty of marijuana references into their classic songs, and Neil Young is no exception! He put weed references into "Roll Another Number (For the Road)," and other hits, but now has been sober for over two years after giving up booze and marijuana. Young got clean initially to write his 2012 memoir Waging Heavy Peace. "I did it for 40 years. Now I want to see what it's like to not do it. It's just a different perspective," he said during an interview last year.
4. Lady Gaga
Lady Gaga had a long standing reputation as a marijuana enthusiast and has even been known to smoke a joint on stage. However as her hip injury grew worse on her Born This Way Ball tour, the singer admitted that she was smoking more and more marijuana throughout the day to help numb the pain.  Gaga underwent hip surgery, but found herself unable to kick her habit. She credits performance artist Marina Abramovic with inspiring her to get off marijuana last summer on a bizarre retreat. But this sobriety was short lived, as Lady Gaga now admits to smoking "a little bit".
5. Cee Lo Green
This six-time Grammy award winner and current judge of The Voice was inspired to give up his weed habit after marijuana back in the late '90s with his former band Goodie Mob and "never got comfortable with [marijuana] again." However, he was allegedly caught smoking weed last month while on The Voice, and in a cover-up NBC removed the footage of him blowing smoke out of his nose from all re-runs of the episode.one bad trip.  In November 2010 Cee Lo Green expressed that he had suffered an anxiety attack he says was induced by smoking
6. Travis Barker
Mr. Blink 182 Travis Barker, who also has made a name for himself with the Famous Stars and Straps clothing line, gave up marijuana in the spring of 2012 after being diagnosed with six ulcers and Barrett's esophagus, which was attributed to his habitual pot smoking and unhealthy lifestyle. Barkers esophagus lining become pre-cancerous, and after undergoing an emergency tonsillectomy, he completely altered his way of living.
7. Andre 3000
Singer Andre 3000 of the hip-hop duo Outkast "always kept an ounce" at the peak of his fame". But in a 2003 interview, he revealed that he had at the time sworn off smoking pot and drinking (in addition to becoming a vegan) in 1998 after realizing that the drug had taken control of his life. "I was kind of abusing it. I wasn't looking my best. I had a platinum album out and I would do stuff like go to [the] projects to buy weed,". Impressively after over a decade it appears that Andre 3000 is still both drug and meat-free!
8. Kid Cudi
Cleveland, Ohio's own Kid Cudi was the self-proclaimed "lonely stoner" rapper who got his momentum toward fame from songs about smoking weed on his 2009 and 2010 Man on the Moon albums. This all changed as of April 2011 when Kid Cudi wrote a confessional post on his Tumblr page and announced he had quit smoking weed, expressing frustration about his constant association with the drug and stoner culture. "I'm 27 with a business to run and I need to be alert and focused with my mind strong,".  It seemed that after growing as an artist and a business man, Kid Cudi no longer desired to feel limited to influencing the pot-smoking counter culture.
9. Paul McCartney
Paul McCartney, former Beatles member and celebrated artist has been a shameless marijuana advocate since the '60s and was infamously arrested in Japan for possession of pot back in 1980. Then just months before his 70th birthday, McCartney revealed in a February 2012 interview that he was giving up using marijuana for the sake of his eight-year-old daughter, Beatrice, proving that you are never too old to make a change.
10. Snoop Dogg (Snoop Lion)
Last but most certainly not least is the artists formerly known as Snoop Dogg, now known as Snoop Lion, and always known as a pot poster boy. This rapper's long-standing love of weed has even led to him doing anti-drug ads while completely under the influence, but he vowed to stop smoking pot over a decade ago. "Drugs cloud your vision. I was having fun when I was getting high … [but] I'm 30 years old now," he said in January 2003. Despite this conviction, less than two years later Snoop (whatever) admitted to smoking weed regularly again, and was even arrested for possession of marijuana in January 2012. Snoop has since turned his love of marijuana into a business, endorsing his own rolling papers and exclusive strains of cannabis, in addition to writing the theme song for Discovery Channel show Weed Wars. So while it was a very short lived run, some would still count him in given his extensive qualifications.
Artists, musicians, celebrities of all kinds face the same temptations, and sometimes the same circumstances when it comes to substance abuse and addiction, and many of them experience at some point the devastation that can be caused when drugs take hold of their lives, and when control is lost, what else an addict can lose in the process. If you or someone you love is struggling with substance abuse or addiction, please call toll-free 1-800-951-6135