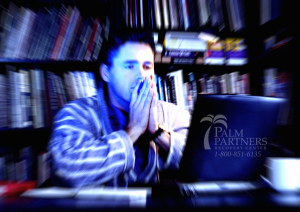 By Cheryl Steinberg
Everything is new these days. In this digital age – an era filled with inventions that have fundamentally altered the way we live – the long-term effects are yet to be fully understood.
However, one thing is clear, people are getting burned out. Especially on social media. Not everyone might be willing to admit it but, people are addicted to Facebook, Instagram, and what-not. Next time you're with your group of friends or out to dinner, take a minute to look around. How many people are staring at their phones? Even though they are in the company of living, breathing individuals, they seem to much-prefer the comfort of their phone rather than the comfort of actual, human interaction.
With the advent of social media, nearly everyone in possession of a smart phone and is therefore tied to some sort of information cycle, often comprised of social media feeds as well as a heavy dose of work in the form of e-mails that are constantly bombarding you. Add to this the non-stop highlight reel that so often makes up most of what we see of other people's lives, leading to FOMO (fear of missing out) and feelings of not measuring up from the pain of the inconsistency between real life and Instagram, and the never-ending 'keeping up with the Jones's' by constantly vying for the most "likes."
Patty Forbes Pedzwater, a practicing psychotherapist in Manhattan, says that, in recent years, she has seen the increase in younger patients needing her services, so much so that she has had to refocus her practice to deal specifically with clients between the ages of 22 and 35.
"I was starting to see a lot of young women around 32-33 that had already crossed into that burnout state," she says, noting that one of the reasons she went younger was that she was hoping to head these women off before it got too bad. Instead, she's now hearing patients complain of burnout symptoms as early as their freshman year in college. "That's new."
Burnout in the Digital Age
With social media always at their fingertips, work life suffers but so does home life. The problem of burnout becomes about needing permission to go home or otherwise unwind, says Pedzwater. "I hear it all the time," she notes, somewhat reassuringly. "It's simply a fantasy of something we perceive to have a beginning, middle, and an end. There's a timer on it. You work someplace, the whistle blows, and you're out."
I know that for me, as well as friends who have echoed the same sentiment, I used to look forward to the days when I would be done with school and enter the workforce because my understanding was that then, at least, there would be a set schedule; a time when I knew I'd be headed home and therefore a definitive end to my doing work, or else having my attention tied up.
However, with the digital age and the advent of social media, we're always "on" and going, going, going. There really is no end, per se, except for when we decide to go to bed. And even then, many of us have our phone within arm's reach and that's enough to inhibit good, restorative sleep. It seems we always have "one eye open" – figuratively speaking – when it comes to social media, smart phones, and other digital era phenomena.
Addiction does not only refer to substance abuse; it also can define behavioral issues such as the obsession with certain activities, such as internet addiction, compulsive gambling, compulsive shopping, and sex addiction. If you or someone you love is struggling with a drug addiction or another type of addiction – where it is having a negative impact on their lives, help is available. Please call toll-free 1-800-951-6135 to speak directly with an Addiction Specialist. We are available 24/7.