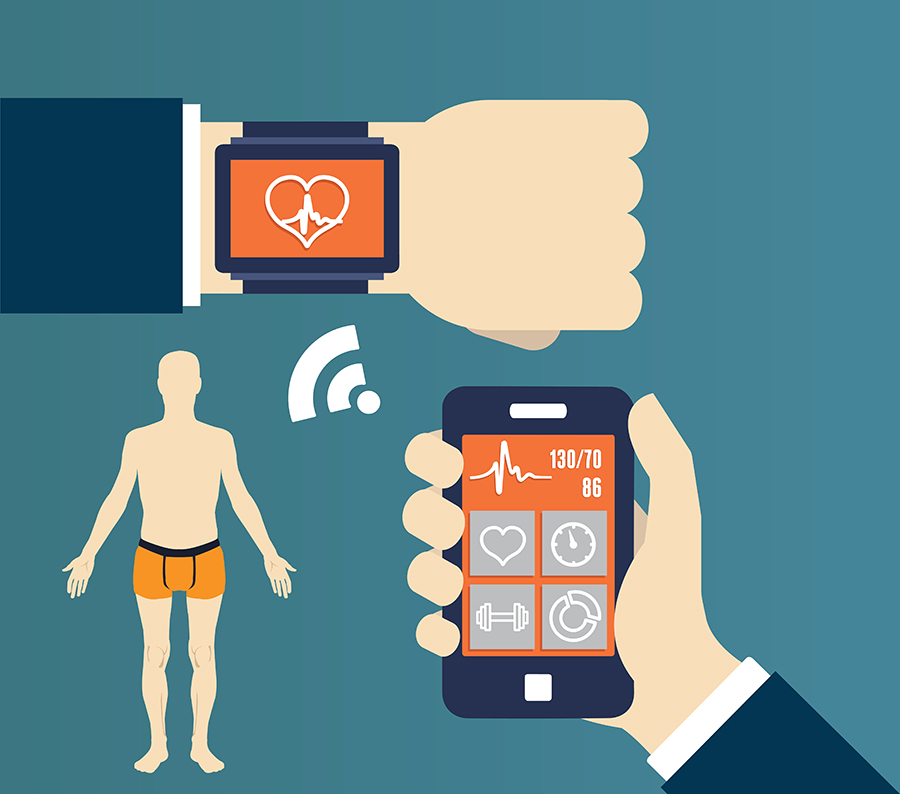 Author: Justin Mckibben
It seems with society moving toward staying in shape, fitness trackers are going mainstream, feeding the growing general concern with body image. It comes as no surprise that America's obsession with smartphones only added to the popularity of fitness technology, but some recent developments have caused people to notice how harmful these apps can be to a select few. Do these kinds of apps actually promote eating disorders?
The National Eating Disorders Association (NEDA) says that up to 30 million people in the United States have an eating disorder at some point in their life, but considering only 1 in 10 receives proper treatment, is it fair to say they far too many have the potential to be negatively influenced in a world run on iPhones and Androids?
Health App
The Apple iOS 8 update introduced a new Health app designed to combine data from fitness apps like:
Runtastic
MyFitnessPal
Up
FitStar
And with new hardware like the Apple Watch to go with this new software, it is sure to get even more popular.
While some critics are more focused on the apps inability to impress with its functionality, Sarah Wanenchak went a step further by turning the focus to a more serious note in her writing in Cyborgology:
"The Health app is literally dangerous, specifically to people dealing with/in recovery from eating disorders and related obsessive-compulsive behaviors."
She wrote that the app was poorly designed, an enabler of disordered eating behavior, and a temptation to fall back into self-destructive habits. The fact that the Health app was pre-loaded onto devices with the update and couldn't be deleted only made the situation more vexing, especially for those who do struggle with some form of disordered eating. Michele Kabas is a licensed clinical social worker specializing in eating disorders who says she is troubled that users don't have a choice about installing the Health app, calling it irresponsible.
Dr. Rene Zweig, therapist at Union Square Cognitive Therapy has said:
"Most people who have healthy relationships with food and their bodies use these fitness trackers and know what the limit is. Someone who has a more obsessive mindset or eating disordered mindset can easily get on that spiral of competing with themselves or other people."
Almost all of Dr. Zweig's patients use these kinds of fitness apps. Some in healthy ways, but many use the apps in relentlessly obsessive ways to negatively compare themselves to others and reinforce unhealthy habits.
The Appetite for Apps
The same numbers some people are able to use constructively can also be manipulated to provide inspiration for eating disorders. Or even worse those numbers can exacerbate them. These kinds of apps also allow people to trade and compare numbers with others, which can stimulate an eating disorder out of some sense of competitiveness, or drive unhealthy behaviors when someone negatively compares themselves to another person.
I have written about 'thinspiration' and pro-anorexia websites, blogs and chat forums. One of these discusses unhealthy dieting plans including consuming just 750 calories per day and walking a minimum of 14,000 steps, tracking it all with a Fitbit. On MyFitnessPal people with eating disorders even congratulate one another about under-eating or over-exercising to the point that other people using the service have complained.
But wait, there's more! Those apps all use raw data, but still others are even more malicious and dangerous for those with eating disorders! Some are built around negative motivational tactics that shame the individual into trying to meet unhealthy goals. Some such as:
Carrot Fit
Nenshou
Shock therapy wearable Pavlok
Dr. Zweig says that apps that utilize cruel and negative reinforcement may actually appeal to people who already have disordered eating.
Redirecting the Issue
There is also some effort put forward by some apps to combat the severity or possibility of eating disorders. Some still don't think that is enough, but it is a start.
MyFitnessPal is one app that offers a page titled "eating disorders resources" and has posted a blog from a licensed clinical social worker about overcoming binge eating. It will even warn users if they appear to not be consuming enough calories.
In similar fashion, social networks Pinterest and Tumblr have programmed their apps to direct users who search hashtags like #proana or #thinspiration to the National Eating Disorders Association. Still some say the apps could also use the available data to provide more contextualized feedback.
On the other end of the spectrum apps do exist to help users overcome their eating disorders. One such app is Recovery Record that allows users to enter their nutrition and fitness information. Users can also make posts about the urge to binge or purge to share with others for support.
Too frequently tech companies will ignore or misunderstand mental illnesses while building apps and services designed for a mass audience, but there is hope in future that people sharing their personal experiences with disordered eating and fitness apps will ultimately inspire designers and developers to think about not just a great undifferentiated mass of users, but also the people they unintentionally marginalize who may use these apps in harmful ways. Health and fitness is not a one-size-fits-all problem, so we need more diverse and specific solutions.
Mental health and eating disorders are another way that we can become addicted, whether to substances, people, compulsions or behaviors. But while the world is not the easiest place for those who struggle, it can be a beautiful place with the right recovery. If you or someone you love is struggling with substance abuse or addiction, please call toll-free 1-800-951-6135