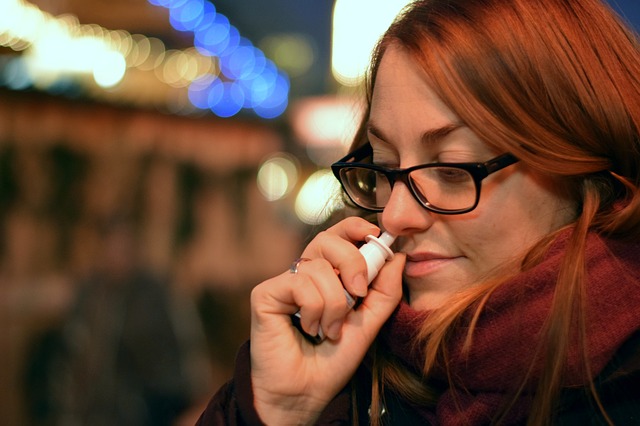 This week the Food and Drug Administration officially approved the use of a chemical sibling to ketamine for depression. In a move that is considered controversial by many, approving this kind of substance as a new form of treatment may open the doors to drug abuse. Meanwhile, experts predict that a ketamine nasal spray could totally transform the drug market for anti-depressants.
Ketamine Nasal Spray
For years, there has been talk of the possibility of treating depression with ketamine. Now, a new class of anti-depressants is actually making its way onto the market. One of the names to watch out for is the esketamine nasal spray by a subsidiary of Big Pharma giant Johnson & Johnson.
Technically, esketamine is a sibling of the specific substance commonly known as ketamine. Although the two substances both target the neurotransmitter glutamate, esketamine does distinguish itself in some ways. For example, ketamine has some strong dissociative properties. Essentially, this means people are awake but are completely detached from their surroundings. Along with hallucinogenic properties, this creates a euphoric 'high' recreational ketamine users seek. However, these effects are decreased with esketamine.
Although the potential benefits of ketamine for depression have been known, experts and psychiatrists caution against any hurry to adopt the drug as an antidepressant. A recent research report from the American Psychiatric Association research task force also argues that ketamine is not yet ready for widespread use. Most experts agree that for now there is not enough data, including a lack of large-scale clinical trials. Therefore, there is not enough evidence to measure how much or how often it should be used to remain safe and effective.
However, reports state that esketamine did so well in clinical trials that the FDA labeled it as a "breakthrough therapy" for depression, although with an imminent risk of suicide. This designation expedites the approval process due to the possibility that the treatment may be a substantial improvement over available therapy.
Esketamine is said to be fast-acting, and last for 1 to 7 days at most.
Current Anti-Depressants Relying on Serotonin
For a long time, the common standard for anti-depressant drugs we either:
Selective serotonin reuptake inhibitors (SSRIs), such as:
Serotonin-norepinephrine reuptake inhibitors (SNRIs), such as:
Each of these kinds of medication affects serotonin neurotransmitters in the brain by blocking serotonin reuptake, trapping the mood-stabilizing chemical in the gap between neurons for longer than normal.  Additionally, SNRIs also regulate norepinephrine release. This is a chemical in the brain that is chiefly responsible mobilizing the body for activity.
The idea was that depression is caused by lower levels of serotonin. Therefore, medications that increase levels of the chemical could help alleviate symptoms. Sadly, statistics show that anti-depressants relying on serotonin are only effective in about 60% of depression patients. Not to mention, the link between depression and serotonin levels is even being considered more uncertain. Not to mention the claims of increasing suicide rates being caused by some anti-depression medications.
That uncertainty paved the way for drug makers to start experimenting with new strategies for depression treatment drugs. Thus, a ketamine nasal spray may have a chance to gain momentum.
Changing the Anti-Depressant Drug Market
Depression in America is in no short supply. In fact, statistics show that approximately 16 million Americans experience at least one major depressive episode in the past year. Additionally, around 29 million Americans are currently taking antidepressants. As a result, there is plenty of room for pharmaceutical companies to make a quick buck off of the mental health crisis.
A new report by the pharmaceutical data analysis firm Informa Pharma Intelligence shows:
Current market value for depression medications in the US is $4.6 billion a year
Market value is expected to grow to $7.3 billion by 2024
Needless to say, drug companies hoping to stake a claim are pushing for the Food and Drug Administration (FDA) to approve a whole new assortment of depression drugs. Experts suspect the new class of anti-depressant drugs will drive the majority of that increase.
According to Informa's projections, $4.5 billion in 2024 will be due to new drugs. That is nearly as much as the current market as a whole. Essentially, the new medications that are being pushed through the FDA may replace the current dominant brands in only five years.
Experts indicate that Johnson & Johnson will probably be able to set a high price tag for esketamine due to the fast-acting nature of the substance. Only time will tell how many other drug makers decide to follow the trend and start developing similar nasal sprays and alternative medications.
Do the Risks Outweigh the Rewards?
Controversy surrounding a possible ketamine nasal spray stems from the fact that it is a drug of abuse. The truth remains that while many insist that ketamine could be a breakthrough resource for depression treatment, it can also contribute to a host of other problems. Not only is it a drug of recreational abuse, but it is also notorious for being used as a date rape drug used in sexual assaults.
Despite the euphoric effects it may produce, many users also experience some extremely negative side effects of the drug. This includes:
Nervousness
Chest pain
Tremors
Anxiety
Flashbacks
Disorientation
Psychosis
Lightheadedness
Vomiting
Nausea
Seizures
Paranoia
Side effects may vary depending on how the drug is consumed. For instance, smoking the substance causes the effects to happen immediately. Snorting the substance or consuming orally can cause a delayed reaction. The drug can also be injected. Some people have experienced symptoms of addiction relating to ketamine. While physical withdrawal symptoms are not that common, psychological withdrawal symptoms happen frequently.
According to reports, this new nasal spray medication will be administered on an as-needed basis. Furthermore, it should only be recommended for use in cases where other treatments have not been effective. For now, the intention is not to replace other treatments. Esketamine will be used along with other treatments for depression. However, many may wonder how long before a ketamine nasal spray is approved that completely shifts the direction of depression treatment options.
What Next?
So, now we have to find out if the risk of abuse, dependence, and side-effects of ketamine are worth the benefits? Is it possible that ketamine and esketamine offer a revolutionary treatment, or is it an unnecessary gamble that could cause more harm than good? After all, we know well enough how dangerous the abuse of potent prescription drugs can be. So, should a ketamine nasal spray be approved by the FDA to treat depression?
For now, there should be a simultaneous emphasis on providing information on safe prescribing and substance use disorder treatment. Similar to the push for cannabis reform and harm reduction initiatives, these changes should all be met with expanding resources for addiction prevention and treatment. With new medications for treating depression, there should also be therapeutic and mental health care resources.
Not to mention, depression is a common co-occurring disorder for those who develop substance abuse issues. Therefore, some depression patients may be at an elevated risk of abusing their medications.
It is important now more than ever that there be evidence-based treatment options, especially when it comes to mental health and addiction. Palm Partners Recovery Center believes in offering comprehensive and customized recovery plans that meet all needs. If you or someone you love is struggling, please call toll-free 1-800-951-6135.