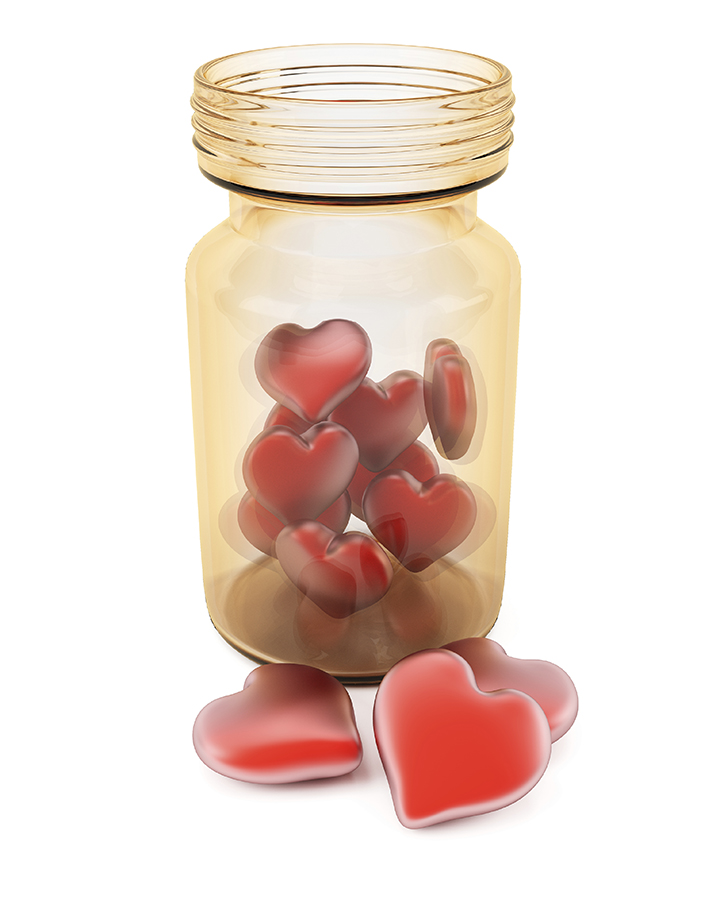 By Cheryl Steinberg
Oxytocin – no, not oxycodone – is a hormone we secrete in our brains in such instances as when we fall in love. It's also helpful in the bonding process between a mother and her newborn. Oxytocin floods the brain and body naturally during childbirth, breastfeeding and lovemaking—times when our brains are wired to foster trust, intimacy and social bonding.
Well, currently there's a lot of excitement in the world of addiction recovery when it comes to oxytocin. And we'll tell you why: human studies have been conducted using a synthetic, inhalable version of the hormone, and its use seems to suppress cravings for alcohol. Furthermore, the good news is that it doesn't work by making the alcoholic dependent on yet another, substitutive drug, such as Ativan and Valium, but it works by actually killing the urge.
Love Hormone Oxytocin: Cure for Addiction?
The so-called 'love hormone' might also encourage drinking restraint. A study in which rates were dosed with the hormone dipped the beer less than their counterparts. Furthermore, researchers found that already-drunk rats that were given oxytocin immediately started acting sober, which was an odd and unexpected discovery, hinting at the fact that there are still more avenues for manipulating the brain chemistry of alcoholics.
Rats, mice, and now humans are doing so well in alcohol studies in over-the-counter oxytocin products, like Liquid Trust, that it's likely to extend its reach – further than the plight of alcoholics; the brain mechanisms involved seem to apply to other addictions, too.
Cort Pedersen, a psychiatry and neurobiology professor at the University of North Carolina says, "Most of the individuals who got oxytocin were just spontaneously saying things like, 'I can't believe how calm I feel. I've tried to stop on my own repeatedly, repeatedly. By this point, even like 24 hours after my last drink, I just have to drink again, and now I just…don't need it.'" Four of the seven who took oxytocin didn't need any Ativan at all.
Although it was a very small study, it has been replicated and the results have since been reproduced.
The best way to understand why such a nurturing hormone makes such good addiction medicine is to consider the evolutionary benefit of so-called "tolerance formation" in the human brain. Oxytocin seems to help addicts fight "tolerance" of drugs or alcohol, which is the main culprit in getting them hooked.
Pedersen is especially excited about the new research between recovery treatment and the oxytocin's other benefits and wonders. "We may be getting at some core mechanism in the inner brain that really applies to a number of different problems," says Pederson, who is about to start experiments on whether oxytocin might encourage people to drink less.
"If we give oxytocin for 12 weeks to heavy drinkers in the community, will it cut down on the amounts they drink?" he asks. "We're just gearing up to find out." After that, he's testing oxytocin on opioid addicts.
Not surprisingly, some addicts have lower-than-normal level in their own supply of the love hormone. However, it wasn't until last year that someone started to put together all the studies about this and then developed a theory as to why.
Interestingly, researchers in Australia found that trauma experienced at a young age, such as abuse or neglect, can interrupt the development of oxytocin — and might actually cause a greater likelihood for those kids to develop addictive behavior later on.
"A well-developed oxytocin system is in a position to directly and indirectly increase resilience, for example, by reducing drug reward, increasing social reward, reducing anxiety, reducing stress response and immune stimulation," according to the study.
Dr. Femke T.A. Buisman-Pijlman, the University of Adelaide pharmacologist behind much of this research, said by email that one day traumatized children might be given the very nasal sprays making the rounds now among shy couples and autism experts—in the case of children, as a prevention for addiction and other "tolerance" troubles as they grow up.
Oxytocin and the Recovery Community
Claims about oxytocin's anti-drinking properties also prompt objections from some recovery experts to the entire idea of expecting physical changes to address addiction.
"I can imagine it can work to increase interest in social relations—which have often been put on the back burner [for addicts] and help increase motivation to stay in treatment," she says. "I don't think it will be a miracle fix, but it may be another tool to use. Anything that increases time in treatment is important, as it is linked to improved outcomes."
Oxytocin is also being tested now as a treatment for schizophrenia and autism. —and that, in studies, the synthetic kind helps ease anxiety and soften intimate relationships.
If you or someone you love is struggling with substance abuse or addiction, help is available. Please call toll-free 1-800-951-6135 to speak with an Addiction Specialist today.