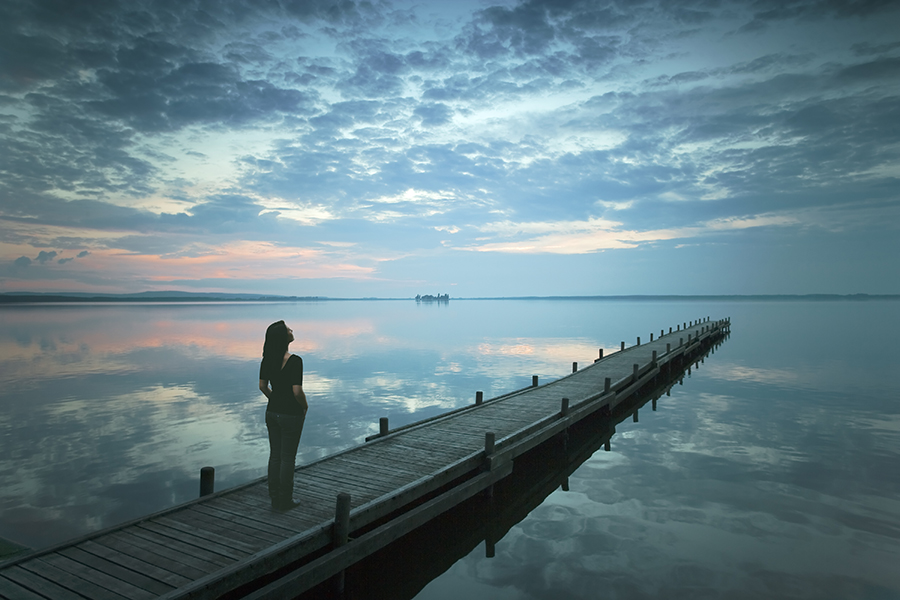 Author: Justin Mckibben
Depression is a mood disorder that most people know to be characterized by extreme fits of melancholy, grief or despair. It can come at random or be developed over time, ranging from moderate to severe, and it can also manifest itself in physical afflictions. Recent science has even suggested that there are blood markers that can identify depression, and there is a suspected genetic pattern to the problem.
There have been several strategies established to combat depression, and anti-depressant medication is a pretty general tactic. But is there a form of mental training that can help people recognize the onset of depression, help them control it, and that actually works as well as anti-depressants in preventing relapse?
The Magic of MBCT
Mindfulness can be defined as the intentional, accepting and non-judgmental focus of attention on the emotions, thoughts and sensations occurring in the present moment. Mindfulness is practiced in Buddhism, and while it is not the easiest practice, it can be achieved through meditation and improve drastically on your mental health. So it is no surprise that mindfulness is being considered such a powerful tool for fighting depression.
Mindfulness-Based Cognitive Therapy (MBCT) may now offer a welcome alternative for people wishing to avoid long-term use of anti-depressants. According to a study in The Lancet medical journal such kinds of medication can have unpleasant side effects such as:
Insomnia
Constipation
Sexual problems
Not to mention the risk of substance abuse. Prescription drug abuse has become a huge issue in recent years, and avoiding the negative impact from developing any kind of dependence on a drug (legal or not) can mean a world of difference to a lot of people. MBCT proposes another route.
Testing the Impact of MBCT
To better understand the effectiveness and usefulness of mindfulness for those battling depression there was a two-year trial conducted in England with 424 people suffering from depression. This study claims to be the first-ever large-scale assessment concerning the efficiency of MBCT as it stands up against the anti-depressant medication method. During this study period researchers found that MBCT users faced a "similar" risk of relapse to those on anti-depressants.
The volunteers for the survey were divided into 2 groups at random.
Half continued taking their medication while the rest were tapered off the drugs in favor of MBCT training.
The MBCT training had participants attending 8 group sessions, each session was 2 hours and 15 minutes.
MBCT participants were instructed to also use daily home practice.
MBCT participants were also given the option of follow-up sessions over the following 12 months.
Using a diagnostic tool used to measure the mental state called the "structured clinical interview" all of the 424 volunteers were assessed for a period of two years. Once the data had been collected the researchers determined:
The MBCT group had a 44% relapse rate
The group taking anti-depressants had a 47% relapse rate
Due to these numbers being so close many we disappointed that the MBCT did not technically prove to be more effective than medication. However the study leader Willem Kuyken, a professor of clinical psychology at the University of Oxford said that this information still suggested an effective alternative to those trying to get away from drugs.
Then again, mindfulness does not come with any adverse side-effects, it has no potential to be abused or toxic to your system, and practicing being mindful has got to be a whole lot cheaper than prescription medications. So maybe it is better than anti-depressants when you consider all its benefits.
Meditation is not just an alternative to medications, it can be also be used to combat issues with medications. Back in December of 2014 one associate professor at the University Of Utah College Of Social Work stated in a press release that the desensitization of opioid drug users can actually be reversed through mindfulness, and that it may even be able to keep them off the drugs.
So when talking about depression, it seems like instead of people relying too heavily on drugs (illegal or prescription) maybe they should consider the vast variety of benefits they can ultimately be rewarded with through practicing mindfulness. Learning to appreciate the present moment instead of measuring it against others is vital. Overthinking and stress can be faced head on with non-judgmental reflection and observation of the present moment. Depression can be very serious, and it is easier said than done to simply 'think' it away, but learning and engaging in MBCT can be a powerful influence.
Mindfulness is not only an alternative to drugs, but can also be a way to work through your issues with substance abuse and defeat your depression. Meditation and mindfulness are often promoted in a holistic healing setting, so if you or someone you love is struggling with substance abuse or addiction, please call toll-free 1-800-951-6135