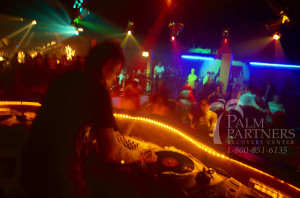 By Cheryl Steinberg
Picture it: Manhattan 6 am at the VIP Room – a nightclub-turned-early-morning-sober-rave-venue.
New York yogis (yoga practitioners) gather weekday mornings to get their morning routine underway. By 7:00 a.m., they're rolling up their yoga mats and are joined by 400 other 'Daybreakers,' as they call themselves, while DJ Tasha Blank started spinning beats and the room once again transforms into what seems like a typical rave scene (albeit a daytime rave).
There's one other main difference between this rave scene and your typical all-night dance club: drugs or alcohol are completely absent. All Daybreakers are completely sober for this early morning rave.
"It was a little bit of an audacious idea," said co-organizer Matthew Brimer of the origin of Daybreaker. "Can we get a couple hundred people to wake up early before work and dance and do something that has never really happened before," he asked, "and do it all sober?"
Turns out, the answer is yes.
New Trend: Early Morning Sober Raves
It's a relatively new trend, having started merely eight months ago in New York City yet it has already burgeoned into a thriving scene with early morning sober raves popping up in Los Angeles, San Francisco and Atlanta; they've even found popularity across the pond in London. In actuality, the UK already had a somewhat similar idea, called "conscious clubbing" as part of their Morning Gloryville events. However, unlike Morning Gloryville, which aims to be an alternative to Zumba and other aerobic activities, Daybreaker is more than just exercising.
What sets Daybreaker apart from other movements is its unique curation of live entertainment, with its organizers drawing inspiration from Burning Man.
"Supporting the arts and up-and-coming talent and creative performers of all different genres and all different mediums is a very important part of Daybreaker," Brimer said.
"It's very much a movement and a community," said Brimer, who also co-founded the tech startup General Assembly. And while he makes a clear distinction that it's not about networking, Brimer says the people that come to Daybreaker are likeminded and have a strong intentionality. "You don't just accidentally go to Daybreaker," he said.
Every 15 minutes a new artist or act comes on, ranging from the obvious nightclub acts such as singers and musicians, to spoken word poets, tap dancers, freestyle rappers, opera singers, acrobats, haiku writers, live painters and more.
"You can be sure you're going to dance your ass off for two hours," said co-organizer Radha Agrawal, "but what you're going to experience when you're there we're always changing."
Agrawal is also the founder of Super Sprowtz, a program of nutrition whose mission is to educate kids about healthy eating habits; her vegetable-inspired costumed characters often appear at Daybreaker events. Promoting health and wellness is an equally important part of Daybreaker for Agrawal. Therefore, instead of alcohol, the bar is stocked with coconut water, juice, coffee and tea.
"Most clubs at night can't even get people to have that much energy," said Wesley Yu, a first-time attendee. "No alcohol involved and everyone's just happy dancing," he said, adding "it's an amazing environment."
Yu, who goes against the grain by commuting from his home in Manhattan to a job as a Systems Designer at Newark's Prudential Financial, said he wishes the events would start even earlier. "I know New Yorkers love getting up early," he said, it's "kind of a crazy thing to do in the morning."
Twenty thousand dancers have already attended Daybreaker events, and the co-organizers say they've received requests from people in 25 cities around the world to bring their early morning sober raves to their hometowns.
Daybreaker plans not only to expand to additional U.S. cities, but also to grow on a global scale. It plans to invade Tokyo, Mumbai, Tel Aviv, Hong Kong, Stockholm, Copenhagen, Berlin, Amsterdam, Cape Town and Sao Paolo with its penchant for substance-free music and entertainment. "There's an outcropping of excitement for interactivity and real community experiences," Agrawal said. "Millennials – they're tired of online."
Like Burning Man, Agrawal and Brimer envision Daybreaker being around for a long time. "We want to make sure the brand and the experience is consistent across the world as we continue to grow," Brimer said, "but at the same time each city will have its own local flavor."
Are you struggling with alcohol and other drugs but afraid of the unknown – a life in sobriety? The good news is that a sober lifestyle offers many possibilities and opportunities for a happy – and exciting – life. Getting sober doesn't only mean that you don't use substances anymore; it means that you don't have to use anymore AND you get to live life freely as a fully-expressed human being. Call toll-free 1-800-951-6135 to speak with an Addiction Specialist today. We can answer your questions day or night.