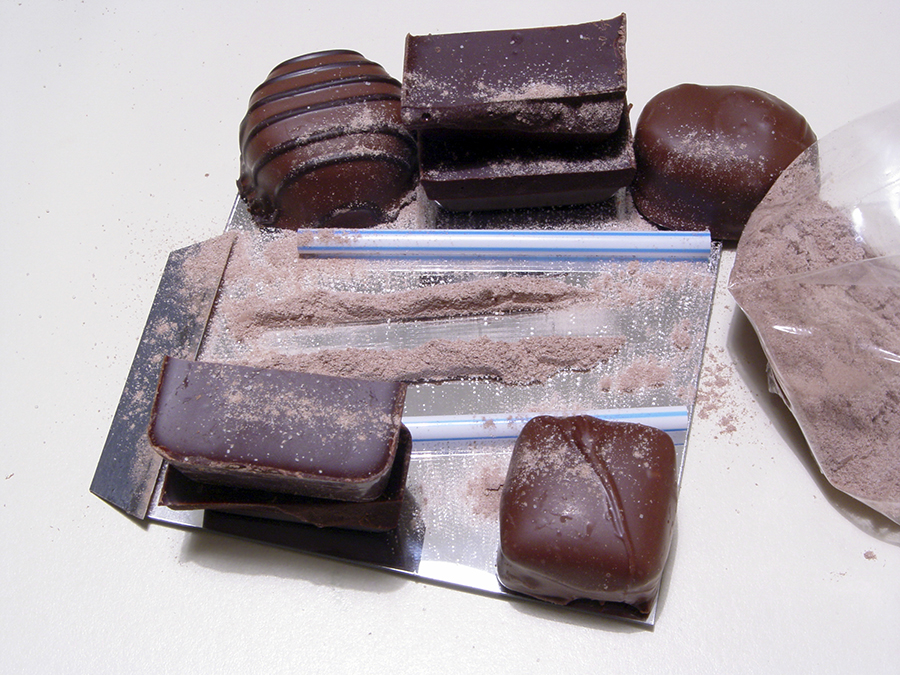 Author: Justin Mckibben
Yea… You did in fact read the title of this article correctly, and yes this apparently is an actual thing… not sure why… but we will try and figure it out together.
You might have heard some of the stories before on how the world of druggies and foodies have an occasional crossover as some new trend happens to come to the attention of one group, while the other group boasts about doing it "before it was cool" in typical non-poser-alpha-hipster fashion.
There was the spectacle of cocaine infused energy drinks, and don't even get us started on the debate about edible marijuana, now another story has cropped up and is just too crazy not to cover.
Trending Chocolate Abuse
The trend began with Belgian chocolate maker Dominique Persoone. It all started with a story that seems too outrageous to be true, as Persoone was catering a surprise party for the legendary Rolling Stones rock band when he had the idea to have guests "sniff" their desserts!
Now some would wonder what is wrong with a good old fashioned cake with candles, or even just regular chocolate without the need for a straw. Well Persoone was either ridiculously lazy, or an evil genius, because he figured what better substance to sniff than powdered chocolate?
Just a taste, right? That's how they get ya!
Persoone realized what he had, and the new Scarface of cocoa has even gone as far to market his idea that he invented something of a portable catapult for devotees of the new practice. For a mere $60 investment, his store can treat its faithful and chocolate-addicted patrons to a device that literally tosses chocolate flecks up their noses.
His company "The Chocolate Line" has created this two-spooned, trigger-activated catapult contraption that once loaded with chocolate powder can spring the loads up into the users inhaling nostrils, allowing the chocoholic to "enhance the pleasure of the chocolate experience."
Tasting something on their tongue we detect only a few flavors, including sweet, salty, bitter, sour and umami (savory). Not good enough for you? Well the human nose is commonly linked to taste, and can detect more than 1 trillion different scents. Persoone insists that snorting it is just another way of tasting it.
Persoone has apparently hit some kind of weird hipster goldmine, reportedly selling more than 20,000 of his chocolate snorting kits online!
The Chocolate Addiction
At the University of Michigan, Dr. Ashley Gearhardt runs a lab where she studies food addictions. With most food addictions it seems there is a distinct formula to follow for making specific items more appealing and addictive than others. Some snack food companies dedicate a lot of resources to studying exactly how to increase the efficiency of food engineering.
So far, Dr. Gearhardt has reported that chocolate, powered or not, is consistently ranked as the number one food that surveyed respondents have trouble giving up all together. Her research also demonstrations that the inspiration for this chocolate-covered obsession could be our brains. Gearhardt has stated:
"That same brain region is one of those regions that we know is really important in other drug addictions. This section of the brain is activating and saying you want that you crave that you really should get more of that."
Does this mean bad news for the chocoholics out there? It means that chocolate in any form is just one more substance that the brain reacts to in an addictive way, using the same system it uses to get addicted to cocaine or heroin. Does snorting it make it more addictive? Probably not… but still.
As a result, many doctors have spoken up about concerns with this kind of ingestion. Your own doctor would probably advise against passing any sort of powder through your nostrils.
Dr. Jordan Josephson is an ear, nose, throat, and sinus specialist at Lenox Hill Hospital in New York City who recently stated to reporters that,
"snorting chocolate powder is not safe, because the powder is perceived by the nose as a foreign toxic substance."
Powder inhaled through the nostril can damage the microscopic hairs, or cilia, and membranes of the nose, causing problems with their ability to work correctly, as well as possible scarring. Of course, expert advice hasn't stopped people from going for it.
While Persoone compares the experience to a euphoric feeling, he says you have to get the hook up on pure cocoa powder, none of that stepped on Nesquik mess is going to do the trick. Dr. Josephson said there is no science-based evidence that snorting chocolate can give you a high. Either way it is probably not a good idea to go crushing cocoa puffs and putting them up your nose anytime soon.
Hopefully this doesn't cause a turf war between Willy Wonka and Count Chocula.
Still no comment from those little M&M guys.
Sniffing chocolate seems a little silly, but substance abuse in reality is no joke. Regardless of what the drug is, drugs and addictions destroy people, no matter how you ingest it. You might not be a chocolate addict, but if you find yourself struggling with drugs or alcohol, there is no shame in getting the help you need before it's too late. If you or someone you love is struggling with substance abuse or addiction, please call toll-free 1-800-951-6135