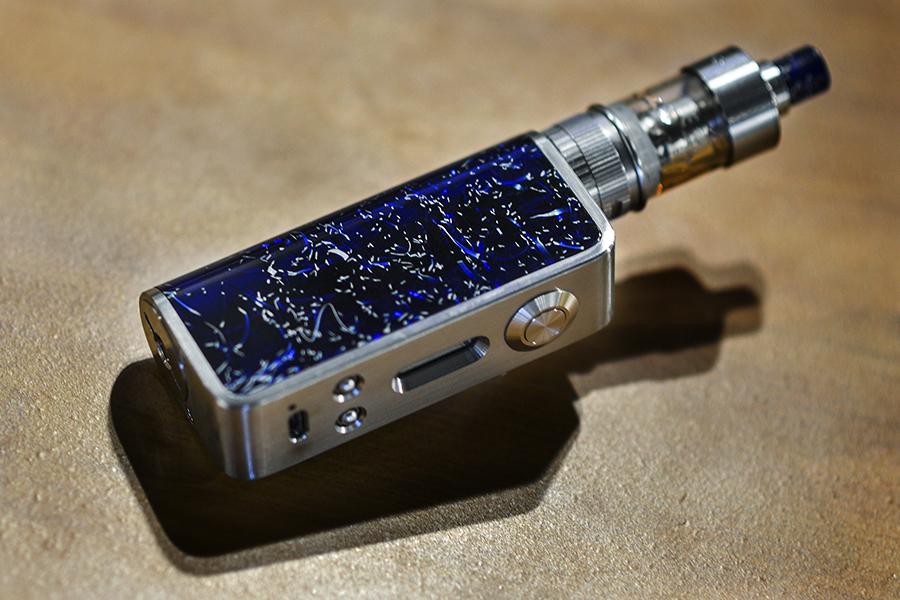 By Cheryl Steinberg
I know a lot of people who are into the vaping scene and therefore, I know a lot of people aren't going to be happy to hear that e-cigarettes and vapes are not without health risk.
Touted as a 'healthy alternative' to traditional combustible cigarettes, electronic vaporizers caught on like wildfire. But, it's too soon to say just how much better – if at all – vapes are when compared to their old-school smokable version.
A new risk assessment report from the Norwegian Institute of Public Health says that there are health risks associated with vapes, and not just for those who partake in vaping; bystanders – much like those who inhale secondhand cigarette smoke – may be at risk from secondhand vape smoke.
Now, just to be clear, what we're talking about in this article are the vapes and e-cigs that contain nicotine, like cigarettes. The report has only considered e-cigarettes with nicotine since there has been very little research about nicotine-free e-cigs. But the report was clear in its conclusions that e-cigarettes are not without health risks for people who vape or for bystanders.
Vapers: You Might Be Fooling Yourselves
Because vapes and e-cigarettes deliver the same amount of nicotine to users as cigarettes do to smokers, it's safe to say that the same harmful effects from nicotine can be expected in people who vape.
Furthermore, the vapor from e-cigs and vaporizers contains so much nicotine that people who are nearby can also inhale the same amount as with secondhand tobacco smoke. This can be a trigger for addiction to nicotine.
As far as we know, however, e-cigs are less harmful than traditional cigarettes, with regards to cancer but the health risks of long-term use of vapes and e-cigs use are unknown.
"In Norway, it is mainly smokers and former smokers who use e-cigarettes. The question is if this will still be the case if e-cigarettes become more accessible. It is important to avoid e-cigarettes becoming a trend among adolescents and young adults, or to introduce non-smokers to nicotine addiction and tobacco use," says Dr. Camilla Stoltenberg, Director-General at the Norwegian Institute of Public Health (NIPH).
Caveats of the Research
Admittedly, e-cigs and vapes simply have not been around long enough in order for researchers to really get a good idea on the potential risks and the extent to which these risks can go.
The NIPH's risk assessment is mainly based on evaluation of the individual components of e-cigarettes. There is a wide range of e-cigarette types, with varying content of nicotine and other ingredients.
Differing types and usage patterns will influence potential health damage. If e-cigarettes are allowed to be sold in Norway, their use and possible adverse effects should be monitored by research.
Banning Vaping in Public
In Portland, Maine's largest city, they're not taking this sort of news lightly. Currently, the city is considering imposing a ban on the use of e-cigarettes and vapes in public spaces.
The Portland City Council will hold a meeting next week in order to discuss and make its consideration of whether to place e-cigarettes and other devices that allow the user to inhale vapors on its list of tobacco products that are banned in public areas.
Last month, the city's Public Safety, Health and Human Services Committee unanimously supported the ban.
There have been some recent stories discussing the concern of the unknown risks of vape smoke and, perhaps as a safeguard to those who choose not to vape – just like with traditional smokers and non-smokers – towns and cities have begun to consider bans on public vaping.
In fact, dozens of places have established restrictions on e-cigarettes and vaping in public and The World Health Organization issued a report calling for restrictions on the indoor use of e-cigs and vapes.
Electronic cigarettes and vapes can be a pathway to breaking the chains of your nicotine addiction. However, there's still some debate whether they serve more as a tool for those who are already addicted to cigarettes or as products that could undermine efforts to discourage tobacco use. If you abuse other substances, we can help you overcome the cycle of addiction and get on the road to recovery. Please call toll-free 1-800-951-6135.