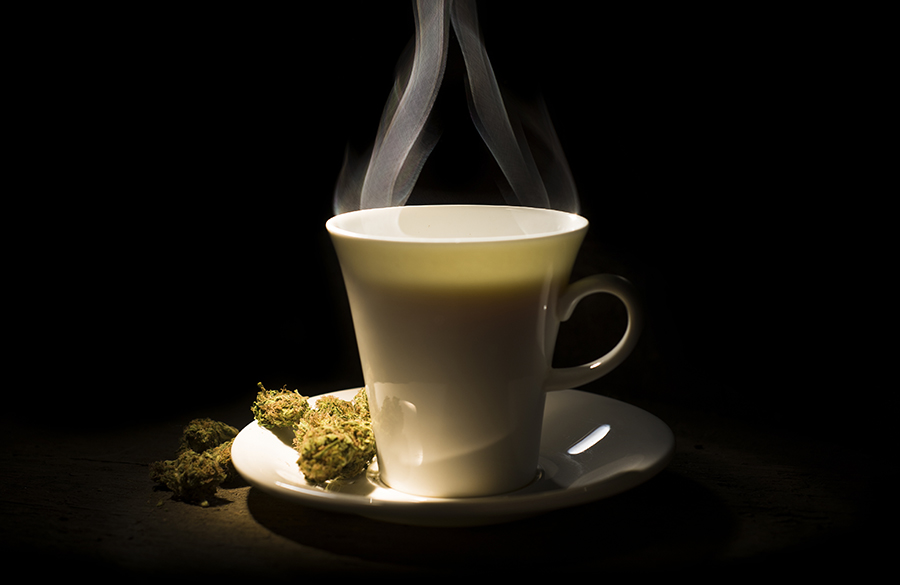 Author: Justin Mckibben
Edible marijuana is one of the popular subjects in the battle for reform; with some saying it is the future of medical marijuana administration, and others saying it is a devious and deadly method of disguising the dangers of the drug. Well now for all coffee lovers there is another recipe that can be tempting your taste-buds with the drug, and for those in recovery from drug addiction who frequent 12 step meetings with a mug full of Joe this may seem like some kind of sick joke.
We are now living in a world where legal weed is making some serious headway in politics, medicine, commercial business and even fights over religious rights. Marijuana is one of the hot topics sure to be on the ticket for the 2016 presidential election, and while this may be good for some, recovering addicts may find it harder to deal.
Still it's no surprise that in a few states that have already legalized it there would be a few coffee lovers who came up with a way to put some pot in that morning pot of roasted bean goodness.
Uncle Ike's Pot Shop is a Seattle-based head-shop for users in an area with legalized marijuana, and the shop now sells pods of premium Catapult coffee. Each pod works in standard, single-serve coffee makers and contain 10 mg of THC, marijuana's psychoactive ingredient, for anyone who likes a bit of buzz with their morning wake up cup. The pods sell for a pricey $10 a pop, or $37-$42 per 6 servings, apparently depending on the blend.
Previously sold by loose grounds infused with marijuana, the shop stated that now the pods are quickly becoming big sellers. Fairwinds Manufacturing, the company out of Vancouver that actually makes the pods for Uncle Ike's, reported that the pods now account for 60% of company sales, but Fairwinds isn't the only company making cannabis-infused coffee.
California is home to another pot-shop making a move for cannabis coffee. House of Jane is another hot spot for pot that has four types of cannabis K-cups:
Medium roast
Dark roast
Decaf
Mocha café
But House of Jane didn't stop there, marketing marijuana infused coffees, teas and creamers—one of which recently won a best-edible award at one of the world's largest medical marijuana trade shows HempCon. Also House of Jane has it's sights aimed at creating a cannabis-infused "Frappuccino." But don't count on catching this one at a Starbucks.
Ed Rosenthal's Select Coffee & Tea
Ed Rosenthal, whose brand is named after its maker, is a marijuana growing celebrity, with growing guides and other information and pot related products. He has his own line and is advocating it as a new frontier.
What Does This Mean?
This new format of marijuana products has been evaluated by a few experts who find that it will in fact be a new way to spread the popularity of legalization. Emily Paxhia, co-founder of Poseidon Asset Management, a asset manager focusing on marijuana-related investments in California, believes that this new cannabis-infused coffee will attribute to a wider appeal for edibles, and probably push the progression of reform. Paxhia said,
"The more that cannabis can be consumed in forms that are familiar to broader populations, the more interesting it's going to become to a mass market,"
So what does it all mean? Well for the general population it means that they will have another option to consider whether or not they are going to support or reject marijuana use. It may also mean having to worry about young people finding an easier way to consume the drug without being noticed, which could mean a potential for more issues with substance abuse.
For the recovering community, it may be one more adversity to overcome in the near future. As if the temptation wasn't already pretty real, the further development of these products may cause some internal conflict for the addict who is still uncertain of their condition. Cannabis coffee is no safer to an addict than vodka in your espresso, which is also legal.
Still, at the end of the day for those of us in active recovery who are aware of our addiction and work a solid program of some kind, it just means being more aware of the world around us. As long as we are consistent with our recovery, this isn't really threatening to us because we know it is not something we can safely consume regardless of the brew or blend. So far Starbucks is still safe, so you don't have to worry about your barista drugging your coffee.
Despite the fact that marijuana is becoming legal in many states, it doesn't take away from the dangers of any level or drug use, especially for an alcoholic or drug addict. Understanding that no matter what way you ingest it, the effect it has on someone with addiction doesn't change. But you don't have to be a victim, there is help for those who still suffer. If you or someone you love is struggling with substance abuse or addiction, please call toll-free 1-800-951-6135