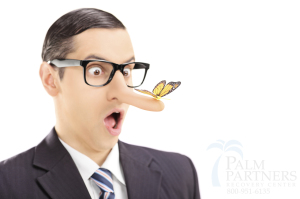 Author: Justin Mckibben
You can't handle the truth! Or at least that's how some people in your life may treat you sometimes, especially addicts and alcoholics. There are all types of strategies addicts and alcoholics develop to get away with being less than truthful with people around us. Sometimes we feel we are doing it to protect others from painful reality, other times we are doing it to manipulate a situation to best serve us, or we may even lie to cover up other lies. So it should be no surprise that addicts and alcoholics have trouble getting honest about what our disease has done to our lives, or how it has affected others.
Lie
A lie may not always be as easy to spot as we would like to think, especially coming from an addict. After some time spent manipulating everything to get our way, or to get the substances we want, lying becomes second nature to us. Because we lie so well sometimes we even convince ourselves, there are other ways to try and decipher the lie, and recognize the truth.
Body language is a huge indicator of a lie, or a with-holding of the truth. Micro-expressions through the face and eyes especially have certain ways of giving off a hint that someone is being less than truthful. When examining a person's physical reaction be sure to notice:
Eye-movement/ lack of eye contact
Covering their mouth
Frequently touching their nose
Sweating
Quick and shortened breathing
Fidgeting or other nervous tics
There are also ways to tell in someone's verbal usage if they are lying based on how they communicate, especially while being questioned for any reason. These are also signs that are subconscious and often the individual does not even know they are doing it. Each one is not a guarantee in itself, but combinations of these and physical signs are all good indicators. It is very helpful to be aware of things like:
Differences in voice volume or speed
Impulsive emotional responses to subjects
Repeating words or sentences over and over
Sudden topic changes in the middle of sentences
Some people even consider not telling the whole truth as a lie. Others may argue that a lie has to be more direct and deliberate. However regardless, the more you ignore the truth the more damage can come from the lack of willingness to be honest.
Deny
Denial is a coping mechanism addicts often use to adjust to stressful or embarrassing situations, and to avoid the truth of their addiction and the way it affects others. Denial is something that we use against people who are trying to show us the issues with our behavior, but we also you denial on ourselves to try and find excuses to keep doing something. Whether we are in denial about the actions we take to get our drugs or drink, or we are denying being addicted all together. The main styles of denial are typically:
Coming up with excuses as to why something should be acceptable.
Trying to explain why the behavior makes sense and should not be considered a problem.
Trying to make the behavior or the drug use seem less than it is, as if people who are concerned are exaggerating.
These are a few of the most commonly used tactics for denial because they try to intellectualize the problem and tip-toe around the core issue by obscuring key elements of the circumstances.  The worst part about denial is that it typically means that the addict is not just being dishonest to you, but they are also not being honest with themselves. And the more they try to convince themselves they do not have a problem with drinking or using drugs, the more they resent the idea of getting help until they can see the truth.
Counter-Accusation
Projection, or counter-accusation, has a lot to do with deflecting the responsibility or the blame for a situation or a problem onto someone else. Falsely attributing negative issues or behaviors to someone else to avoid looking at yourself or your own faults in order to keep acting in a way that serves your addiction is blatantly harmful to you and those around you.
If you try to consult someone in your life about their addiction, or question their behavior even in recovery, and they are constantly trying to turn the tables and put the blame on you for that problem, it may be that they are doing all they can to avoid being honest with you or themselves, even if that means becoming overly defensive and even aggressive.
When you confront an addict about drinking or using drugs and they try and deflect the conversation by projecting their frustration or justifications on to you, it is a clear indicator that there is more to it than they are letting on.
The addict in your life has probably been able to pull off a couple of these strategies in order to tip the odds in their favor more than once. Sometimes we master skills of deception in spite of ourselves, or even subconsciously. Addicts do well to adapt to less than truthful means, and in order to help cut the ties to the lies, we must be able to identify the traits. Once we have been able to see these defects of character for what the are, we are given an opportunity to overcome them. If you or someone you love is struggling with substance abuse or addiction, please call toll-free 1-800-951-6135